Ireland: Raising Awareness about Falun Gong at Belfast Botanic Gardens
August 10, 2015 | By a Falun Gong practitioner in Ireland
(Minghui.org) Falun Gong practitioners in Northern Ireland held activities at Belfast Botanic Gardens on Aug. 2, 2015 to raise awareness about the persecution in China and to help Chinese visitors to renounce their memberships in the Communist Party.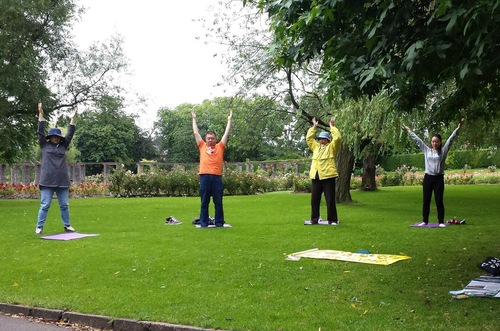 Falun Gong practitioners demonstrate Falun Gong exercises at Belfast Botanic Gardens.
Tourists were fascinated by Falun Gong exercise demonstration and wanted to learn them. David from Canada said he had heard about the persecution of Falun Gong before, but hadn't heard about organ harvesting from living practitioners by the Chinese Communist Party. He condemned this appalling crime, and said he would attend a workshop to learn the exercises.
An elderly Chinese couple studied the photo display. The wife said, "We know that Falun Gong is good. Our neighbor practices Falun Gong." She decided to renounce the Communist organizations she had once joined. She encouraged her husband and grandson to do the same and they agreed.
A young Chinese couple was taking a walk in the garden. When a Falun Gong practitioner asked them if they were members of the Chinese Communist Party (CCP), they looked on guard. The man elbowed the woman, and denied they were CCP members. Undeterred, the Falun Gong practitioner explained to them how the CCP's crimes had brought itself to doom, and that she only wanted to help people to renounce the Party for their own safety and well-being. The young man looked embarrassed. He said, "I'm not an official member of the CCP, but she is." His wife agreed to renounce her membership and they both renounced all of the Communist organizations they had ever joined.
Zhang, a Chinese college student, was on her cell phone when a Falun Gong practitioner handed her a newsletter and asked her if she would like to quit the Communist organizations. She said she couldn't remember if she had joined the Youth League. "Yes, you did, as part of the last batch in school," a voice on her phone told her. It turned out Zhang was on the phone with her mom. The practitioner asked Zhang if she and her family would like quit these organizations. Her mom replied, "Yes, yes. I would like to quit the Youth League!" Both the mother and daughter quit the Communist organizations.