First Half of 2015: 2,539 Falun Gong Practitioners Arrested, 430 Sentenced
July 09, 2015 | By a Minghui correspondent
(Minghui.org) From January to June 2015, 2,539 Falun Gong practitioners in China were arrested and 430 of them were sentenced. The cases are distributed in 30 provinces, autonomous regions, and municipalities directly under the central government. Ranked by the number of arrested practitioners, Shandong Province is on the top of the list with 379 arrested (51 sentenced), followed by Liaoning Province (248 arrested, 115 sentenced), and third is Jilin Province (194 arrested).
The arrested and sentenced practitioners come from all walks of life, including police officers, procurators, engineers, college professors, government officials, and housewives.
Fig. 1 and 2 show the distribution of the arrested and sentenced cases, respectively, in the provinces and municipalities with the most cases.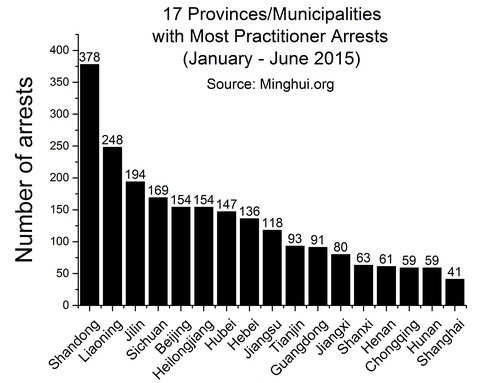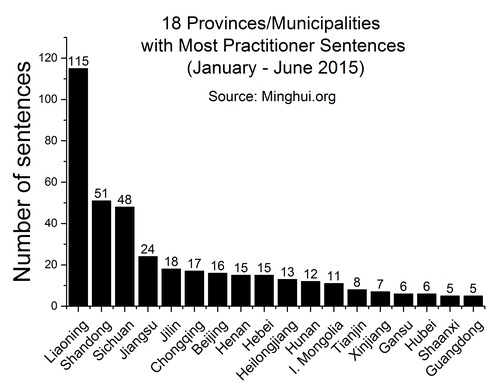 Detained and Tortured
Many detained practitioners were tortured and extorted for money. Below are a few examples.
Lu Jinyu, a college professor from Bexin City, Liaoning Province, was arrested on April 13, 2105, in Shenyang. In the Huangcheng Police Station, police officers poured pepper powder water into his throat. He is now jailed in the First Detention Center in Shenyang. Before this arrest, Lu Jinyu was incarcerated in a Liaoning prison for nine years, from 2002 to 2009, where he was severely beaten, chained to an iron bed, force-fed, shocked with electric batons, and deprived of sleep.
Ma Fujian from Zibo City, Shandong Province, was arrested on May 1 by officers from Guoli Town station, and jailed in Huantai County Detention Center. He was bound to an iron bed for four days. He started a hunger strike to protest, and was force-fed. The police officers from the detention center extorted 2,000 yuan from his wife.
Du Shishan from Henshui City, Hebei Province, was arrested by police in Gucheng County on May 4, then jailed in a detention center. Police officer Zhai Hongjun threatened Du's family for money, saying they would send Du to trial and sentence him. Du's family offered Zhai 20 thousand yuan, but Zhai refused it, saying it was not enough. Du's family had to increase the amount and gave Zhai more gifts, which totaled 100 thousand yuan. Du Shishan was then released.
June 2105 Sentences Range from Three to Eight Years
Fig. 3 shows the length distribution of 82 sentences of practitioners in June 2015. They range from 3 years to 8 years with an average of about 4 years. 45% of the practitioners were sentenced to 3 years. Liaoning Province ranks highest with 22 sentences, Sichuan Province follows with 17 cases, and Shandong Province is third with 13 cases.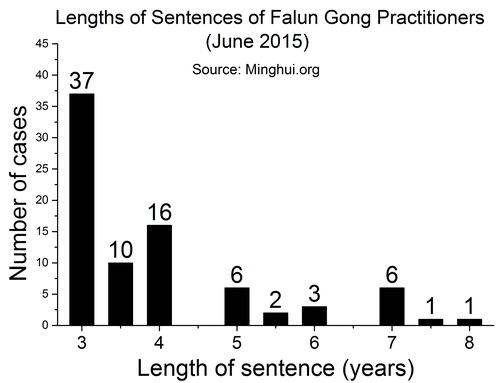 Photos of Some of the Sentenced Practitioners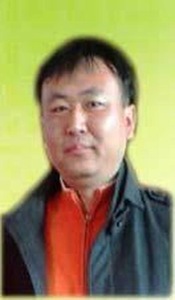 Li Mingzhe, a senior engineer from Anshan City, Liaoning Province was sentenced to three years and six months.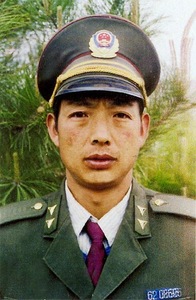 Chen Zhongxuan, a former first-class police chief from Huining County, Gansu Province, was sentenced to six years.
Ye Shaoxue, 69, from Guiyang City, Guizhou Province, was sentenced to eight years.
Chen Yinghua from Shijiazhuang, Hebei Province, was sentenced to four years.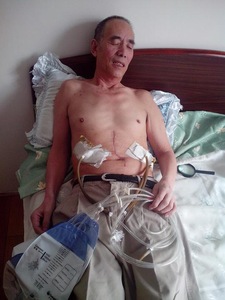 Wang Xinmin, 66, a senior agronomist from Mudanjiang, Heilongjiang Province, was sentenced to 14 years in October 2003, and jailed in Mudanjiang Prison. In January 2014, he developed severe sickness due to being tortured in prison, and was given medical parole in June 2014. While he was still sick, the local police and prison sent him back to jail on June 4, 2015. The photo was taken while Wang was on medical parole.