Australia: Chinese in Sydney File Complaints Against Jiang Zemin for Persecuting Falun Gong
(Minghui.org) Joining the many others who are suing former communist party leader Jiang Zemin, six Chinese living in Sydney filed complaints against him for initiating and directing the persecution of Falun Gong in China.
The plaintiffs recorded the details of the torture they endured.
Mother and Daughter File a Joint Complaint
Ms. Wang Xiaofang, a retired schoolteacher, filed her complaint with her daughter, Ms. Zhuang Wei, citing the severe torture their family has endured during the persecution.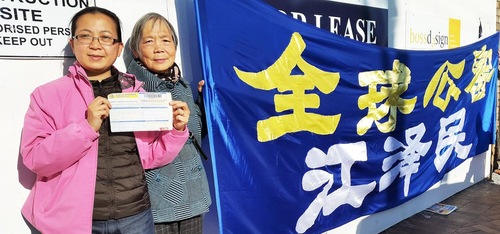 Ms. Wang Xiaofang (right) and her daughter Ms. Zhuang Wei hold a receipt for mailing their lawsuit and a banner that reads, "Sue Jiang Zemin."
Ms. Zhuang was a graduate student at Shanghai Jiaotong University (a top tier university in China), when the persecution started. After she went to Beijing to appeal for Falun Gong, she was jailed in Fengtai Detention Center in Beijing. She was shocked with electric batons and burned with cigarettes.
The police told her, "Our orders come from the authorities—if you die from the beatings, your death will be counted as suicide." Due to the severity of the beatings, Ms. Zhuang's face became so swollen she could not open her eyes.
In January 2001, Ms. Zhuang was kicked out of the university. Luwan District police in Shanghai later sent her to a forced labor camp because she told the university administration and the police: "History will show that Jiang Zemin's persecution of Falun Gong is wrong." She was held in the labor camp for two years.
Ms. Zhuang started to practice Falun Gong in 1998 when she saw how her mother regained her health. In the complaint Ms. Wang said that her employer pressured her and her husband to quit practicing Falun Gong and threatened to fire them.
"My husband was removed from his teaching position and made a janitor in the school where he had been a teacher. Our house was closely monitored. In 2001, Kuerle Police Department officers searched our home and took me to a detention center.
"My daughter was illegally arrested five times, jailed in a labor camp for two years, and imprisoned for another two years, leaving us to care for her then 6-year daughter. My granddaughter cried for her mother every day," Ms. Wang wrote.
Mother and Son Request the Release of Husband and Father
Ms. Liu Chunli misses the peaceful time before the persecution began. Her whole family--her mother, sisters, and husband--all benefited from practicing Falun Gong. But the persecution brought an end to this happy family.
Ms. Liu Chunli and her son, Mr. Jia Ming, filed a complaint against Jiang Zemin.
In the complaint filed by her and her son, Mr. Jia Ming, Ms. Liu said, "Mother was arrested five times. My sister was sentenced to five years, and my husband was sentenced to eight years. He is incarcerated in Weinan Prison in Shaanxi Province.
"We are suing Jiang Zemin, not only because he persecutes Falun Gong, but also because he has destroyed morality in China."
Jiang Zemin Should Be Condemned and Tried
Ms. Wu Yumei from Dalian, China, was arrested and jailed in a detention center for 15 days in December 2005. Wishing to let others know the facts about the persecution, she posted Falun Gong materials in public places.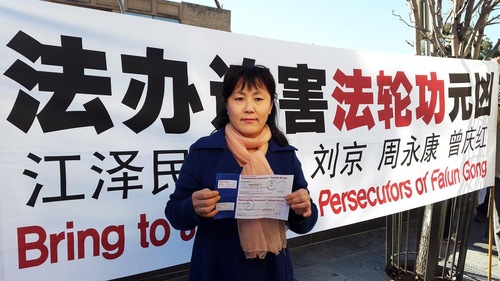 Ms. Wu Yumei holds the receipt for mailing her complaint.
In her complaint, Ms. Wu said, in part, "I was arrested again in 2009 and held in the notorious Masanjia Forced Labor Camp for two years. I was forced to do hard labor and was monitored 24-7. Officers often beat me and cursed me. Sometimes they did not let me to go to the restroom. My family was not allowed to visit me."
Ms. Shao Hua was detained in brainwashing centers in Guangzhou City several times between 1999 and 2009. Her house was repeatedly searched, and her teenage son was arrested by Dongshan District police officers in Guangzhou. Ms. Shao also filed a lawsuit.
Both Ms. Shao and Ms. Wu believe that Jiang has committed crimes against humanity and that he should be condemned and placed on trial by the entire world.