New Zealand Lawyer: Jiang Zemin "Violated UN Convention on Genocide"
July 03, 2015 | By Falun Gong practitioners in New Zealand
(Minghui.org) Tens of thousands of criminal complaints have been filed against former Chinese leader Jiang Zemin since May 2015. Some of them have come from Chinese who live overseas.
Kerry Gore, a human rights lawyer in New Zealand who helped local Falun Gong practitioners with some of these cases, was not surprised by the number of complaints. "Jiang aims to target Falun Gong—that is, eliminate all Falun Gong practitioners. By doing that, he has violated the UN convention on genocide."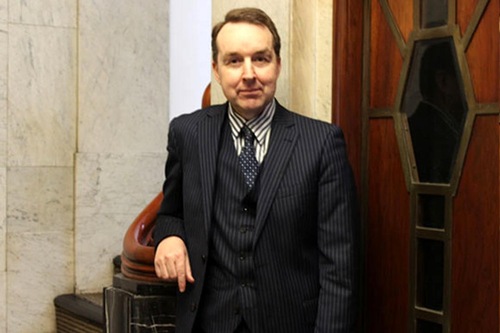 New Zealand human rights lawyer Kerry Gore
The Convention on the Prevention and Punishment of the Crime of Genocide (CPPCG), was adopted by the United Nations General Assembly in 1948 and entered into force on January 12, 1951. It defines genocide in legal terms, and more than 140 nations, including China, had ratified the convention.
"I have helped my clients to press charges on Jiang for launching the suppression of Falun Gong in July 1999, and giving orders to implement the persecution policy nationwide. This is an issue of human rights, something we all should pay attention to. These [Falun Gong] cases are especially important, because what practitioners have suffered in China for their belief is astonishing," Gore explained.
Encouraging More Lawsuits
Gore said the cases he submitted to the Supreme Court and the Supreme Procuratorate in China had been received and serve as "a good starting point."
According to the Opinion on People's Courts Implementation of Reforms to the Case Filing Registration System, which came into effect in China on May 1, 2015, courts are required to process all cases submitted by citizens, and anyone impeding such a process will be held responsible.
Gore encourages Falun Gong practitioners to take advantage of this ruling and file lawsuits against Jiang.
"For those who used to practice Falun Gong, but later stopped due to the suppression, you, too, need to submit criminal complaints because Jiang deprived you of your belief. You can file such cases as a victim of his policy."
Overseas practitioners, including native Westerners can submit these complaints as well, because under Jiang's orders, "Chinese embassies and consulates have defamed Falun Gong and threatened practitioners [worldwide]."
Besides the convention on genocide, Gore said Jiang faces charges for violating the Convention Against Torture as well as International Covenant on Civil and Political Rights, let alone China's Constitution and criminal laws.
Gore said such lawsuits are not only important for Falun Gong practitioners, but also everyday Chinese citizens and Chinese Communist Party (CCP) officials.
"These cases provide concrete facts on how the CCP has stirred hate propaganda against Falun Gong, severely tortured practitioners, and how Jiang has violated so many laws throughout this process. This way, both CCP officials and ordinary citizens will come to know the truth."
"And that will give us a new future," explained Gore.