Australian Legislative Member: "I Stand with You in the Fight for Freedom and Justice for All"
July 29, 2015 | By Mu Wenqing, Minghui Correspondent in Perth
(Minghui.org) Falun Gong practitioners in Western Australia held activities in front of the Chinese Consulate in Perth and the downtown Chinese Visa Application Service Center on July 20, 2015, marking 16 years of persecution by the Chinese Communist Party (CCP), and calling for an end to the persecution.
Mr. Peter Abetz, Member of Legislative Assembly (MLA), sent a letter of support to the Falun Gong group for their efforts to commemorate 16 years of peaceful resistance. He wrote in his letter, "Freedom is a priceless commodity. It is more precious than gold. Often it is most valued only once it has been removed.
"I commend all those who gathered here today to take a stand for the freedomof the Chinese people, to practice whatever faith or religious practice theywish to follow.
"To persecute a subset of a nation because they follow a particular practicesuch as Falun Gong is abhorrent to all who value freedom. And to useprisoners for harvesting organs defies every standard of human decency.
"I stand with you in the fight for freedom and justice for all."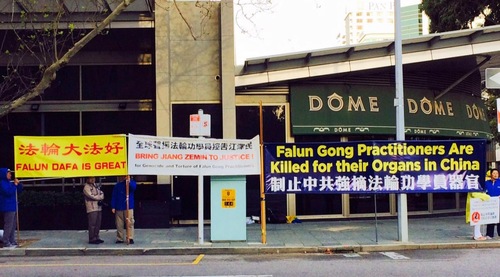 Practitioners expose the persecution in front of the Chinese Visa Application Service Center.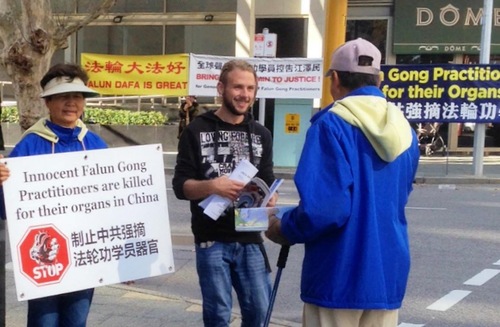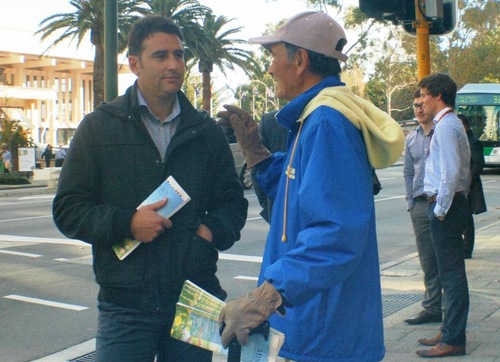 Practitioner talks to people about Falun Gong and the persecution.
The activities received great support from passersby. Many stopped to learn about the persecution and condemned the human rights violations. A Chinese woman told practitioners, "Jiang Zemin (former leader of the CCP who launched the persecution) should be arrested!"