Sydney, Australia: Practitioners Hold Large-scale Events to Mark 16 Years of Peaceful Resistance
July 27, 2015 | By Hua Qing, Minghui correspondent in Sydney
(Minghui.org) Falun Gong practitioners in Sydney held large-scale activities at Milsons Point and Bradfield Park on July 19, 2015, to commemorate 16 years of peaceful resistance to the Chinese Communist Party's (CCP) persecution. They formed large Chinese characters, did the Falun Gong exercises, and held a candlelight vigil to mourn their fellow practitioners who died as a result of the persecution in China. Their activities sent a strong voice: "Stop the persecution! Bring Jiang Zemin to justice! Disintegrate the CCP!"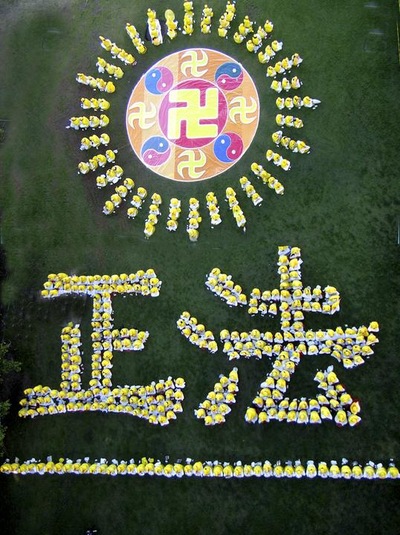 Falun Gong practitioners in Sydney form the Chinese words "Rectify the Fa" in Bradfield Park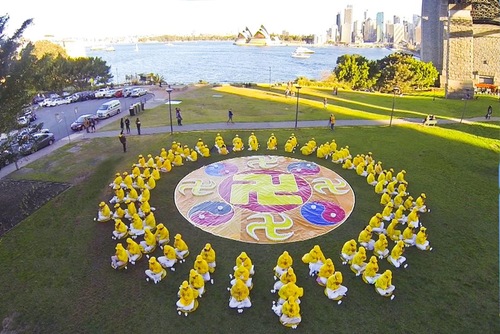 Practitioners form rays around a colorful Falun.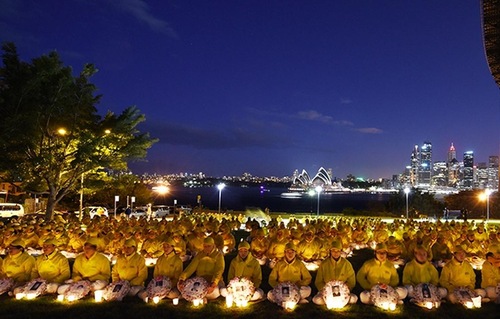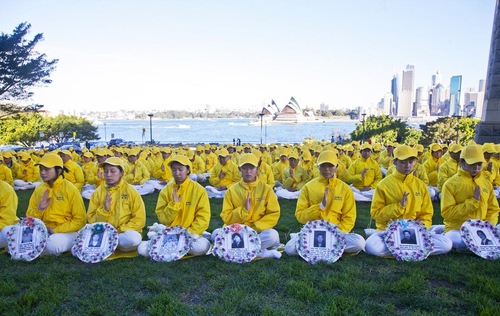 Candlelight vigils at Milsons Point and Bradfield Park
On a chilly, wintry seashore, colorful Falun and Chinese calligraphy formed by practitioners created a stunning and unique scene. Moved by the beauty of this stately and solemn event, passersby stopped by to find out more about Falun Gong, take pictures, and many expressed their wish for the persecution in China to end soon.
Australians Support Falun Gong
Sydney resident Jan told Falun Gong practitioners that she and her husband had watched them getting ready for the activity since morning. They commented on the beauty of the Falun Gong exercises and said that they wished for the day the persecution would end. They said that they would also ask their family and friends to sign the online petition to call for an end to the persecution of Falun Gong.
Michelle made a special trip to see the activity after her son told her that he had seen a beautiful scene at the seashore. When talking with practitioners about the persecution, Michelle said, "We have been living here peacefully. It's hard to imagine that such terrible things are happening on the other side of the Earth. I hope the persecution will stop soon!" She added that she had visited the Truth Compassion Forbearance Art Exhibit in a downtown gallery. Before leaving, she gave her contact information so that practitioners could could send her additional information.
When Mr. Adakai learned about the persecution, he said, "The murderer should be brought to the justice. It's great you are suing him! The persecution must stop. I would be very sad if my family or I were treated like this. If you ignore it, it might happen to you someday. The United Nations Human Rights Commission and Amnesty International should take action to stop it. All groups and individuals who have the capability should take action to help stop it."
"Jiang Must Be Brought to Justice for His Bloody Debt!"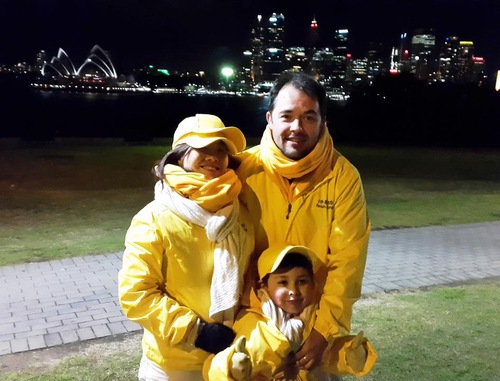 French Falun Gong practitioner Thomas Dobson and his family
Thomas Dobson, a French Falun Gong practitioner currently living in Sydney, participated in the large-scale Chinese character formation with his wife and son. Thomas was proud of his seven-year-old son, Oliver, who was able to meditate with the adults for 4 hours. Oliver said he enjoyed it also.
Thomas remarked that he saw hope for an end to the persecution, because more than 80,000 Chinese people had filed criminal complaints against Jiang Zemin. The persecution launched by Jiang has cost thousands and thousands of lives, many of them killed for their organs. Thomas said, "Jiang must be brought to justice for his bloody debt!"
Thomas added, "My family and I have been missing our fellow practitioners in Changchun (the birthplace of Falun Gong). We would like to give them our strongest support! I'm so glad to see that practitioners in Changchun and other places in China have done an outstanding job of clarifying the facts of Falun Gong. I hope that Dafa's principles of Truthfulness-Compassion-Forbearance and traditional cultivation culture will turn China into a better place, and be an example for people around the world."
Call for CCP's Disintegration and End of the Persecution
Professor Li Yuanhua, one of the activity organizers, said of the candlelight vigil, "We are here to mourn Falun Gong practitioners who died as a result of the CCP's persecution, which has lasted for the past 16 years. We are also showing support for the Chinese people who have filed criminal charges against Jiang Zemin...We call for the disintegration of the CCP and an end to the persecution."