Hong Kong: Rally to Oppose 16 Years of Persecution
July 25, 2015 | By Minghui correspondents in Hong Kong
(Minghui.org) Hong Kong, often known as the Pearl of East, is a Special Administrative Region of China. Its freedom of belief and freedom of speech, on the other hand, makes it a special place for people to voice for those suppressed by totalitarian communist regime in China.
A rally and a large group exercise practice were held on July 19 at Edinburgh Place, a public square in Central Hong Kong where the City Hall is located. Practitioners called upon the public to pay attention to the persecution launched in China in July 1999.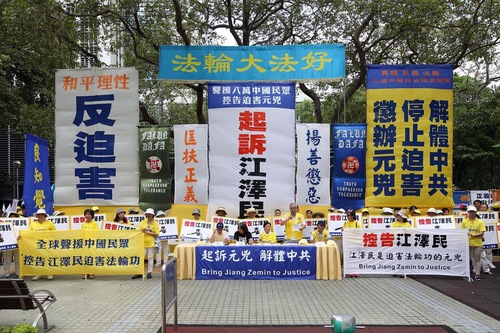 Rally at Edinburgh Place on July 19
The Divine Marching Band performs at the rally
Policy Secretary of former Chinese Premier: Whoever Persecuted Falun Gong "Will Be Held Responsible"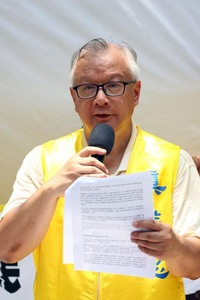 Jian Hongzhang, Hong Kong Falun Dafa Association coordinator, speaking at the event
Jian Hongzhang, Hong Kong Falun Dafa Association coordinator, said over 80,000 Falun Gong practitioners and ordinary citizens have filed criminal complaints since May against Jiang Zemin for persecuting Falun Gong in China since July 1999. "Similar complaints were also submitted from overseas. This increasing momentum highlights the public's awareness of the atrocity. By supporting the innocence and peaceful meditation group, people are regaining confidence in conscience and the common good."
More than 20 government officials, human rights lawyers, democracy advocates, and victims spoke at the rally. Bao Tong, Policy Secretary of former Chinese Premier Zhao Ziyang, said, "The persecution of Falun Gong not only harms Falun Gong practitioner, but also undermines the Chinese society at large. Launching and continuation of such a severe severe suppression in the 21st century is a disgrace for our mankind. Whoever did that [persecuting Falun Gong] will be held responsible. That's for sure."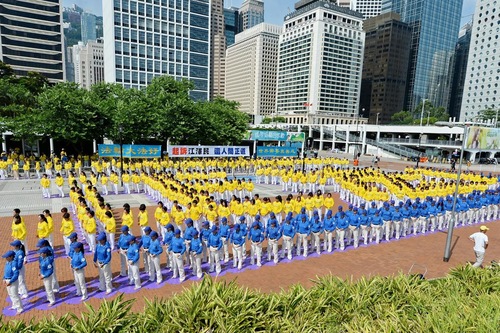 Group exercise during the gathering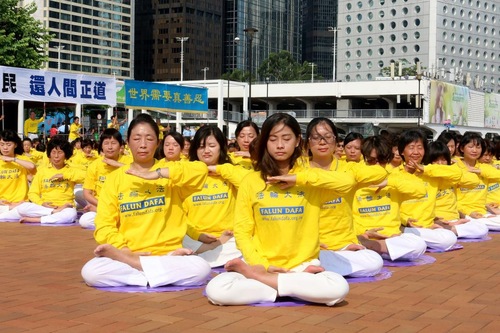 Sitting meditation
Legislative Council Member of Hong Kong: "Our Society Needs Justice"
Human rights lawyer Teng Biao said what Falun Gong practitioners have experienced underscores one of the worst human rights violation in China. "In addition, many lawyers and even journalists were mistreated for voicing for practitioners. The international society cannot ignore this, because of a human rights catastrophe is taking place in China."
He said although there have been some news media coverage and organizations discussing this issue, "This is not enough. We need more vigor and support to stop the disaster."
Leung Yiu-chung, a long-time member of the Legislative Council of Hong Kong, thanked Chinese people for standing forward to defend the justice. "Jiang has done many bad things including corruption and suppressing people with different opinions." He said Jiang's cruelty on banning freedom of belief is unprecedented. "Plus live organ harvest. Jiang and his follower will face legal consequences, because our society needs justice."
Some Hong Kong practitioners also sent criminal complaints to the Supreme Court and Supreme Procuratorate in China. Zhou Sheng said, "After 16 years of brutality against innocence, lawsuits like this is inevitable." She said anyone and any organization has to follow heavenly law of "doing no harm."
Yi Rong from the Global Service Center for Quitting Chinese Communist Party (also known as Tuidang Center), said what happened in the recent years explains why more than 209 million Chinese have announced to quit the Chinese communist regime. "As Falun Gong practitioners peacefully defend their belief and their rights, their perseverance and courage have awakened Chinese people, and restored the social conscience."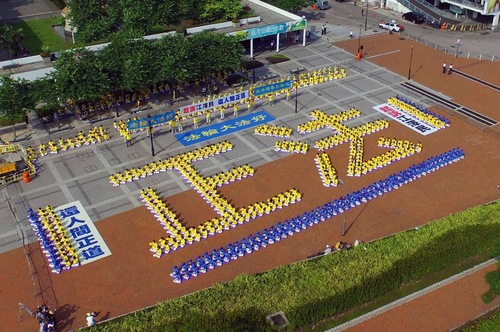 Practitioners lining up and forming Chinese characters
Party Exerts Intensified Influence in Hong Kong
"We have been holding activities for many years to protest the persecution in China. But in the past few years, a few officials were misled by the Chinese Communist Party (CCP)'s propaganda and influence. As a result, they sometimes turned down our request for permits for no reason."
Another example is the pro-communist organization Youth Care Association (YCA), which often harass practitioners during public events.
Junker, a profession from the University of Chicago, came to Hong Kong for research projects. Seeing practitioners peacefully meditating while YCA members slandering them by the side, he became very curious.
"The YCA members are here for money [from Chinese communist]," Junker concluded, "Falun Gong has been here for a long time. It helps practitioners for their self-improvement and its benefits the society in general."
Mr. Wu, 77, have lived in Hong Kong since 1961. "I came from Guangdong Province. My family used to own lots of land, and I have witnessed how the CCP took our land, treating us like dirt. Unfortunately, things haven't changed much although several decades have passed," He said, pointing to YCA members who were shouting to practitioners, "Communist is good at brainwashing people and enticing people with material interest to do bad things."
"But this will not last long. Both you and I know that, the righteous will prevail," he said.