Events Held Across the U.S. Expose the Persecution of Falun Gong in China
July 24, 2015 | By Falun Gong practitioners
(Minghui.org) From Washington D.C. to California, from Wisconsin to Texas, practitioners across the United States recently held events to raise awareness of the 16-year persecution of Falun Gong in China.
After the former dictator Jiang Zemin and his regime started the persecution of Falun Gong on July 20, 1999, practitioners were illegally arrested, detained, imprisoned, and tortured. They were also sent to forced labor camps, mental hospitals, and brainwashing centers. The goal was to try to force them to give up practicing Falun Gong and the principles of Truthfulness-Compassion-Forbearance.
Washington D.C.
About 4,000 practitioners gathered at the US Capitol on July 16, where they called for an end to the persecution. Radio Free Asia and several other media reported this event.
The practitioners were from nearby states including Maryland, Virginia, Pennsylvania, and New York. Nearly 30 young bicyclists from 15 nations, from the "Ride to Freedom" team, also joined the event after riding 3,000 miles across the US to bring awareness of the persecution, and to rescue five orphans being persecuted in China.
A few US House representatives spoke at the event. Congressman Ted Poe from Texas, a former judge, said, "Every day, I would see cases, and the result of any case must always be justice. And all you are asking for is justice in your own country."
"To practice your belief you've been persecuted! Your friends and family have been put in jail. They've been beaten! They've been tortured! They have been hounded by the communist government of China." Congressman Poe said that it's about time to bring Jiang to justice for persecuting Falun Gong.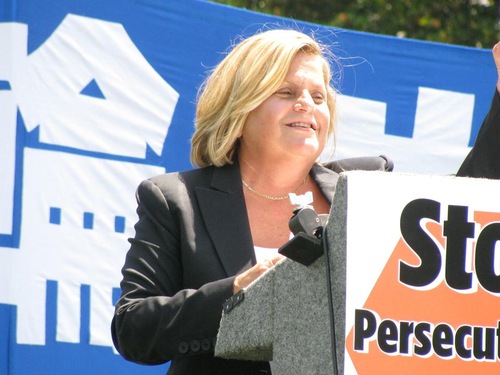 Florida Congresswoman Ileana Ros-Lehtinen, former Chairwoman of the House Foreign Affairs Committee
Congresswoman Ileana Ros-Lehtinen from Florida recently introduced House Resolution 343, a resolution that expresses great concern for the systematic and state sanctioned organ harvesting from non-consenting prisoners, prisoners of conscience, in the People's Republic of China.
She said at the rally, "We can send a message to the communist regime in Beijing, that we are watching. That we know what they are doing, and that we condemn their behavior. We can send a message that we know communist China is spreading false information through the state media, to slander Falun Gong practitioners. We know that Falun Gong practitioners have been tortured. They have been murdered with impunity by the communist regime."
"That is why I am proud to introduce House Resolution 343," she said.
Congressmen Dana Rohrabacher from California and Keith Rothfus from Pennsylvania, as well as representatives from non-government organizations also spoke at the rally including Amnesty International, Freedom House, the Jubilee Campaign USA, and United States Commission on International Religious Freedom. This rally was followed by a parade and a candlelight vigil.
California
Practitioners in California went to San Gabriel, a city with a large Chinese population near Los Angeles, on the afternoon on July 18. They talked to people about the persecution in China, as well as the movement of quitting the Chinese Communist Party (CCP) organizations.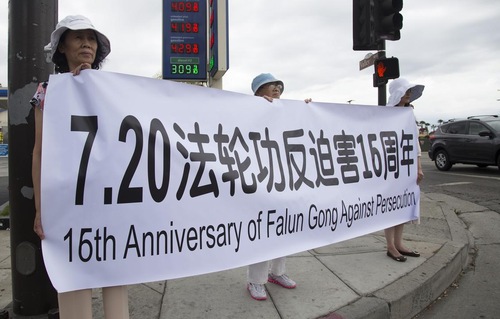 Practitioners gathered at Valley Boulevard in San Gabriel on July 18
Wang Chuanwu, former sales manager for Motorola, was once detained and tortured for 18 months. "Guards shocked me with three electric batons simultaneously for two hours. For four months I was deprived of sleep, while being forced to do slave labor as well as being subjected to mental abuse."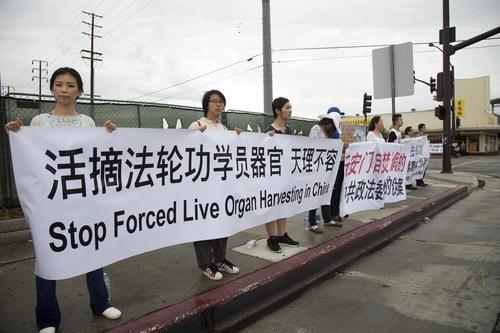 A banner at the rally calls to stop the live organ harvesting
Texas
Texas practitioners gathered in front of the Chinese Consulate in Houston on July 13, calling to end the persecution in China.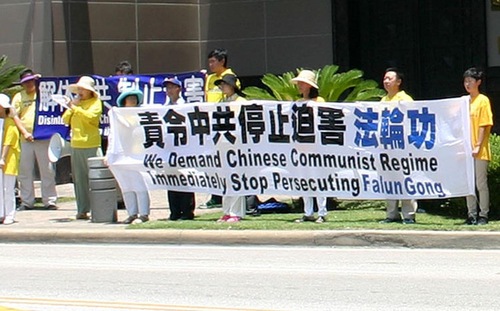 Rally in front of Chinese Consulate in Houston
Ms. Qiu was a PhD candidate at Tianjin University in March 2001. "Although my thesis defense went well, the school refused to give me my PhD degree, because I practiced Falun Gong. Later when I worked at the Oceanic University of China in Qingdao, Shandong Province, the officials expelled me from the school upon learning that I was still practicing Falun Gong."
Several media including FOX News and Newsfix 39 came to the event. The event was featured on Newsfix 39 that evening.
Wisconsin
With banners, posters, and hand-made lotus flowers that represent peace and purity, Wisconsin practitioners told passersby about the severe human rights violations in China at the State Capitol in Madison on July 17, 2015.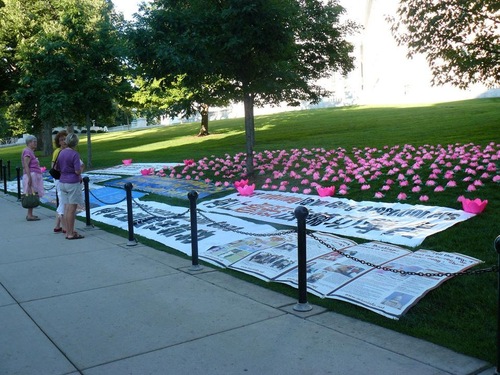 Wisconsin practitioners explaining about Falun Gong with posters and hand-made lotus flowers.
Glen, 21, said he has been practicing Taoism. "I am sorry for what has happened to you and I admire your courage and perseverance." He said what practitioners have endured and sacrificed would not be in vain; instead it would lead a path towards a better future.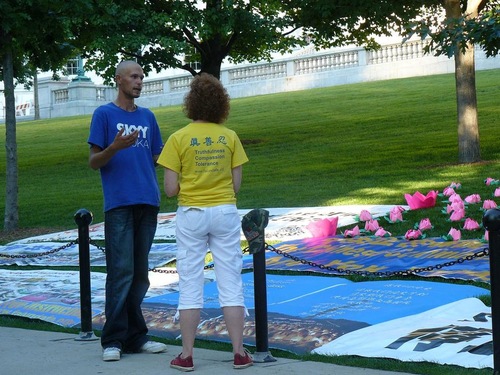 Practitioner talking with Glen
Another young man came to ask for more information because he had tried meditation previously and was interested in learning about Oriental culture. One practitioner recommended he read Zhuan Falun (the main teachings of Falun Gong).
"Thank you for telling me that. I will definitely read the book and learn the exercises on the Internet." replied the young man before he took some materials and left.