The Netherlands: "Bringing Dictator Jiang to Justice" Rally Held at International Tribunal
July 20, 2015 | By a Falun Gong practitioner in the Netherlands
(Minghui.org) A rally held last week in front of the International Tribunal in The Hague called attention to global efforts to bring former Chinese dictator Jiang Zemin to justice for launching the persecution of Falun Gong in 1999.
Since a Chinese law allowing for citizens to be plaintiffs in criminal cases went into effect on May 1, over 80,000 Falun Gong practitioners have filed lawsuits against Jiang Zemin with the Supreme People's Court of China.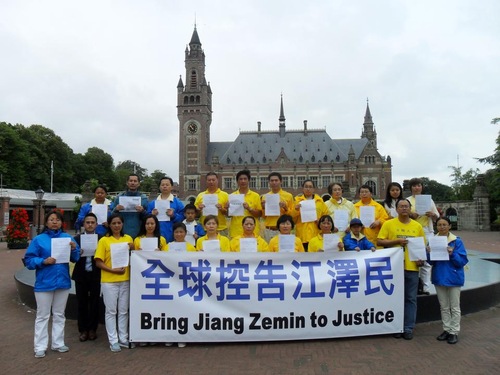 Falun Gong practitioners who were persecuted for their belief each holds a copy of their criminal complaints against Jiang Zemin sent to China's Supreme People's Procuratorate
Mr. Zhang Xuemin, representing Falun Gong practitioners who recently came of China, spoke at the rally.
"We are here today in front of the International Tribunal in The Hague to support the global effort to bring Jiang Zemin to justice," Mr. Zhang said. "Jiang Zemin has committed crimes against humanity, genocide and other crimes for having launched this persecution campaign against Falun Gong practitioners. We hope to have Jiang tried and stop the persecution of Falun Gong in China."
Mr. Zhang was subjected to forced labor once, detained twice and had his home ransacked four times since 1999 for his belief in Falun Gong. His wife Ms. Xu was subjected to forced labor twice and detained twice. Their family had to leave China and came to the Netherlands to avoid further persecution.
"I call upon people of all countries and nationalities to learn about the persecution of Falun Gong, and not be deceived by the Chinese regime's propaganda. Let's work together to stop the persecution of the innocent Falun Gong practitioners," Mr. Zhang said.
Background
In 1999, Jiang Zemin, as head of the Chinese Communist Party, overrode other Politburo standing committee members and launched the violent suppression of Falun Gong.
The persecution has led to the deaths of many Falun Gong practitioners over the past 16 years. More have been tortured for their belief and even killed for their organs. Jiang Zemin is directly responsible for the inception and continuation of the brutal persecution.
Under his personal direction, the Chinese Communist Party established an extralegal security organ, the 610 Office, on June 10, 1999. The organization overrides police forces and the judicial system in carrying out Jiang's directive regarding Falun Gong: to ruin their reputations, cut off their financial resources, and destroy them physically.
Chinese law now allows for citizens to be plaintiffs in criminal cases, and many practitioners are exercising that right to file criminal complaints against the former dictator.