Washington DC: Rally at Chinese Embassy Supports Lawsuits Against Jiang Zemin
July 02, 2015 | By a Falun Gong practitioner in Washington D.C.
(Minghui.org) Washington D.C. Falun Gong practitioners and supporters rallied outside the Chinese Embassy on June 26, 2015 to show their support for the recent movement involving victims of persecution in China. These victims are filing criminal complaints against Jiang Zemin, former head of the Chinese regime, who launched the persecution of Falun Gong in 1999.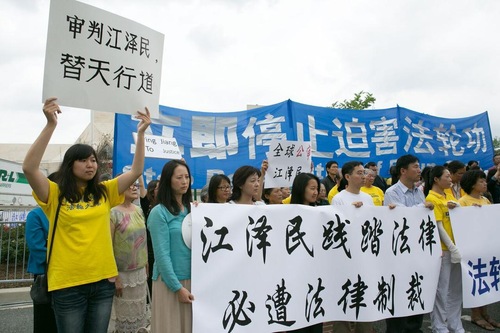 Falun Gong practitioners rally outside the Washington D.C. Chinese Embassy on June 26, 2015. The words on the blue banner read, "Stop the Persecution of Falun Gong Now"
Wave of Lawsuits Filed in China
Practitioners and their family members filed 13,109 complaints against Jiang between June 19 and 25, 2015, according to the Minghui website.
Over 9,700 complaints were received by Minghui between early May and June 18, 2015, from more than 1,400 counties (or cities) in 29 provinces. These complaints charge Jiang with initiating, intensifying, and sustaining the persecution of Falun Gong in China.
Lawsuits are not only filed by practitioners in China, but have also been filed by 64 practitioners who escaped from China, in 18 countries. The practitioners who filed complaints against Jiang live in the United States, Canada, Australia, France, England, Malaysia, Thailand, Japan, and other countries.
These complaints were submitted to the Supreme People's Court and the Supreme People's Procuratorate in Beijing, China before practitioners notified the Minghui website.
Seven Practitioners from Washington D.C. File Lawsuit
At the rally, seven practitioners from the Greater Washington D.C. area spoke about and showed a copy of the complaint they recently filed.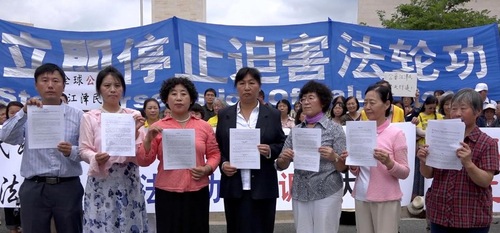 The practitioners are Mr. Zhang Huidong, Ms. Ma Chunmei, Ms. Wang Chunying , Ms. Yu Jing, Ms. Wang Chunrong, Ms. Wang Qiuying and Ms. Liu Jianing.
Former Mayor of Heze City Files Lawsuit
Ms. Liu Jianing, former mayor of Heze City in Shandong Province, shared at the rally how she was persecuted for her belief in Falun Gong.
She has a long list that details the persecution she suffered, which includes arrest, detention, imprisonment, forced labor, torture, brainwashing, home ransacking, confiscation of personal property, and financial extortion.
Aside from the physical pain she suffered, the mental torture was no less traumatizing. Jin'nan City police detained her in a brainwashing center in October 2000. Guards tortured the practitioners every night, and the beating and screaming could be heard throughout the facility. Although she was released after 37 days, the police kept harassing her.
"It was similar to the Nazi atrocities in which many doctors and nurses blindly followed orders handed down by upper-level officials and then refused to accept responsibility for their actions," she said.
"But it does not stop there. Also a large number of Chinese people participated, and still participate in this persecution against innocent practitioners, either actively or passively."
As a warning to the perpetrators of atrocities in this persecution she said, "Those involved in the Nazi atrocities were later prosecuted. Therefore, anyone who followed orders during this persecution in China will also face legal consequences."
Ms. Yu Jing Joins the Wave of Lawsuits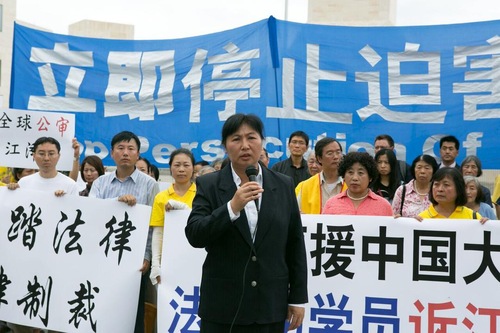 Langfang practitioner Ms. Yu Jing
Also presenting her case at the rally was Ms. Yu Jing, former assistant director of a kindergarten in Langfang, who was detained and tortured many times.
While imprisoned in a detention center in September 2002, guards slapped her face, beat her, deprived her of sleep, and forced her to listen to high-volume broadcasts that slandered Falun Gong.
To escape further persecution by officials, she and her daughter moved to Shanghai after her release. But police from both cities cooperated together and continued to harass her.
"No Chinese law book, nor the Chinese constitution have laws or articles on their books that ban Falun Gong. My rights should be protected by the law, and should not be jeopardized by Jiang Zemin and his regime," said Ms. Yu.
She charged Jiang with deliberate humiliation, defamation, abuse of power, illegal detention, violating freedom of belief, embezzlement, false accusation, and bending the law for personal gain.
Jiang's Responsibility for Genocide, Torture, and Crimes Against Humanity Cannot be Denied

Ms. Chen Yanqing speaks at the rally
Ms. Chen Yanqing, spokeswoman for the Falun Dafa Association in Washington D.C., said that Jiang launched the persecution of Falun Gong in July 1999 through a top-down approach.
"Jiang dictated the form that the persecution of practitioners would take. His orders included 'defame their reputation, bankrupt them financially, and destroy them physically' or 'elimination of Falun Gong to be accomplished within three months'."
As the Chinese regime's leader with dictatorial power, Jiang allocated China's resources to the suppression. This includes funding for police, procuratorial offices, courts, armed police, and military."
"Jiang and his persecution policy violated Chinese laws and international laws. He must be held responsible for genocide, torture, and crimes against humanity," said Ms. Chen.
Human Rights Lawyer Praises Practitioners' Courage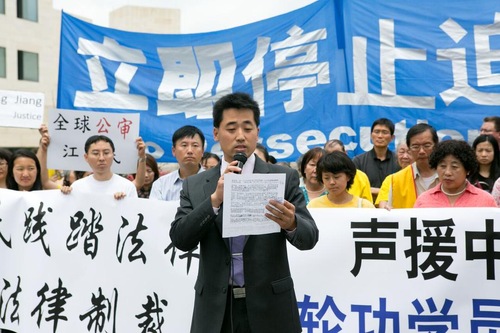 Human rights lawyer Peng Yongfeng speaks at the rally
Human rights advocate and lawyer Peng Yongfeng praised the practitioners' courage,
"There is an old Chinese saying, 'Good is rewarded with good, and evil meets evil.' This is the basis of all laws in our society."
He said people have witnessed the compassion of Falun Gong practitioners, and the viciousness of the regime. "This is a fundamental issue for all of us—there is no middle ground between good and evil."
Peng said that the lawsuits against Jiang will help people see through the lies and plots by Chinese communists.
"This is a process of removing the regime's legal disguise and exposing its viciousness, a process to end its brutality, and a process to free people deceived by the Chinese Communist Party (CCP)," he said.
Chairman of Congressional Subcommittee Supports Practitioners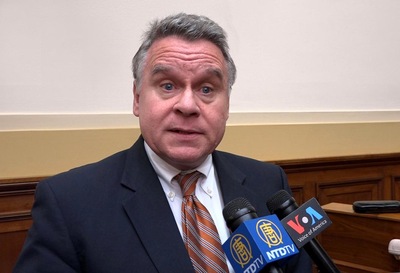 House Representative Chris Smith, chairman of the Global Human Rights and International Organization Subcommittee, said during a House Hearing on June 25, 2015, that he supports the lawsuits against Jiang.
Congressman Chris Smith, a senior member of the Foreign Affairs Committee and chairman of its Global Human Rights and International Organization Subcommittee, said he supported the wave of criminal complaints against Jiang by the Chinese people.
Commenting during a hearing on June 25, 2015, Smith said, "The courage and the bravery of the Chinese people that keep filing these complaints, that keeps them coming out pushing for democracy and accountability on the Party and the government, is awe-inspiring, because so many of them... are punished in someway, and yet they can persist."
"The western world, the free world anywhere in the world, should be having their backs, every day of the week and 24/7, to say 'We stand with you and we stand with the suppressed'."
Background
In 1999, Jiang Zemin, as head of the Chinese Communist Party, overrode other Politburo standing committee members and launched the violent suppression of Falun Gong.
The persecution has led to the deaths of many Falun Gong practitioners in the past 16 years. More have been tortured for their belief and even killed for their organs. Jiang Zemin is directly responsible for the inception and continuation of the brutal persecution.
Under his personal direction, the Chinese Communist Party established an extralegal security organ, the "610 Office," on June 10, 1999. The organization overrides police forces and the judicial system in carrying out Jiang's directive regarding Falun Gong: to ruin their reputations, cut off their financial resources, and destroy them physically.
Chinese law allows for citizens to be plaintiffs in criminal cases, and many practitioners are now exercising that right to file criminal complaints against the former dictator.