Candlelight Vigil in Nation's Capital Commemorates Fallen Falun Gong Practitioners
July 18, 2015 | By Xia Yanchu, Minghui correspondent in Washington D.C.
(Minghui.org) Falun Gong practitioners held a candlelight vigil at the Washington Monument on the evening of July 16, 2015, commemorating their fellow practitioners in China who have died due to persecution during the past 16 years.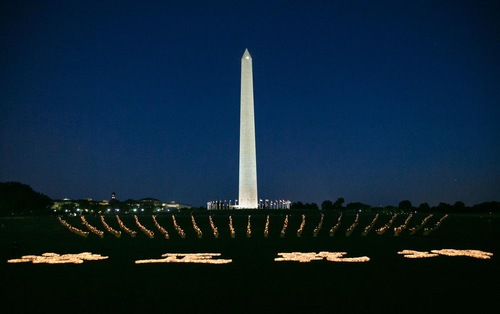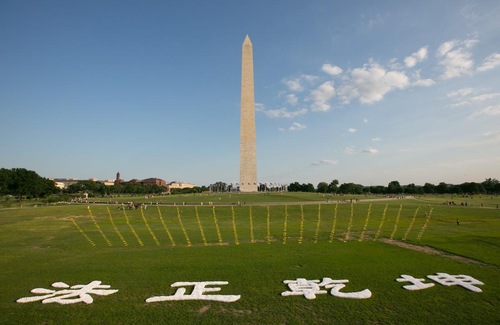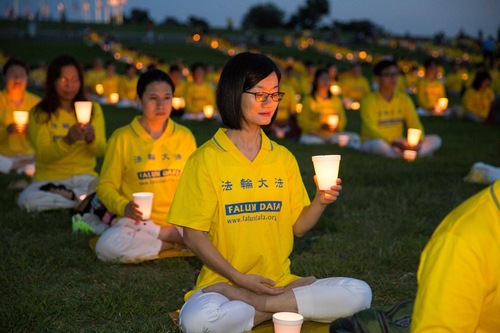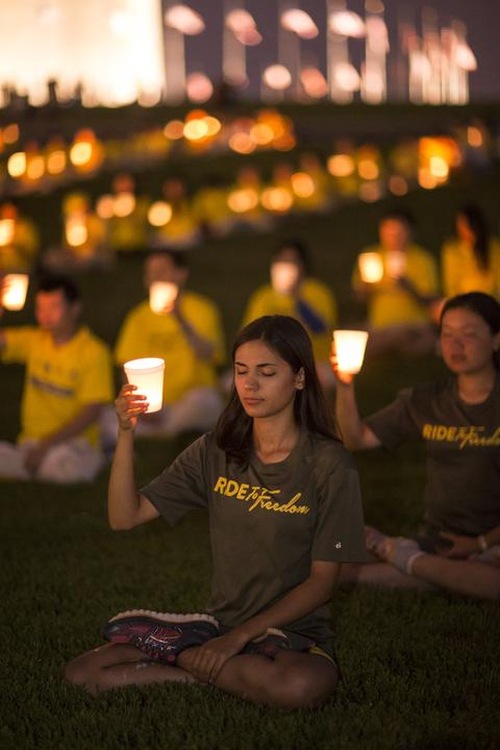 Falun Gong practitioners mourn the Chinese fellow practitioners who have died due to persecution with a candlelight vigil at the Washington Monument.
Ms. Dai Zhizhen quietly sat in the back row of the candlelight vigil. Fourteen years ago, her husband Chen Chengyong died due to the Chinese Communist Party's (CCP) persecution of Falun Gong, at age 34. It was such a heavy blow to her that her hair turned grey overnight.
She shed tears while talking about her husband and their daughter. She said, "He would be so happy to see our daughter grow up. It was 16 years ago when I took my daughter to attend a candlelight vigil for the first time. Sixteen years is almost a whole generation. I hope things will change next year. (The persecution will stop.)" Ms. Dai hopes people will find out what Falun Gong is and why Falun Gong practitioners sacrifice so much for their faith.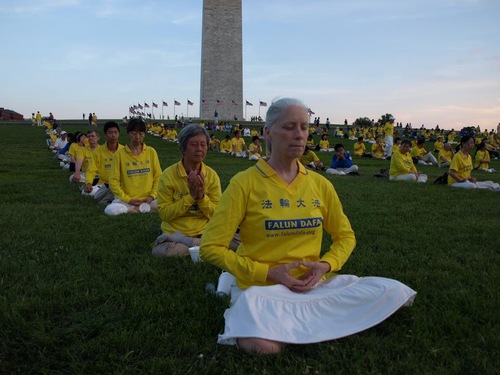 Ms. Ann Corson, a Falun Gong practitioner from Philadelphia
Ms. Ann Corson, a Falun Gong practitioner from Philadelphia, told the reporter, "The candlelight vigil is always very special to me, because as an American, I'm not so threatened by the Chinese Communist Party, and the persecution is so distant. So it's a real connection for me to the memory of those who have been and are continuing to be persecuted in China. It gives me a sense of solidarity there. Because in this country, my ancestors came here many generations ago, seeking religious freedom in the 1600s. So religious freedom, freedom of thought, and freedom of speech was just in my genes when I was born. It is what is here in America. And not being able to live in that kind of environment, to me, is so overwhelming. The candlelight vigil reminds me that so many people in the world, especially the Falun Gong practitioners in China, have been persecuted just for their belief."
Ms. Corson also came to Washington D.C. to talk to her congressman about the recent development of the persecution, and ask them to co-sponsor Resolution 343, a resolution about stopping the CCP's organ harvesting from Falun Gong practitioners. Ms. Corson commented that the Congressmen's offices are paying more attention to Falun Gong than in previous years.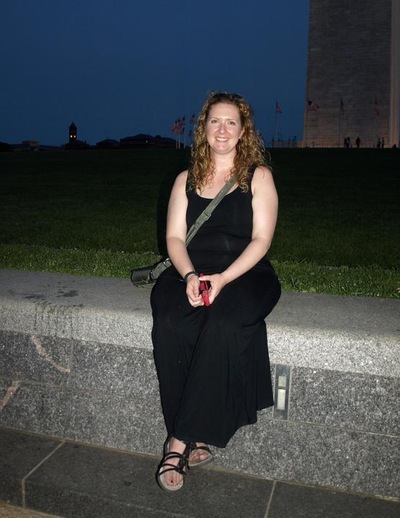 Mrs. Jamie Stephens
Soothing music and candlelight attracted many local residents and tourists to the scene. Mrs. Jamie Stephens, a criminal law attorney, was among them. She learned about the persecution in China, and decided to stay at the vigil to show her support of Falun Gong's anti-persecution work. She stayed with practitioners for a couple of hours, became interested in Falun Gong practitioners' recent lawsuits against Jiang, and decided to go to Falun Gong practitioners' group exercises on the upcoming weekend.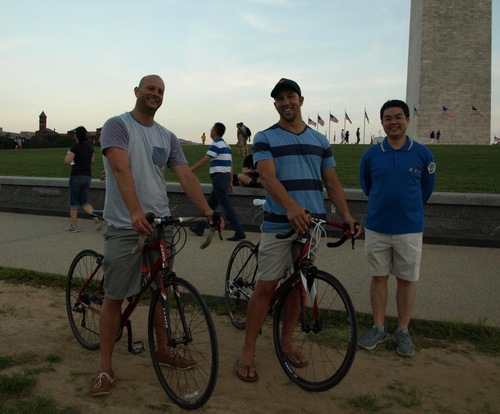 Mr. Matt Hladiuk (left) and his friend Mr. Gunther Heyder (middle) obtain information from a Falun Gong practitioner (right).
Matt, a Math teacher, and his friend, Gunther, happened to pass the Washington Monument, and obtained information about the candlelight vigil. Upon hearing about the CCP's organ harvesting crime, Matt said to a Falun Gong practitioner, "It's almost a resemblance of the Second World War. It's shocking to hear about it." Matt said it was sad that the CCP persecutes a simple practice like Falun Gong.