Sentenced to 8 Years for Her Belief and Paralyzed While in Detention
July 16, 2015 | By a Falun Gong practitioner in Thailand
(Minghui.org) "Police arrested my husband and me again in May 2005 for printing materials that exposed the persecution of Falun Gong. I went on a hunger strike to protest the illegal detention. About three months later, my entire body was paralyzed from muscular atrophy. I was unable to speak or take care of myself. Nonetheless, officials carried me to the courtroom and sentenced me to 8 years of imprisonment."
Ms. Zhou Meilin from Guangdong Province shared her ordeal at a rally held at noon on July 12, 2015. Gathered at the Lumpini Park in Bangkok, Thailand, practitioners held up banners, put up posters, and told passersby about Falun Gong.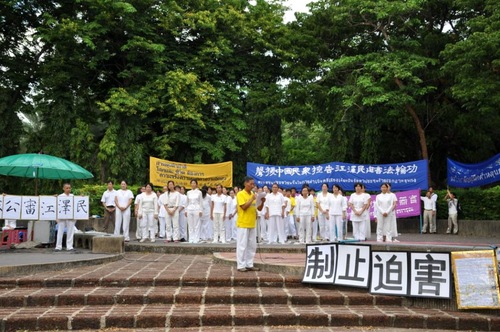 Practitioners hold a rally to raise awareness of the persecution and support lawsuits against Jiang Zemin. The sign in the front reads, "Stop the persecution."
Both Ms. Zhou and her husband benefited from the practice of Falun Gong, physically and mentally. After Jiang Zemin banned the practice in July 1999, they lost their jobs because of their belief. Ms. Zhou was arrested in December 1999 for appealing for Falun Gong. At the Zhuhai Second Detention Center, guards hung her from a cross, with her four limbs apart, for three days. Her bottom was festering with ulcers, and her arms were injured.
After being sent to the Chatou Labor Camp in October 2000, guards handcuffed her arms in the back and forced her to sit with the legs crossed for 14 hours, and for over 25 hours another time. By the time she was released, both feet were deformed and badly injured. For years after that, she was unable to walk for any kind of distance.
"My experience is just a glimpse into the nationwide persecution. Tens of millions of practitioners in China have been abused in various ways for their belief, including live organ harvesting, one of the worst things that has occurred in human civilization." She said that by persecuting Falun Gong and the principles of Truthfulness-Compassion-Forbearance, Jiang is attacking China's moral foundation and abusing the legal system.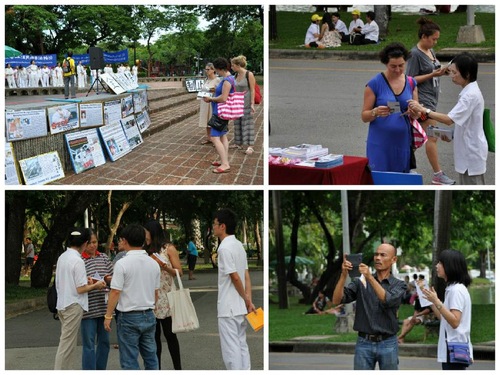 Pedestrians reading posters and requesting more information.
Several other practitioners also spoke at the rally. Ms. Wang Shfu, a former medical professional, was fired by her employer and sent to labor camp three times, with a total term of over four years.
With marks and scars still remaining from the torture and forced labor, Ms. Wang said that the suppression has harmed more than practitioners. "My mother is always worried about me and she lives in fear. Eventually she went blind in one eye."
Ms. Zhang from Shenzhen in Guangdong Province was married in Hong Kong on August 25, 2011. Because she had something to take care of back in Shenzhen, she returned later in the day after the wedding. But when she applied for another Hong Kong entry permit on the following day, police denied her request and voided her travel document.
Confused and distraught, her newly wedded husband asked why she could not obtain paperwork for re-entry. "Because she is a Falun Gong practitioner," one officer replied, "She has to renounce her belief to get the permit."
Ms. Zhang was never able to go back to Hong Kong again. Her husband was forced to divorce her one year later.
According to information received by Minghui, more than 60,000 Chinese have filed criminal complaints against Jiang since May. "This is because he [Jiang] has committed genocide and crimes against humanity," said Ms. Zhou.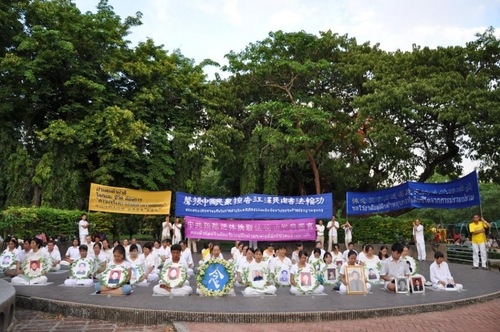 Candlelight vigil in remembrance of the 3,858 Falun Gong practitioners who have been confirmed dead due to the persecution