Memoirs of the "Ride 2 Freedom," from Colorado to Missouri
July 15, 2015 | By a Hungarian participant of "Ride 2 Freedom"
(Minghui.org) "Ride 2 Freedom" cyclists are steadfastly ticking off the miles, day by day, to reach their destination--Washington DC, the capital of the United States of America--on July 16, 2015.
We made it through the desert and through the mountains on the first leg of our journey. On the second leg, from Colorado to Missouri, our team of dedicated youths stopped in Denver, Colorado, for an entire day on June 19.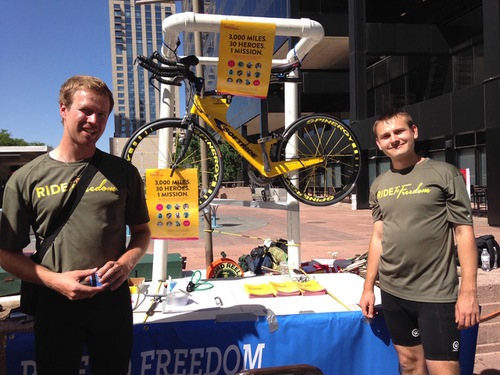 Many people stopped by to talk with us, and as a sign of encouragement for our noble purpose, our supporters would happily take a "selfie" with us. Locals and foreign visitors have also contributed miles for "Ride 2 Freedom" on their bikes, to help the children orphaned by the persecution against Falun Gong.
Our next stop was Topeka, the capital of Kansas, where officials and representatives gave us a warm welcome. We, a group of "global youthful ambassadors" represent 16 different countries.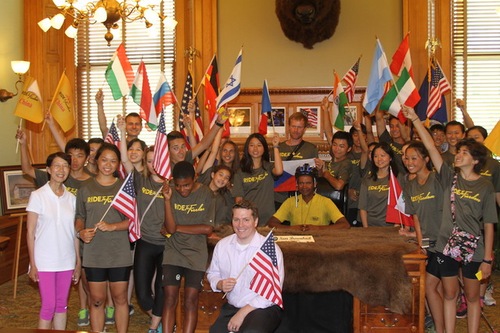 In the Governor's office in Topeka, Kansas
We then went to Lawrence, Kansas, and held a press conference on June 26, 2015, that was broadcast by a local TV station.
On the way to Lawrence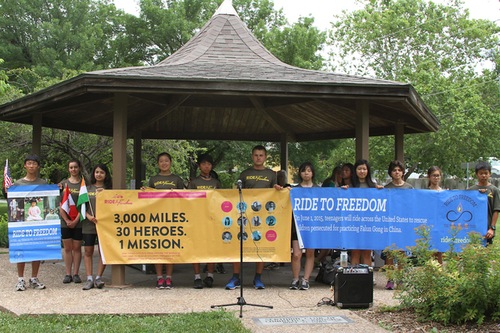 "Ride 2 Freedom" press conference in Lawrence
We continued on after Lawrence on Saturday June 27, and we rolled into downtown Kansas City around noon. We held a press conference and talked with people interested in our cause.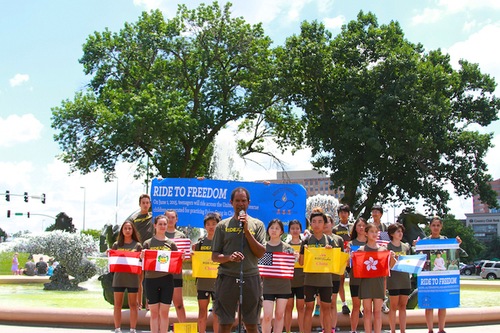 We then jumped on our bikes early Sunday morning to cover at least 80 miles, this time in Missouri.