New Zealand: Screening of Documentary Triggers Calls for Ending CCP's Organ Harvesting Crimes
July 13, 2015 | By a Falun Gong practitioner in New Zealand
(Minghui.org) Human Harvest, a Peabody Award winning documentary, was screened by the Victoria University of Wellington Faculty of Law in New Zealand on July 1, 2015. Among the audience were politicians, lawyers, and experts from related fields. A panel discussion followed, addressing the Chinese Communist Party's (CCP) organ harvesting from living Falun Gong practitioners and calling for action to end this atrocity.
David Matas, Canadian human rights lawyer, Catherine Delahunty, Green Party MP and spokesperson for human rights, Kerry Gore, immigration lawyer, and Tony Ellis, human rights lawyer, were on the panel to answer questions from the audience. Dr. Damon Noto, spokesperson for Doctors Against Forced Organ Harvesting (DAFOH), could not make it in person, but answered questions via videoconferencing.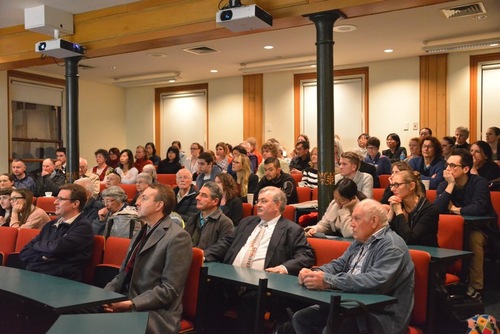 Human Harvest, a Peabody Award winning documentary, was screened by the Victoria University of Wellington Faculty of Law in New Zealand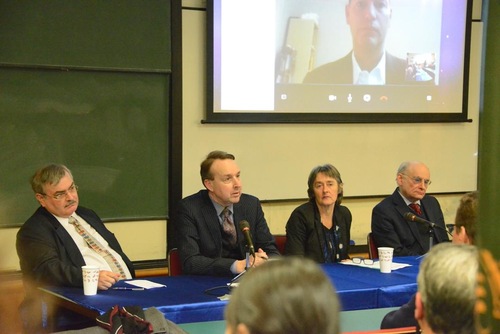 Canadian human rights lawyer David Matas, Green Party MP and spokesperson for human rights Catherine Delahunty, immigration lawyer Kerry Gore, and human rights lawyer Tony Ellis (from right to left)
Matas: Everyone Should Safeguard Human Rights
Human rights lawyer David Matas said that this documentary played an important role in exposing the organ harvesting atrocity to a wider audience.
He always thought that safeguarding human rights was not limited to what lawyers and experts do. Mr. Matas believes that everyone should safeguard human rights and spread the information.
In his opinion, we cannot count on the CCP to stop the persecution and forced organ harvesting. People around the globe should take action and get involved in stopping this systematic crime, through any number of means.
Green Party MP: Action Must Be Taken to Stop the Atrocities
Catherine Delahunty, Green Party Member of Parliament and spokesperson for human rights, said that the forced organ harvesting was a crime against humanity.
Delahunty said that she would invite other politicians to get involved in stopping the forced organ harvesting. She planned to raise this issue in Parliament and urge action at the national level.
She also planned to explore, with organ transplant experts and lawyers, more concrete ways to stop people from going to China for organ transplants.
Delahunty encouraged raising awareness of organ harvesting and hoped to include it into the agenda of New Zealand's position as rotating chair country of the United Nations Security Council.
Immigration Lawyer: Stopping the Persecution is the Ultimate Solution
Immigration lawyer Kerry Gore said that many of his clients are Falun Gong practitioners who escaped from China. Most of them had experienced repeated blood tests and physical exams when they were imprisoned in China. All evidence indicates that the CCP gathered information for a database of potential organ donors.
Gore also listed dozens of torture methods that Falun Gong practitioners have experienced while in police custody, including the iron chair, hanging, burning, force-feeding with salt water, injection of nerve-damaging drugs, sexual abuse and rape.
He said that the forced organ harvesting was only one form of the CCP's systematic persecution methods. He believes that stopping the persecution is the ultimate solution to stop the organ harvesting.
Spokesperson for DAFOH: Doctors Hold Fiduciary Responsibility to Help Stop Crimes in Specialty Field
Dr. Damon Noto, spokesperson for DAFOH, said as soon as the CCP's organ harvesting was exposed, a group of doctors began paying attention to the atrocities and established the non-profit organization DAFOH (Doctors Against Forced Organ Harvesting).
The organization informed professionals in the organ transplant field and took group action. When the organization was founded, DAFOH's members were mostly American doctors, but soon more than a hundred doctors joined from Europe, Asia, Australia and South America.
Dr. Noto said that organ transplant doctors were extremely concerned about organ harvesting abuse by Chinese doctors. Doctors overseas were determined to stop it. The more they learned, the more they wanted to get involved.
Australian Lawyer: We Must Stop this Crime
Ms. Robyn Robinson, a lawyer from Melbourne, Australia, said that it was imperative to take action to stop this crime. When she first received a flyer in Melbourne about the forced organ harvesting, she could not believe it. However, the detailed information in the documentary convinced her that this crime did exist.
Ms. Robinson said she would spread the information to more people, and tell Australian Members of Parliament that she and many others were paying attention to this matter.
City Councilor: New Zealand Won't Tolerate Such Atrocities
Mr. Max Shierlaw, a member of the Wellington City Council, said even though he had heard about the persecution of Falun Gong, he had not realized that it was so severe and so appalling. It was hard to imagine how a government would commit such atrocities.
Mr. Shierlaw believes that New Zealand should follow the example of some European countries and ban organ transplant trips to China. Even though the number of organ transplant patients in New Zealand might be small, such a law would send a clear message to the CCP that New Zealand will not tolerate such atrocities.
Faculty of Victoria University: Wave of Criminal Complaints Against Jiang Zemin Brings Hope
Professor Diane O'Rourke from Victoria University said that all governments should get involved and take action to stop the illicit organ harvesting.
She is aware that many countries have discussed the human rights problems in China in private, but very few have stepped forward to stop the CCP, for fear of losing China as a market.
Professor O'Rourke feels that simply spreading information is not enough. She said that there needs a clear goal and concrete action taken. For example, the tremendous numbers of people filing criminal complaints against former Chinese dictator Jiang Zemin, who initiated and perpetrated the persecution, brings hope for ending the persecution of Falun Gong.