Adelaide, Australia: Public Forum on China's Killing of Falun Gong for Their Organs
July 12, 2015 | By a Falun Gong practitioner in Australia
(Minghui.org) A public forum on China's harvesting of organs from living Falun Gong practitioners was held in the University of South Australia in Adelaide, on the evening of June 29, 2015. Many attended after seeing a recently aired documentary titled Human Harvest: China's Organ Trafficking on SBS television in April this year.
Canadian human rights attorney David Matas and the Director of the Epoch Times Melbourne Branch, John Xiao, were the two main speakers at the forum.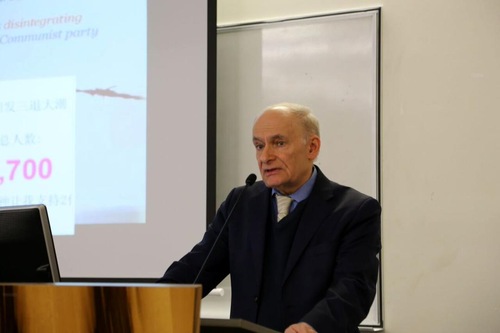 David Matas addresses the harvesting of organs from living prisoners of conscience in China.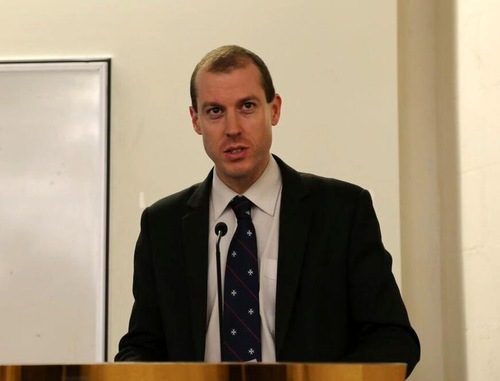 Damian Wyld from Family Voice expresses his concern for illegal transplants conducted in China.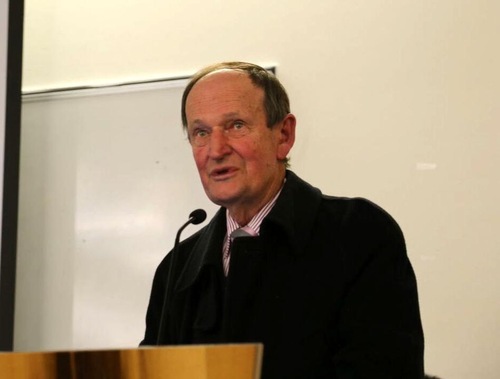 Dr. Ken Rollond, former mayor of Holdfast Bay, condemns the organ harvesting atrocities.
David Matas: New Findings on the Killing of Falun Gong for Their Organs
According to Matas, "Systematic blood testing and organ examination of detained Falun Gong practitioners has been commonplace from 2001, throughout China. The police, beginning in April 2014, have engaged in forced blood testing of practitioners of Falun Gong not in detention."
"The practitioners have been arrested in their homes or on the street, taken to local police stations for forced blood tests and then released," Matas explained.
Italy Sets Punishment For Participating in Illegal Organ Trade
Matas pointed out developments in other countries on the matter. He stated, "the Italian Senate on March 4, 2015 passed a bill which states that any person who trades, sells or manages illegally trafficked organs from living persons would serve a prison term of 3-12 years and pay a hefty fine from 50,000 to 300,000 euros."
"The bill sets out a punishment for whoever publicly encourages or advertises the selling of organs or transplant tourism. Doctors who promote or assist patients to travel to obtain an organ illegally would face lifetime disqualification for violating medical ethics," Matas continued.
Taiwan Bans Transplant Tourism, Organs from Unknown Sources
Regarding Taiwan, Matas explained, "the Taiwan legislature, the Yuan, on June 12, 2015, amended the Human Organ Transplantation Act to prohibit the use of organs from executed prisoners, as well as the sale, purchase and brokering of organs. The law bans transplant tourism. Additionally, doctors involved in illegal organ transplants could lose their license."
"The Act further stipulates that patients who get organ transplants overseas must provide legal proof of the source of the organs in order to be eligible for state-funded medical aftercare in Taiwan. The Act thus prohibits Taiwanese from receiving organs from unknown sources," clarified Matas.
Australia's Response
David Shoebridge, member of the New South Wales Legislative Council, proposed a legislation to Parliament in 2013 to prohibit any person in New South Wales from:
1. Entering into a commercial transplant arrangement.2. Removing tissue from the body of another person, whether living or deceased, without consent.3. Consenting to the use of tissue removed from the body of another person, whether living or deceased, for the purpose of its transplantation to the patient if the tissue was removed without consent, and the patient knows or is reckless as to that lack of consent.
Bernie Finn, Member of the Victorian Legislative Council, said he met with Matas at Melbourne University to discuss what measures the Victorian Parliament can make "to right this dreadful wrong that's currently going on China."
Matas hopes the South Australian Parliament can enact legislation patterned on the abovementioned proposal by David Shoebridge.
Damian Wyld of Family Voice said that live organ harvesting of Falun Gong practitioners was beyond words, and it is unimaginable that such a crime has continued on for so long without much attention.
Doctor Ken Rollond, former mayor of Holdfast Bay, expressed how he could not understand why a group of good citizens were subject to organ harvesting in China.
Within the past few weeks, Matas has spoken at the ANZSIL (Australian New Zealand Society for International Law) Conference in Wellington, the New Zealand Parliament, a forum at Wellington University, the South Australian Parliament, the Western Australian Parliament, the 15th International Symposium of the World Society of Victimology in Perth, and was the keynote speaker at the "Human Rights and Forced Organ Harvesting in China" public event at The University of Melbourne.