Falun Gong Practitioner Mr. Ma Fujian Tortured
June 09, 2015 | By a Minghui correspondent in Shandong province, China
(Minghui.org) Mr. Ma Fujian was arrested at around 6:00 a.m. on May 1, 2015 by officers from the Guoli Town Police Station, for distributing DVDs with information about Falun Gong in Guoli Town, Shandong Province. The police ransacked his home and confiscated a motorcycle, desktop computer, printer, and other belongings.
"We are going to place your husband in criminal detention for distributing illegal materials in public. He broke the law," said Pang Yunfeng, an officer from the Hengtai County Domestic Security Division to Mr. Ma's wife.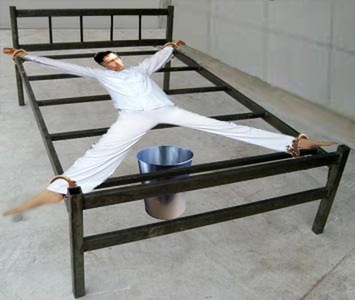 Torture reenactment: Death bed
"Your husband refuses to eat and drink. I hope you discourage this. He should be careful of his health. We are going to reeducate him later," said Pang to Mr. Ma's wife when she visited him in the detention center.
Mr. Ma's wife noticed that Mr. Ma was weak, sluggish, and his eyes looked dull. She asked Pang what they did to her husband.
"We just fed him corn congee through a tube. If you can give me some money, I will mix milk or sugar in with the corn congee," he said. She gave him 2,000 yuan.
Mr. Ma's brother and wife from Shaanxi Province visited him in the detention center on May 11, 2015.
"I was tied to the death bed and tortured for four days until my blood pressure dropped to between 50-60, and I was on the verge of death," Mr. Ma told his brother.
Participants in the persecution of Mr. Ma:Pang Yunfeng (庞云风), police officer: +86-13506430097Gong Yibing (巩义兵), head of the Domestic Security Team: +86-13325207979Hengtai County 610 Office: +86-533-8267610Yue Yang (岳阳), procurator: +86-533-3012834