Seventy-five-year-old Ms. Fu Lingwen Sues Former Dictator Jiang Zemin
June 04, 2015 | By a Minghui correspondent in Gansu Province, China
(Minghui.org) As more and more Falun Gong practitioners file criminal complaints against Jiang Zemin for launching the persecution of their spiritual belief, a 75-year-old practitioner has recently filed a complaint against the former Chinese Communist Party head.
Ms. Fu Lingwen, from Jinghang City, Gansu Province, mailed her complaint against Jiang to the Supreme People's Procuratorate via express mail on May 20, 2015. She charges Jiang with abusing his power to launch the persecution of Falun Gong, violating the Chinese Constitution, as well as Chinese criminal law and international law. She calls for the Procuratorate to bring Jiang to justice.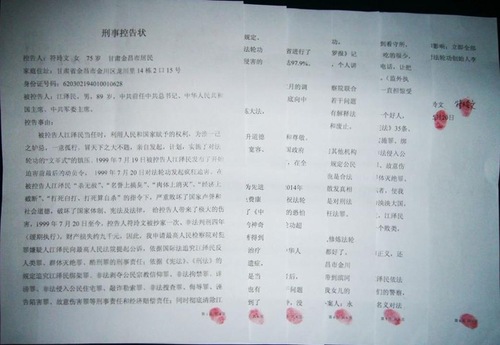 Ms. Fu Lingwen's criminal complaint against former CCP leader Jiang Zemin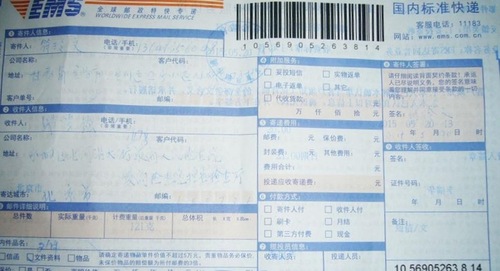 Ms. Fu's receipt for criminal complaints mailed to the Procurator-General of the Supreme People's Procuratorate.
Excerpts from Ms. Fu's criminal complaint against Jiang Zemin follow.
Ms. Fu Recounts Her Persecution
Police officers from the Yongchang County Police Bureau in Jinchang City, Gansu Province and Li Zhandong (李占东), superintendent of the Binhe Road Police Station in Jinchuan District knocked at my door at noon on April 1, 2007. They said they wanted to verify something with me and then took me to the Binhe Road Police Station. In the meantime, police officers from the Yongchang County Police Bureau ransacked my home. (Officers in charge: Liu Jie (刘杰) and Li Chunfeng (李春风) from the Yongchang County Police Bureau.)
They took me to the detention center at approximately 9:00 p.m. that night. For two days and one night, they didn't give me any food, nor allow me to sleep. I became extremely weak and lost my appetite. My blood pressure increased to 180. Officials from the Yongchang County Police Bureau called my daughter to take me back home when it became apparent that my life was in danger.
I was sentenced to four years in prison on November 27, 2007 (to be served outside of jail, as per Verdict No. 70 of the Yongchang County Court, 2007). Since then, I have been living in great fear and under tremendous pressure. My health has been much affected as a result.
I simply want to have good health, practice a noble belief, and become a kinder person. However, Jiang Zemin blatantly slandered and defamed Falun Gong and the spiritual master of Falun Gong.
A List of Jiang's Crimes
In her complaint, Ms. Fu lists Jiang's crimes. She states, "Jiang violated my constitutional right to believe in Falun Gong. According to Chinese criminal law, he also committed the crimes of abduction, wrongful imprisonment, slander, home invasion, extortion, illegal search of private homes, libel, and intentional injury. According to international law, Jiang Zemin has committed crimes against humanity, including genocide and torture."
Jiang Abused His Power to Launch the Persecution
"Jiang Zemin took advantage of his control over the nation's financial, material and human resources to persecute Falun Gong practitioners. He caused me to live in extreme fear and lose a free and peaceful cultivation environment at home."
Ms. Fu believes that what happened to her is a humiliation to the Chinese people. "In such a great country, an old woman like me is not even allowed an environment to freely practice my belief and cultivation. It's clear how vicious and narrow-minded Jiang Zemin is! It's a humiliation of every Chinese to have allowed such a scoundrel to enjoy a seat of power for over ten years!"
Ms. Fu Calls for the Procurators to Stand for Justice
"You must uphold your conscience and sense of righteousness, and return my innocence!"
Ms. Fu closed her complaint with the following requests:
"I therefore request the Supreme People's Procuratorate to file my charges against the prime culprit Jiang Zemin, who had brought me serious injury, and bring Jiang Zemin to justice. In the meantime, I request the elimination of the unfair regulations and prohibitions that Jiang Zemin had made against Falun Gong in the name of the nation and government. Also, immediately release all Falun Gong practitioners who are still being detained and imprisoned."
BackgroundIn 1999, Jiang Zemin, as head of the Chinese Communist Party, overrode other Politburo standing committee members and launched the violent suppression of Falun Gong.
The persecution has led to the deaths of many Falun Gong practitioners in the past 16 years. More have been tortured for their belief and even killed for their organs. Jiang Zemin is directly responsible for the inception and continuation of the brutal persecution.
Under his personal direction, the Chinese Communist Party established an extralegal security organ, the "610 Office," on June 10, 1999. The organization overrides police forces and the judicial system in carrying out Jiang's directive regarding Falun Gong: to ruin their reputations, cut off their financial resources, and destroy them physically.
Chinese law allows for citizens to be plaintiffs in criminal cases, and many practitioners are now exercising that right to file criminal complaints against the former dictator.
For more information, please readThe Role of Jiang Zemin in the Persecution of Falun Gong - a Legal Brief