Practitioners Express Gratitude at Parade and Conference in New York City
June 03, 2015 | By Minghui correspondents Shu Hui and Rong Fa in New York City
(Minghui.org) Over 8000 Falun Dafa practitioners attended the 2015 Falun Dafa Cultivation Experience Sharing Conference in New York on May 14. Overseas Falun Dafa practitioners from Russia, Ukraine, Vietnam, and South Korea were among the many nationalities who made the trip to New York City.
"We Have Very Few Conflicts in Our Life"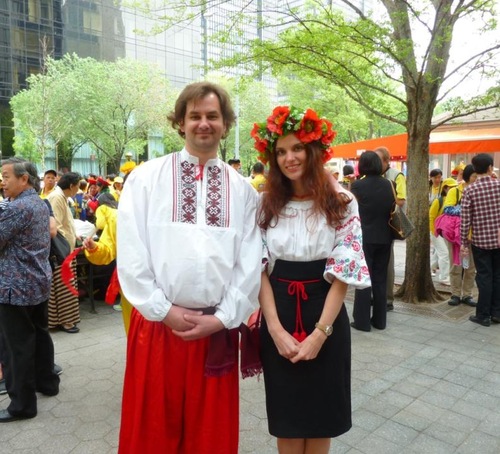 Mr. Euggen Bfug and his wife Totiong Stou from Ukraine
Prior to the conference, our reporter met with Mr. Euggen Bfug and his wife, Ms. Totiong Stou, from Ukraine on May 13.
Euggen said Falun Dafa and its founder Master Li Hongzhi gave him a new life and a happy family. Since he started practicing Dafa, he quit drinking, smoking, and many bad habits within a month.
He previously had one failed marriage and wasn't sure whether to try again. He says Falun Dafa taught him how to live one's life based on the principles of Truthfulness-Compassion-Forbearance to have a happy family.
His current wife Totiong Stou also practices Falun Dafa, and both of them work at the same TV station. They are partners at work and at home.
"As of now, we have been married for seven years. We both work hard to be good people by following the principles of 'Truthfulness-Compassion-Forbearance,' so we have very few conflicts in our life. Even when there is conflict, we know how to handle it. With immense gratitude, we thank Master Li for this," said Euggen.
Marriage Saved by Dafa
Ms. Luong, a practitioner from Hanoi, Vietnam, experienced her first Falun Dafa conference in New York City. She has many talents and a cheerful smile. She graduated from a university in England, is fluent in English and Chinese, and now works for a large multinational company. Ms. Luong said that Falun Dafa saved her marriage.
She mentioned that maintaining a harmonious married life was even harder than learning any foreign language. Ms. Luong explained how her personality differed greatly from that of her husband's, and so they often quarelled. It got so bad that at one point she considered divorce.
One day, her husband learned from Ms. Luong's sister the practice of Falun Dafa. Ms. Luong initially didn't want to practice it, thinking she didn't need that in her life.
Soon after, she had lucid dreams on two consecutive nights, in which she was trapped by a huge flood and had nowhere to hide. The dreams left her with the impression that she ought to read the book Zhuan Falun with her husband, and only then would she be able to stay safe in any dangerous situation.
Her husband, upon hearing of her dreams, recommended she start practicing Falun Dafa.
She began to read Zhuan Falun and took up the practice two years ago. She says practicing Falun Dafa taught her to improve herself from within and be more considerate toward her husband. Intense family conflicts are no more, and they both enjoy a harmonious marriage.
"This is my first time attending a Fa conference in New York City," said Ms. Luong. "I feel happy to be with so many Falun Dafa practitioners. I wish more people can learn and practice Falun Dafa and find happiness like I have."
Learning to Live Life Helping Others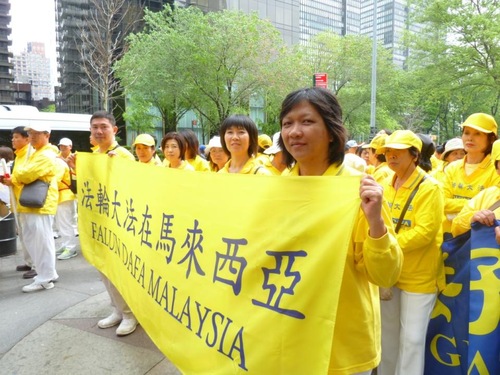 Mr. Chen Yuji (left) from Malaysia
Mr. Chen Yuji, a software engineer from Malaysia, started practicing Falun Dafa in 1998 when his father, also a practitioner, introduced Dafa to him. After reading the main text Zhuan Falun,he learned the meaning of life and understood why we are in this world.
"I no longer fear death, because I learned that life doesn't end at the time of death." He went on to say, "before practicing Dafa, I always considered my own interests. Falun Dafa taught me to think from the other party's perspective and to live a life helping others."
Many young people place excessive importance on one's career path, Chen said. He learned from Falun Dafa's principles about following the course of nature, and to have a more relaxed attitude towards one's career.
"I became more easygoing. I just think about how to do my job well. My work environment changed as well, and became more relaxed." Chen elaborated, "If I ought to gain something, then I'll naturally get whatever it may be. If something is not meant to be mine, then I need not worry about it."
"My father and younger brother now practice Falun Dafa. Our whole family has benefited from it."
"I Have Become More Compassionate"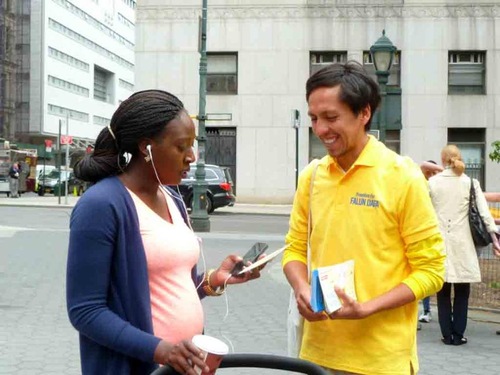 Mr. Maolixiu (right) from Peru
Mr. Maolixiu is an architectural engineer and owner of a company, and he has practiced Falun Dafa for seven years. "Practicing Falun Dafa lets me feel rich in my heart and has made me happy," said Maolixiu. "I have become more compassionate, which can benefit the people around me. I wish more people can learn Falun Dafa and live a happy life like me."
"Always Using Truthfulness-Compassion-Forbearance"
Ms. Rechil is from Israel, and she has practiced Falun Dafa for 13 years. "I joined many other practitioners in Israel. I no longer fear other people's different opinions, because I now have proper life principles, that is, always using Truthfulness-Compassion-Forbearance to face society and myself," said Rechil.
"I am happy that I can be friendly with people around me, and I love talking to them," she added. "Falun Dafa changed me and my life. I have so much appreciation for Master Li."