Vancouver: Rally at Chinese Consulate Supports Massive Wave of Criminal Complaints Against Former Dictator
June 28, 2015 | By a Falun Dafa practitioner in Vancouver, Canada
(Minghui.org) A large group of Falun Dafa practitioners rallied on Granville Drive across from the Chinese Consulate in Vancouver on June 21, expressing their support for the thousands of Chinese practitioners who had filed criminal complaints against the former dictator Jiang Zemin.
Some of the practitioners in Vancouver had also mailed their complaints to the Supreme People's Court and Supreme People's Procuratorate in Beijing, joining over 10,000 other complaints filed in China in the recent month.
More than a dozen banners unfurled along the sidewalk, calling to "Bring Zemin Jiang to Justice" and "Stop the Persecution of Falun Gong in China." Passing drivers honked and saluted to show their support.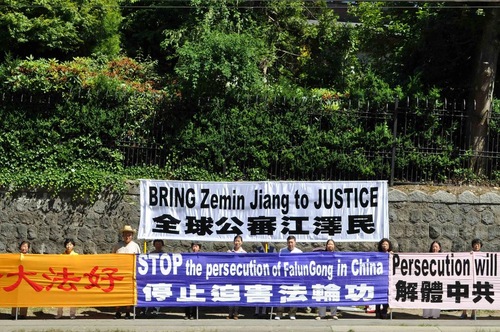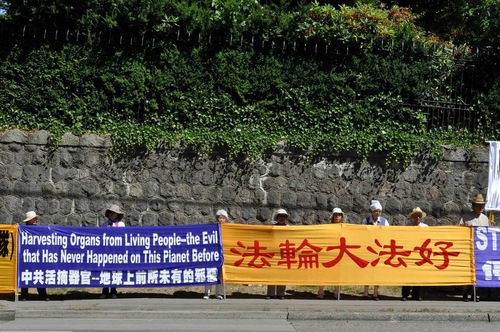 Falun Dafa practitioners rallied near the Chinese Consulate in Vancouver, calling for former Chinese dictator Jiang Zemin to be prosecuted for launching the violent suppression of Falun Gong in China.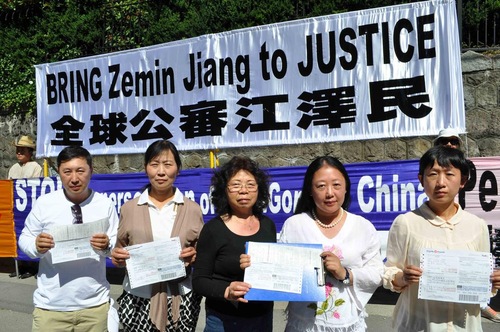 Five practitioners in Vancouver who were imprisoned and tortured for their belief before leaving China have mailed their criminal complaints to the Chinese Supreme Court and Supreme People's Procuratorate.
A Family Tortured in Labor Camps, Prisons for Their Belief
The family of practitioner Jing Tian submitted criminal complaints against Jiang to Beijing for the torture and other abuses they suffered in Liaoning Province since the persecution started in 1999.
Ms. Jing says her family benefited tremendously from practicing Falun Dafa, which brought them better health and taught them the principle of "Truthfulness-Compassion-Forbearance." Before Jiang Zemin launched the persecution in 1999, her family was praised by the authorities for donating books to a local library.
Ms. Jing was sentenced to 1.5 years of forced labor in 1999 and imprisoned for 10 years in 2001.
She was released on medical parole after being force-fed and beaten in 2002. Howver, she was again arrested when she publicly revealed the abuses she suffered in prison, and her term was extended to 13 years.
Her sister Jiang Cai and brother Jiang Yu were also imprisoned for 13 years and 10 years, respectively, also because they practice Falun Gong.
Cheng Songyuan, Ms. Jing's husband and a former real estate developer, was twice held in a forced labor camps, where guards once took turns shocking him using 20 electric batons.