Former Surgeon Sues Jiang Zemin
(Minghui.org) Dr. Kong Qingchun, 52, a former surgeon from Dalian City, has filed a criminal complaint, charging former Chinese president Jiang Zemin with abusing his power to implement the systematic, nationwide persecution against Falun Gong practitioners.
"Due to the persecution, my wife and I divorced; my apartment was taken away; and my personal belongings were confiscated. I sustained grievous bodily harm. My parents and relatives live in fear. Words cannot express the suffering my family and I have endured.
"I have a hard time making a living because I practice Falun Gong. I've been fired multiple times because I've told people about the persecution of Falun Gong," Dr. Kong wrote in his filing.
Dr. Kong submitted his complaint to the Supreme People's Procuratorate via express mail on June 2.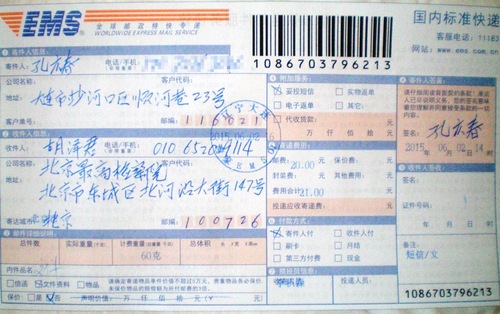 Mail receipt for Dr. Kong Qingchun's complaint sent to the Supreme People's Procuratorate
Dr. Kong used to work at the Dalian City No. 5 People's Hospital. He started practicing Falun Gong in 1995. After he went to Beijing to appeal for the right to practice Falun Gong in February 2000, he was no longer allowed to practice medicine at the hospital and was given janitorial duties. Eventually he was forced to leave the hospital.
Dr. Kong was again arrested for telling people about the persecution of Falun Gong in April 2000 and was sent to a forced labor camp for a year.
After he went on a hunger strike to protest in Guanshanzi Forced Labor Camp, he was put in solitary confinement, tortured, and almost became a victim of forced organ harvesting. "I was taken to the hospital for an ultrasound of my liver, but was not treated for anything. Based on my own experience doing liver transplants, I knew I had almost been an involuntary organ supplier," he wrote.
In 2008, Dr. Kong was detained when he went to a police station to ask about a local practitioner who had been arrested. He was taken to Yaojia Detention Center, where the other inmates beat him. He went on a hunger strike and was force-fed twice before he was released.
Dr. Kong was again arrested in April 2009 for handing out Shen Yun DVDs: "I refused to cooperate with the police and was shocked with the electric batons, which left black spots on my neck."
He was taken to Dalian Forced Labor Camp, although no legal procedures were followed. He went on a hunger strike to protest and was released five days later when his condition became critical.
Dr. Kong has been illegally arrested and detained five times over the past 16 years for practicing Falun Gong and telling others about the persecution. He is asking that Jiang Zemin be held responsible for the persecution.
Background
In 1999 Jiang Zemin, as head of the Chinese Communist Party, overrode other Politburo standing committee members and launched the violent suppression of Falun Gong.
The persecution has led to the deaths of many Falun Gong practitioners over the past 16 years. More have been tortured for their belief and even killed for their organs. Jiang Zemin is directly responsible for the inception and continuation of the brutal persecution.
Under Jiang's personal direction, the Chinese Communist Party established an extralegal security organ, the 610 Office, which carries out Jiang's directives to ruin Falun Gong practitioners' reputations, cut off their financial resources, and destroy them physically.
Chinese law allows for citizens to be plaintiffs in criminal cases, and many practitioners are now exercising their right to file criminal complaints against the former dictator.