Standing Up for Falun Dafa: Australians Join Efforts to Stop CCP's Forced Organ Harvesting
June 22, 2015 | By Hua Qing in Sydney
(Minghui.org) "I want to find a persecutor and ask him face to face: 'Why have you killed so many innocent Falun Gong practitioners? What are you thinking? Why persecute Falun Dafa?'" declared Lakesh. Mr. Lakesh, an Indian Australian, had joined Falun Dafa practitioners on June 6 in Sydney's Chinatown to help expose the brutal 16-year persecution of Falun Gong in China.
Mr. Lakesh is one of many Australians who have recently stepped up to support Falun Dafa practitioners in their efforts to stop the Chinese Communist Party's (CCP) forced organ harvesting after several Australian TV stations aired the award winning documentary "Human Harvest" in April. Moved by the situation in China and wanting to learn more about Dafa, he joined the practitioners in their activites to end the persecution and has also begun to learn the Falun Gong exercises.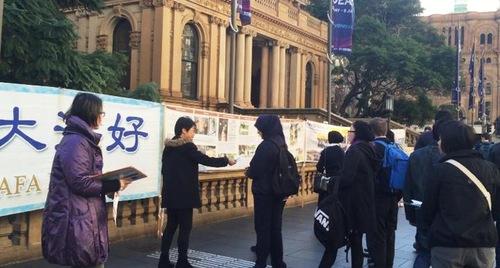 Falun Dafa practitioners talking to passersby at Sydney Town Hall about the persecution and the CCP's forced organ harvesting of Dafa practitioners and other prisoners of conscience.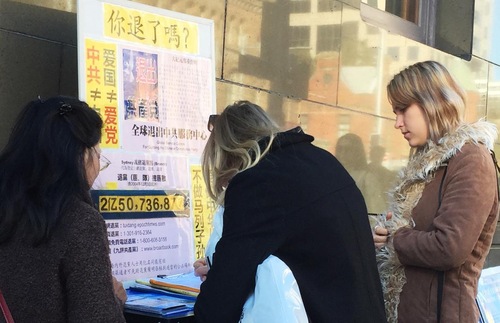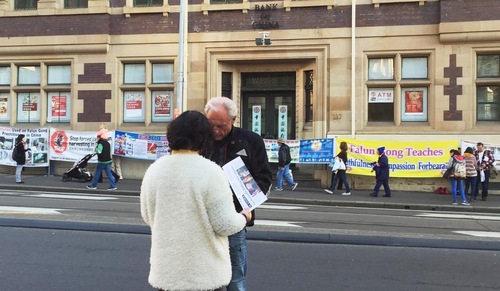 Passersby sign a petition in Sydney's Chinatown calling for a stop to the atrocities in China.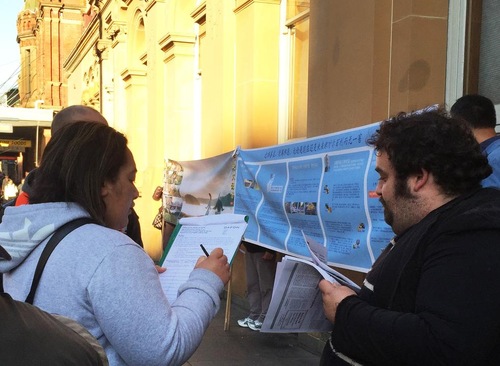 Simon Zlatkin (right) helps pass out fliers and gather signatures in Chinatown to stop the forced organ harvesting.
Simon Zlatkin, like Mr. Lakesh, also stepped forward for Falun Dafa. He distributed fliers in Chinatown and asked people to sign a petition to stop the forced organ harvesting.
"This persecution is very bad. They [the Communist Regime] shouldn't be doing this," said Simon. "How can the Communists murder these people and sell their organs?! We must solve this problem immediately."
Mr. Zlatkin added, "I want to do something to help stop the persecution and bring the message to our government. I hope our government can take action to help stop it."