May 2015: 540 Falun Gong Practitioners Arrested, 105 Sentenced
June 21, 2015 | By Minghui correspondents
(Minghui.org) As Falun Gong practitioners around the world celebrated May 13, the anniversary of the practice's public introduction, practitioners in China continue to face arbitrary arrest and imprisonment for their belief under the persecution campaign carried out by the communist regime since 1999.
According to information received by Minghui, 540 people were arrested in May 2015 for practicing Falun Gong. In addition, 105 were sentenced to prison, and another 61 were tried.
The arrests in May push the total number of practitioners arrested so far in 2015 to 1,991.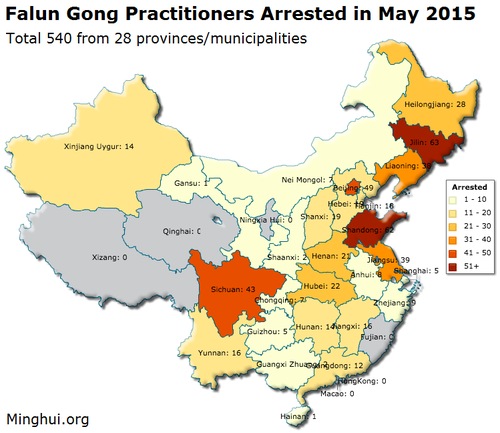 Prison sentences handed down ranged from 6 months to 8.5 years.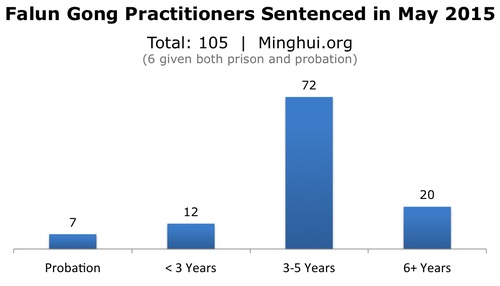 The three provinces with the most sentences in May were Liaoning (18), Sichuan (14), and Shandong (11), followed by Chongqing (12), a provincial-level municipality.
A total of 351 practitioners have been sentenced since the beginning of 2015.
Assaulted by Police
Those arrested were often physically abused in police custody.
For example, Ms. Zhang Yuqin was arrested at a train station and held in a brainwashing center. An agent from the 610 Office, while intoxicated on May 15, grabbed Ms. Zhang by her hair and beat her so savagely that she was unable to eat. Officers then forcibly pressed Ms. Zhang's fingerprint on a statement renouncing her belief in Falun Gong. She was released on May 25.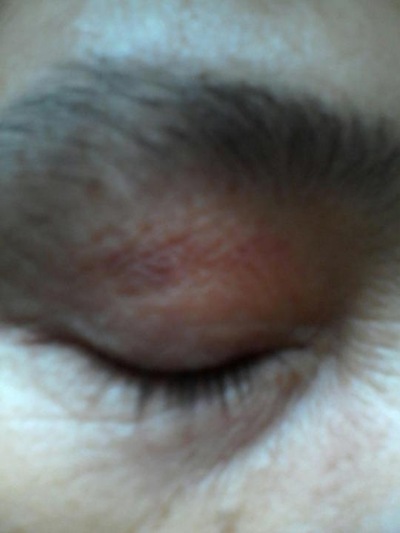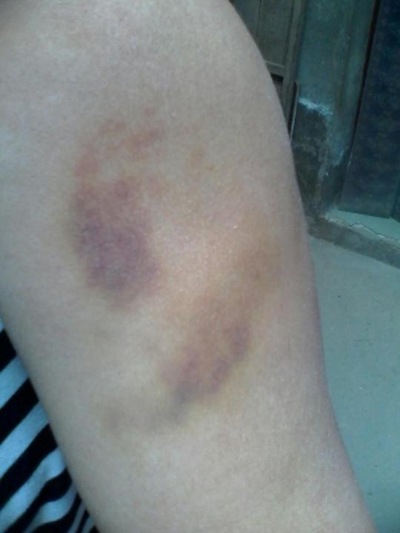 Photos of bruises on Ms. Zhang Yuqin's face and arm 10 days after she was beaten by officers.
College Student Arrested, Imprisoned for Seeking to Visit Father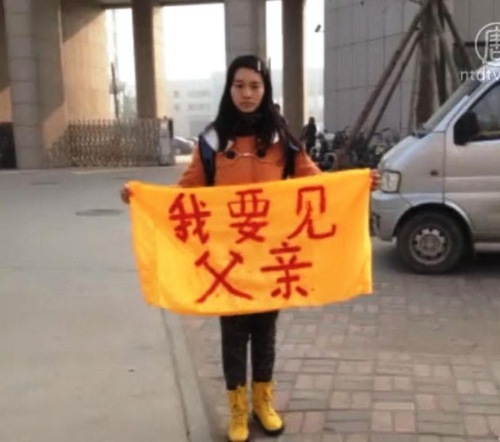 Ms. Bian Xiaohui, a college student, was sentenced to 3.5 years in prison this May after she was arrested last year for demanding to visit her father in prison.
In March 2014, Ms. Bian Xiaohui and her mother sought to visit Ms. Bian's father, who is serving a 12-year sentence for practicing Falun Gong. He had been tortured and was in critical condition. After their numerous requests to visit were denied, Ms. Bian held up a banner in front of the prison on March 3, 2014, demanding to see her father.
Her courageous move was met with harsh retaliation from officials. Ms. Bian was arrested on March 12, and her mother was arrested the next day. While in police custody, Ms. Bian was force-fed and denied access to legal representation. In May 2015, she was sentenced to 3.5 years in prison.