Vancouver, Canada: Chinese Mayor Encounters Protest
(Minghui.org) Chen Jiang Hua, the mayor of Guangzhou City, China, was confronted with a Falun Gong practitioners' protest when he visited Vancouver City Hall on June 15, 2015.
Chen is responsible for the arrest and sentencing of several Falun Gong practitioners in Heyuan City. He was head of the Communist Party committee in Heyuan, Guangdong Province, between 2007 and 2011.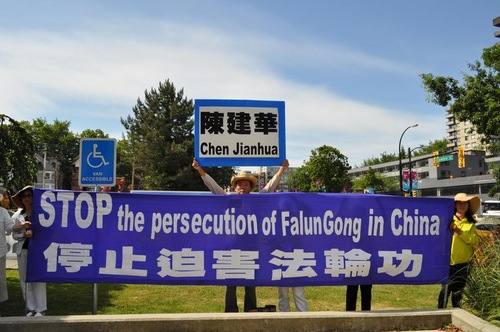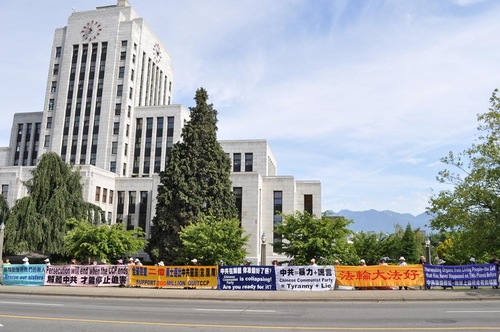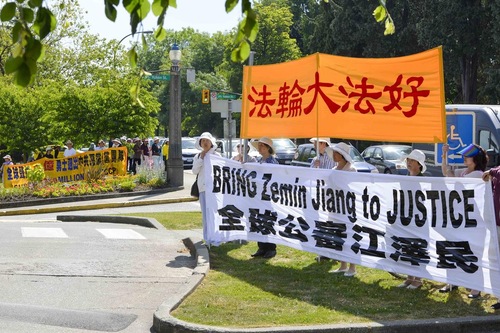 Protest in front of Vancouver City Hall
When Chen spoke in front of city hall, Falun Gong practitioners held up banners facing him that read "Chen Jianhua, Stop Persecuting Falun Gong," "Bring Jiang Zemin to Justice," "Falun Dafa Is Good," and "The World Needs Truthfulness-Compassion-Forbearance."
Mr. Jing Tian, a practitioner who was tortured in China, approached Chen after his speech. He handed him a document and said, "I am a resident of Vancouver. Here is my complaint against the former Party leader Jiang Zemin.
"Thousands of Chinese are suing Jiang for initiating and directing the persecution of Falun Gong. Chen Jianghua, you should stop persecuting Falun Gong."
The spokesman for the Falun Dafa Association in Vancouver, Zhang Su, told the Minghui correspondent: "We want to convey a clear message to Chen: Persecuting Falun Gong is immoral, and all those responsible will be brought to justice. Many Party officials have been sued.
"Because we have a chance to see him in Vancouver, we want to tell him to stop persecuting Falun Gong and release all the imprisoned practitioners in Guangzhou. We want to give him a chance to correct his mistakes for his own future."
The message was also conveyed in a written letter handed to Chen.
Adriane Carr, a Green Party City Councilor, exited city hall and expressed her support. She praised the protest and said to Zhang Su that if people want to change something, they need to stand up and speak out.
Vancouver City Manager Penny Ballem accepted a letter from Mr. Jing Tian. She promised to translate it into Chinese and deliver it to the government officials from Guangzhou. She said she knew about the persecution of Falun Gong in China.
Chen Jianhua Has Been Actively Involved in the Persecution of Falun Gong
Chen became the head of the Party committee in Heyuan City in April 2007. He then directed the arrest of five practitioners for hanging up Falun Gong banners in public. The practitioners were later sentenced to prison for three to six years.
Chen installed numerous video cameras in Heyuan to prevent practitioners from hanging up banners or posting messages. He also initiated the 24-hour monitoring of a group of practitioners, some of whom are still being monitored.