Taiwan: Legislature Bans Transplant Tourism
June 19, 2015 | By Minghui correspondent Su Rong in Taiwan
(Minghui.org) Taiwan has officially banned transplant tourism. Legislators amended Taiwan's Human Organ Transplant Act on June 12, 2015, forbidding illegal organ sales.
The Act further stipulates that patients who get organ transplants overseas must provide legal proof of the source of the organs in order to be eligible for medical care in Taiwan.
Organs Harvested from Prisoners of Conscience
Ms. Theresa Chu, spokesperson for the Falun Gong Human Rights Legal Team, said that, by imposing criminal penalties on organ trade, the Taiwanese are prohibited from going to China for organ transplants.
In China, organs are mostly harvested from living prisoners of conscience, mostly Falun Gong practitioners, who are persecuted in China. The Act also prevents the Taiwanese from receiving organs from unknown sources and ensures that the transplant is medically safe.
Ms. Chu commended the amendment highly. She said that it prevents people from becoming an accomplice in the forced organ harvesting trade by going to China for an organ.
"Despite this resolution, Falun Gong practitioners in China still face the danger of having their organs harvested. They are the largest source in the Chinese regime's organ pool," said Ms. Chu.
Taiwan Legislation
Taiwan's Legislative Yuan passed the amendment to the Human Organ Transplantation Act after its third reading. Wang Jin-Pung, Speaker of the Legislative Yuan, said, "Article 6, Article 8, Article 9 through Article 10-1, Article 12, Article 14, and Article 16 through Article 18-1 have been amended and passed."
The Act targets the trading of organs from unknown sources and prevents it from taking place by amending the law. It stipulates that organs must be provided or received without any form of compensation [free of charge]. If those who purchase transplant organs overseas are found guilty of receiving an illicit organ, the maximum sentence is five years, plus Taiwan levies a fine of no more than NT$1.5 million [approximately $49,000 USD] on the accused. Additionally, doctors involved in illegal organ transplants could lose their license.
The members of Taiwan's Legislative Yuan are elected for three-year terms. Their legislative duties consist of passing laws and overseeing Taiwan's administration.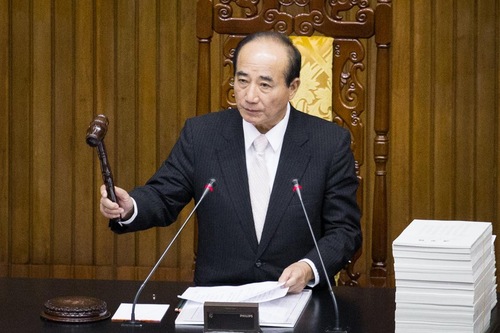 The Legislative Yuan passes the amendment to Human Organ Transplantation Act after the requisite "three readings."
Legislators Support the Amendment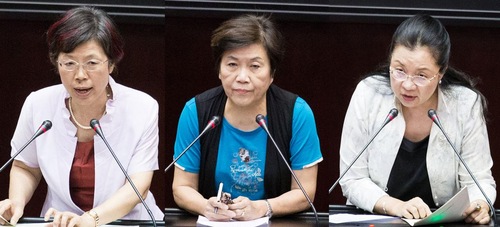 Legislators from different political parties Yu Mei-nu (left), Hsu Shao-ping (middle) and Tien Chiu-chin support the amendment to prohibit organ harvesting.
Legislator Yu Mei-nu of the Democratic Progressive Party said that the Chinese regime is actively involved in the organ trade, which depends heavily on the harvesting of organs from living Falun Gong practitioners.
"We hope to effectively deter organ trafficking and its sales with this amendment," said Yu.
Legislator Hsu Shao-ping of the Kuomintang, a Chinese political party that ruled China from 1927 to 1948 and still exists in Taiwan, commented that human organ transplants is a serious ethical issue in the medical field and concerns human rights internationally.
"Those who harvest organs from living people and sell them for profit are committing a crime against humanity according to International Criminal Law," Hsu said.
"The Act clearly forbids organ trafficking, sales, and transplant tourism--and stipulates penalties. It also bans the use of organs from death row prisoners. Taiwan's organ transplant regulations have reached international standards," said Tien Chiu-chin, a Taiwanese legislative member from the Democratic Progressive Party (DDP) and sponsor of the resolution."