4,000 Plaintiffs in China Sue Former Dictator Jiang Zemin
June 18, 2015 | By a Minghui correspondent in China
(Minghui.org) Within the two weeks between the end of May, and June 11, 2015, 3,987 plaintiffs have filed criminal complaints in China's highest courts against Jiang Zemin, former head of the Chinese Communist Party, who imposed his personal will on state organs to launch the persecution of Falun Gong in July 1999.
These plaintiffs include Falun Gong practitioners in China, their family members, and practitioners outside of China. Chinese law allows for citizens to be plaintiffs in criminal cases.
Many Falun Gong practitioners are now exercising their legal right to hold Jiang accountable for the persecution, after a new policy came into effect on May 1, 2015, in which the Supreme People's Court claimed that it will guarantee the registration and processing of all complaints.
Minghui.org has received 3,245 copies of criminal complaints against Jiang Zemin. They come from 25 provinces and autonomous regions, and all four of the directly governed municipalities: Beijing, Tianjin, Shanghai, and Chongqing.
Some Chinese practitioners in the United States, United Kingdom, Canada, and Australia have also brought their cases against Jiang to the Supreme People's Procuratorate.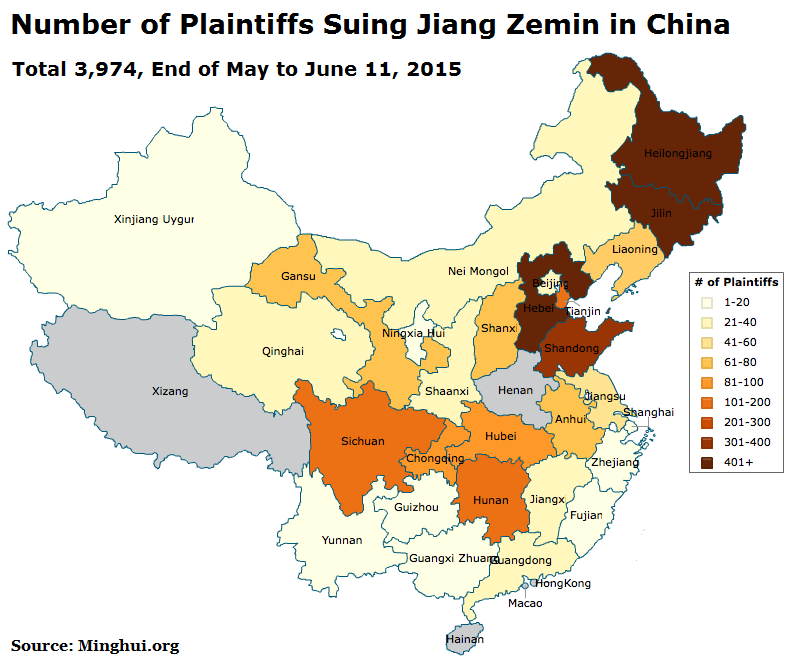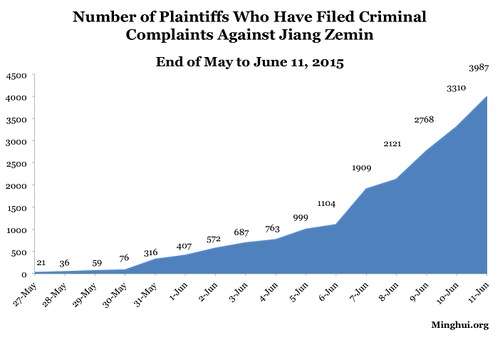 Thirteen of the plaintiffs filed their cases from outside of China.
The plaintiffs are from a variety of professions, including judges, government employees, soldiers, police officers, professors, artists, engineers, doctors, workers, and farmers.
Countless families have been torn apart by the persecution. For example, 66-year-old Yu Baozhen from Jiangxi Province sued Jiang on May 31. She accused Jiang of ordering the brutal campaign under which her only son was tortured to death. His daughter was only three years old when he died.
Gai Xiuqin from Fushun, Liaoning Province and her husband Lu Guanglin were illegally sentenced to 13 and 8 years, respectively, for practicing Falun Gong. Mr. Lu was tortured to death in Panjin Prison. Ms. Gai was also tortured in Liaoning Women's Prison, and lost almost all of her ability to work.
As the tide of Falun Gong practitioners across China seeking redress through China's legal system continues to grow, authorities still participating in the persecution have attempted to strike back.
Police in Jinchang, Gansu Province, arrested five Falun Gong practitioners at a post office on May 30, 2015, while they were mailing their complaints.
Police in Deyang, Sichuan Province arrested practitioners at a local post office on June 4, 2015.
On June 13, police officers in Lianyungang, Jiangsu Province, arrested a few practitioners at their homes. These practitioners had reportedly filed lawsuits against Jiang. The police also ransacked their homes.
Despite the setbacks and interference, the number of cases in the above locales are increasing: 24 for Jinchang, Gansu Province; 38 for Deyang, Sichuan Province; and 26 for Lianyungang, Jiangsu Province.