Engineer from Ningxia Files Charges Against Former Chinese Dictator
June 18, 2015 | By a Minghui correspondent from Ningxia Province
(Minghui.org) Mr. Xie Yiqiang, an engineer from Yingchuan City, Ningxia, filed charges against former Chinese dictator Jiang Zemin with the Supreme People's Procuratorate in Beijing through express EMS mail.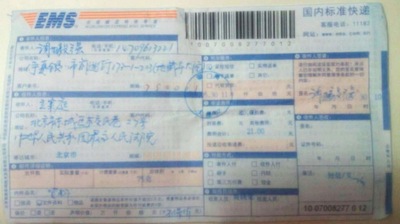 EMS mail confirmation receipt
The criminal complaint charged Jiang with the crimes of torture, deprivation of freedom of religious belief, and false imprisonment.
Mr. Xie, 51, was given three years of forced labor in 2001 for refusing to give up his belief. He was arrested again four years after being released from the labor camp, and soon sentenced to a four-year prison term. When he was finally released in late 2012, he returned home with a badly tortured body, and memories of endless beatings and constant verbal abuse by prison guards.
Details are available in the article: Mr. Xie Yiqiang Imprisoned for Seven Years, Elderly Mother Denied Right to See Him before She Passed Away.
Background
In 1999, Jiang Zemin, as head of the Chinese Communist Party, overrode other Politburo standing committee members and launched the violent suppression of Falun Gong.
The persecution has led to the deaths of many Falun Gong practitioners during the past 16 years. More have been tortured for their belief and even killed for their organs. Jiang Zemin is directly responsible for the inception and continuation of the brutal persecution.
Under his personal direction, the Chinese Communist Party established an extralegal security organ, the 610 Office, on June 10, 1999. The organization overrides police forces and the judicial system in carrying out Jiang's directive regarding Falun Gong: to ruin their reputations, cut off their financial resources, and destroy them physically.
Chinese law allows for citizens to be plaintiffs in criminal cases, and many practitioners are now exercising that right to file criminal complaints against the former dictator.