Melbourne, Australia: People from All Walks of Life Celebrate World Falun Dafa Day
(Minghui.org) "When I was a poor kid growing up in Turkey, I was lucky to learn and I was fascinated by the traditional Chinese culture of pre-determined relationships, Buddhism, and Taoism. In 2001, I immigrated to Melbourne with my husband, where I learned about Falun Gong. I was amazed by the pre-determined relationship with Falun Gong, and my life took a wonderful turn because of cultivating Truthfulness-Compassion-Forbearance," said Cansin Goldring, an English teacher, as she shared her personal story at the celebration of the 23rd World Falun Dafa Day in Melbourne.
Many passersby stopped and listened to Cansin's story. "I don't fight for my personal interests with other people, and all kinds of ailments that had bothered me for many years were healed," she continued.
The celebration was held at City Square in downtown Melbourne. The Divine Land Marching Band, consisting of local Falun Gong practitioners, performed on a festive stage decorated with colorful balloons and banners. Young practitioners from the Minghui School and practitioners dressed as beautiful celestial maidens sang and danced. Practitioners also played waist drums and demonstrated the Falun Gong exercises.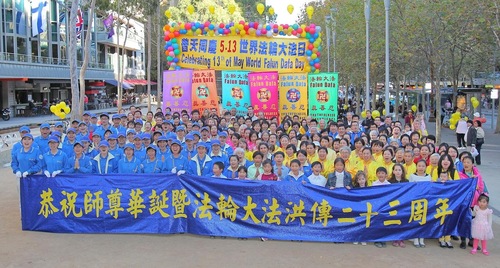 Practitioners in Melbourne wish Master Li Hongzhi, the founder of Falun Gong, a happy birthday.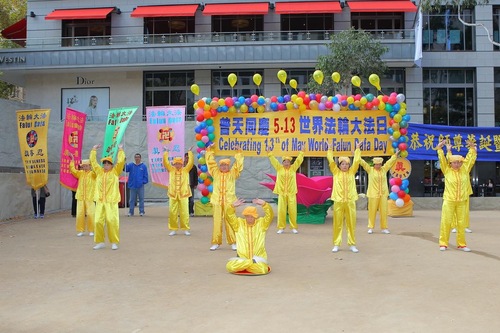 Demonstrating the exercises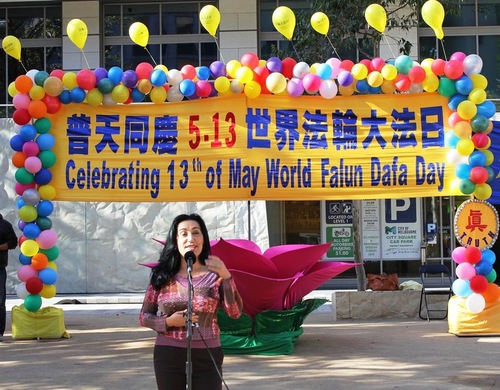 Cansin Goldring is telling her story of cultivating Falun Gong.
The joyful and stirring performances attracted passersby, including many tourists from China. Surprised to see a Falun Gong event in Australia, many Chinese people took photos and videos of the celebration that unfortunately cannot be seen in China today.
Practitioners also took this opportunity to tell the public about the 16-year-long persecution of Falun Gong in China, and collected signatures against the persecution. Many people signed a petition to express their support for Falun Gong's peaceful resistance.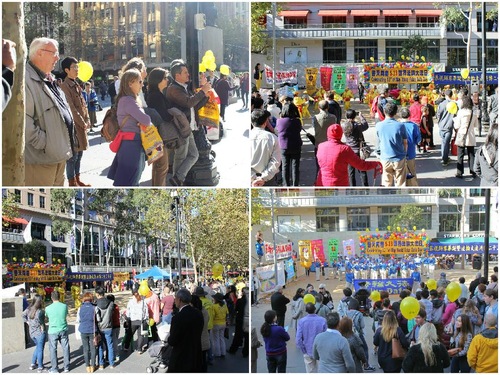 People taking in the World Falun Dafa Day performances.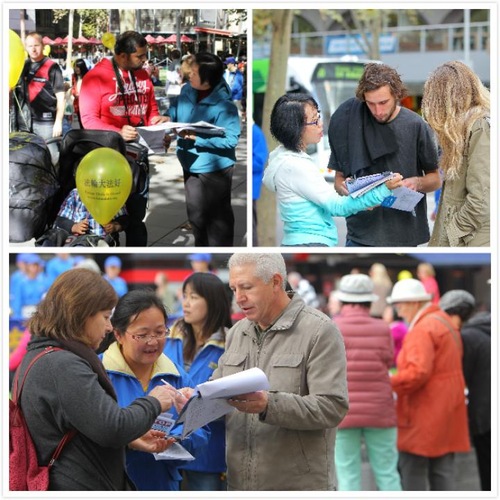 Signing the petition to support Falun Gong's peaceful resistance against the persecution.
Several local community leaders showed their support by giving speeches at the celebration. The guests congratulated practitioners for their outstanding achievement in fighting for human rights, and praised their contributions to society.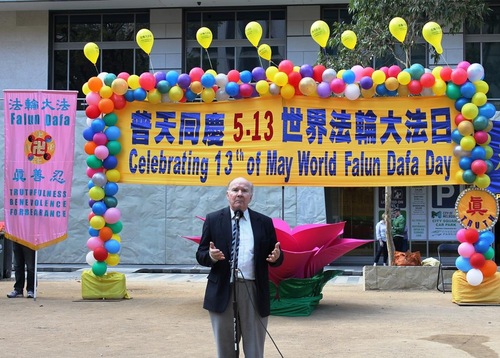 Peter Westmore, president of the National Civic Council, condemned the 16-year persecution of Falun Gong in China, and praised practitioners' efforts toward bringing it to an end. He also commended practitioners for sharing the principles of Truthfulness-Compassion-Forbearance with the world.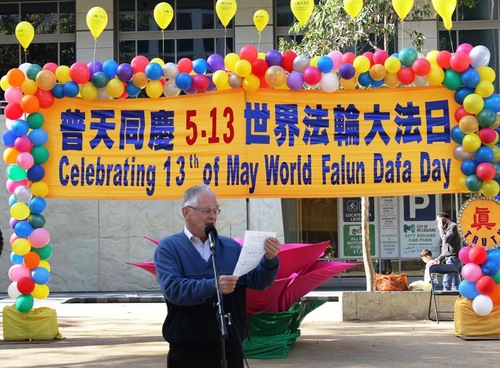 Gerard Flood, vice chairman of the Democratic Labor Party, believes that the principles of Truthfulness-Compassion-Forbearance give people strength to pursue the truth, tell people what they should do and what they should not, and encourage people to walk on the difficult journey of life. "Without these principles, we would not achieve peace or any freedom," he said.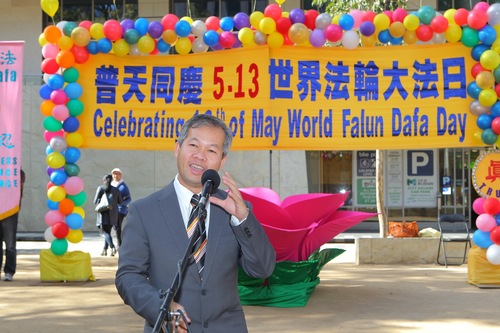 Bon Nguyen, leader of the Vietnamese community in Victoria, called upon the international community to help practitioners stop the persecution and obtain freedom in China.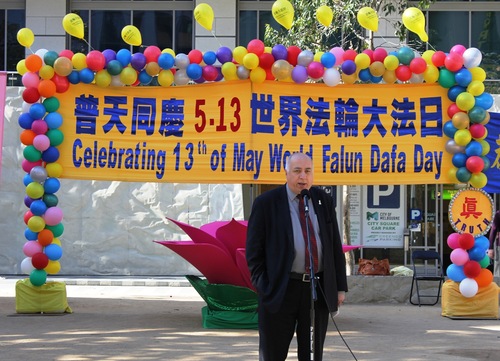 Sam Afra, vice president of Ethnic Communities' Council of Victoria, supports Falun Gong practitioners efforts for freedom of belief.
Ruan Jie, chief of the newspaper Tian'anmen Times, praised Falun Gong's positive impact on Chinese society.
Mr. Ruan said, "It is particularly important to support Falun Gong's peaceful resistance. The Communist Party has ruined the traditional Chinese culture, and has been suppressing people's freedom of belief. Chinese society is in a dangerous and chaotic situation. I believe it is because of the lack of [spiritual] belief."
"As a non-Falun Gong practitioner, I call upon my fellow Chinese to support Falun Gong practitioners' efforts, because Falun Gong brings hope to China, and their principles of Truthfulness-Compassion-Forbearance will restore the morality of China," Mr. Ruan said. "As a Chinese, I feel lucky that we have Falun Gong."