Chinese Tourist: "If You See Falun Gong, You'll Enjoy Good Fortune, Prosperity, and Longevity"
May 09, 2015 | By Minghui correspondent Zheng Yuyan in Taipei, Taiwan
(Minghui.org) Navigating through a long line of display boards portraying the benefits of Falun Gong, a middle-aged man from China said to his companion, "If you see Falun Gong, you'll enjoy good fortune, prosperity, and longevity."
The "Journey of Falun Dafa" Photo Exhibit was one part of Falun Gong practitioners' celebration of World Falun Dafa Day in Taipei City and New Taipei on May 3, 2015, prior to the official celebration on May 13.
May 13 is Falun Gong founder Master Li Hongzhi's birthday and the anniversary of the day that he introduced the practice to the public in China's northeastern city of Changchun in 1992.
Many Chinese tourists watched about 1,000 practitioners do the Falun Gong exercises. Amazed by the peaceful and grand occasion, many of them withdrew from the Chinese Communist Party (CCP) and its affiliated organizations once they understood the Party for what it is.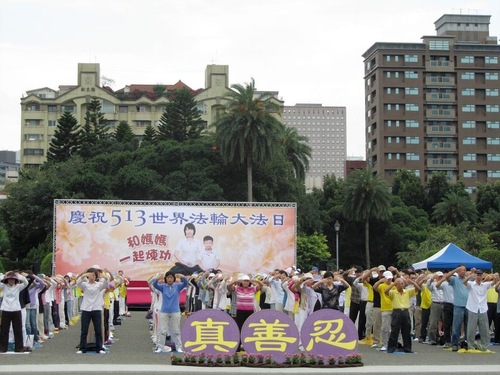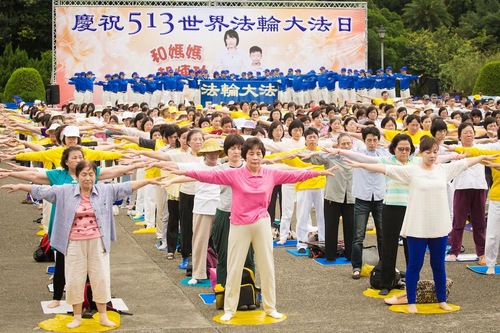 About 1,000 practitioners doing the Falun Gong exercises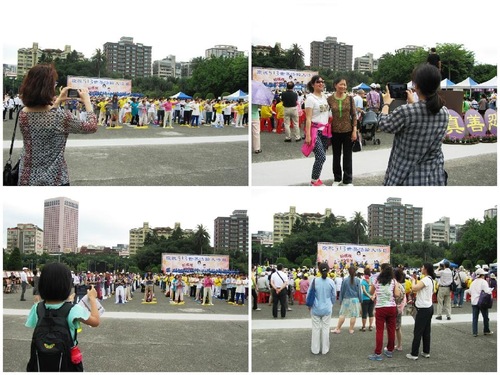 Tourists take photos or have their photos taken with Falun Gong practitioners doing the exercises in the background.
Chinese Tourists Seize the Chance to Quit the Party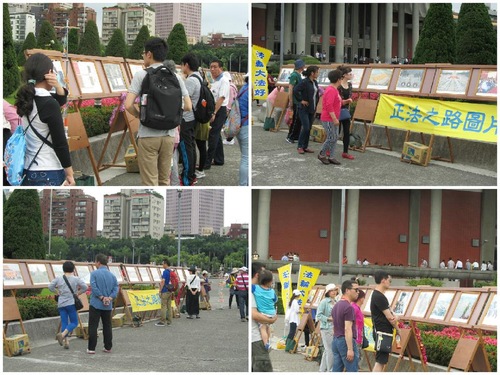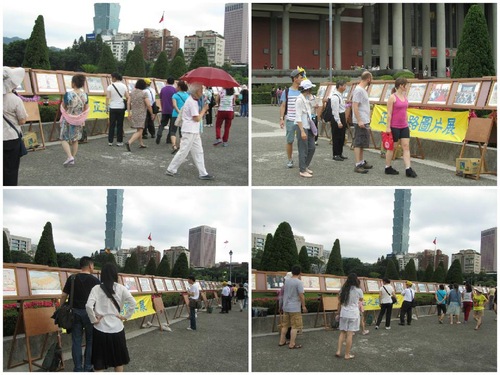 Visitors from China study photos and banners describing the benefits of Falun Gong.
Falun Gong practitioner Ms. Lin Qiuju, who stood next to the photo exhibit to answer visitors' questions, said that many people wanted to learn more about Falun Gong after they viewed the photos. Many asked, "How does one practice?" "Where can I buy the [Falun Gong] books?" "Where are the practice sites?"
"Many Chinese tourists told me that they already knew about Falun Gong and the persecution," said Ms. Lin. "One tourist said, 'I can see Falun Gong everywhere when I'm abroad, but no one is allowed to practice it in my country."
Practitioner Ms. Ni, who distributed informational materials during the event, said that many Chinese tourists were happy to accept materials from her, and some asked her help to register their resignation from the Communist Party organizations.
Ms. Ni told about one young couple. When she asked them if they had taken a copy of Nine Commentaries on the Communist Party, the young man urged his girlfriend to take one from Ms. Ni. He carefully put it into his travel bag and said that they would read it after they returned to their hotel. Both of them renounced their memberships in the Communist Youth League using aliases.
Practitioner Ms. Song Xiu, who often greets Chinese at tourist destinations, commented, "More and more people have understood the facts about the persecution of Falun Gong. They also understand that the purging and prison sentences of high-ranking Chinese officials actually had something to do with their involvement in the persecution of Falun Gong."
Ms. Song said that many tourists visiting Taipei's tourists sites have told her that they had withdrawn from the Party organizations already. Those who haven't quit it are willing to after talking with her briefly.
Party Secretary Quits the Party!
Ms. Song then told how she even helped a Party secretary quit.
More than a dozen Chinese tourists were sitting near the photo exhibit when Ms. Song went over to greet them. She spoke only a few sentences about the movement to quit the Party before seven of them asked her to help register their resignations from the CCP. Several others said they had done the same at other tourist sites.
Shortly after, a Chinese tourist ran up to Ms. Song and pointed at a middle-aged man, saying, "That is secretary Song. He hasn't quit. Hurry and help him do it!"
What a coincidence that he and Ms. Song shared the same surname. Ms. Song said, "We are of the same family, so I can't leave you out. At the critical moment when Heaven will eliminate the CCP, you will indeed be implicated. What a pity for such a good person like you!"
Mr. Song used an alias to renounce his membership in all of the Party's organizations he had joined.