Celebrating Falun Dafa Day in New Zealand
May 08, 2015 | By Falun Dafa practitioners in New Zealand
(Minghui.org) Falun Dafa practitioners celebrated the upcoming World Falun Dafa Day in Auckland on May 2, 2015. Performances were given by the Divine Land Marching Band and a colorful troupe of waist drummers. Practitioners also demonstrated the Falun Dafa exercices. Festivities were held at both Queen Elizabeth Square and the popular tourist destination of Mission Bay.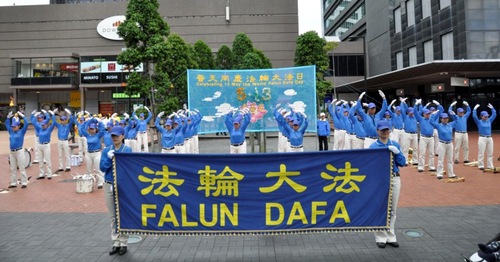 The Divine Land Marching Band celebrates World Falun Dafa Day in Auckland on May 2, 2015.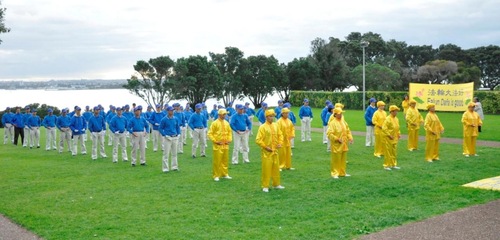 Exercise demonstration
Auckland is the most populous city in New Zealand, and many passersby, intrigued by practitioners' activities, had an opportunity to learn about Falun Dafa.
The local Falun Dafa association received letters of support from government officials, wishing them well on Falun Dafa Day, May 13. Letters came from Prime Minister John Key, Russel Norman (co-leader of the Green Party), Peter Dunne (leader of the United Future political party), and Marama Fox (Maori Party co-leader), among others.
Falun Dafa was first introduced to the public on May 13, 1992. May 13 is also the birthday of Falun Dafa founder, Mr. Li Hongzhi.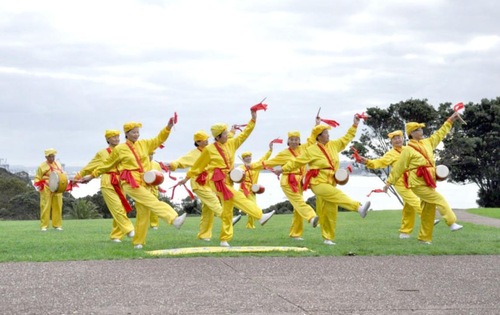 Waist drum performance
Amato Akarana, a local Maori chief in the Auckland area, came to the celebration and offered his congratulations on this special occasion in both English and Maori. He has known about Falun Dafa for many years through one family in the tribe who practices Falun Dafa. Akarana said he would treat all practitioners as family members and provide help whenever needed.
"Happy birthday Master Li! And thank you very much for all the blessings you have brought us," said Akarana.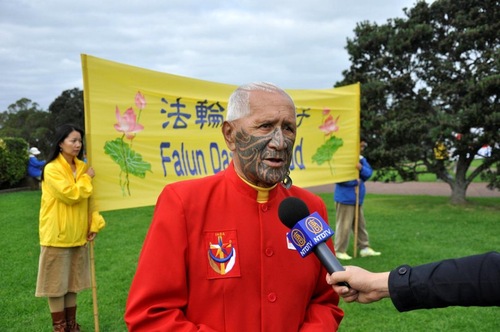 Amato Akarana, a local Maori chief in the Auckland area
Many practitioners expressed their gratitude to Falun Dafa and Mr. Li. Ms. Zheng began to practice Falun Dafa with her parents in 1998 when she was in elementary school. "But I slacked off after the suppression in China started in 1999, and I no longer lived by the principles of Truthfulness-Compassion-Forbearance."
It was not until she came to New Zealand last year that she resumed her practice. "Every day is precious for me to improve myself and fundamentally become a better person. I am so happy."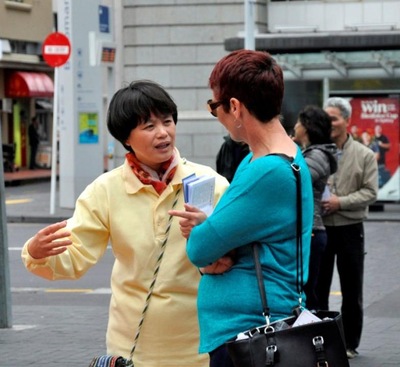 A practitioner talks to a passerby about Falun Dafa Day.