Four Tried for Distributing Information Exposing the Persecution of Falun Gong
May 05, 2015 | By a Minghui correspondent from Yunnan Province, China
(Minghui.org) Four residents in Kunming, Yunnan Province were tried this April for distributing literature last August that exposed the persecution of Falun Gong. They were charged with "using a cult organization to sabotage law enforcement" – a common tactic used against Falun Gong practitioners.
The defense lawyers argued that their clients have a constitutional right to believe in and spread information about Falun Gong. After all, there has never been any law passed that criminalizes the practice.
The judge adjourned the trial without issuing a verdict.
Heavily Guarded Courthouse
Mr. Wang Zhengli, Ms. Wang Juzhen, Ms. Bi Jinmei, and Ms. Li Xiaoling were arrested together in Xundian County, Kunming City on August 16, 2014. They have since been detained.
Xundian County Court held a joint trial for them on April 10, 2015, with the courthouse heavily guarded.
More than twenty armed police with batons and shields patrolled the courthouse, with the adjoining streets closed to traffic. The parking lot across from the courthouse was also blocked off by police vehicles.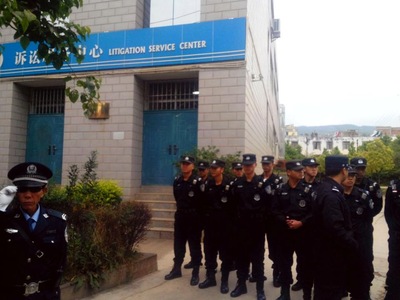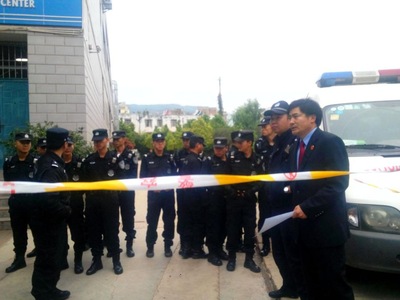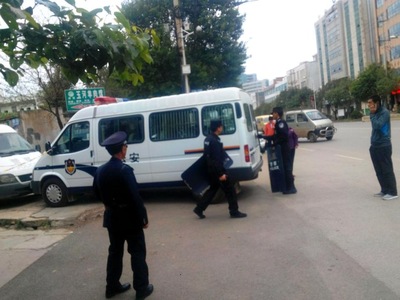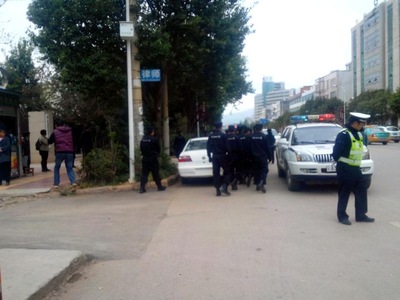 Xundian County Courthouse heavily guarded on trial day
The public was not allowed inside the courthouse.
Limited Family Access to Hearing
On the day before the trial, the four practitioners were told that they each could have ten family members attend the hearing, and that all attendees were required to register and specify their relationship with the practitioners.
This changed on the day of the trial. The court insisted that only three people from each family were allowed in the courtroom.
Practitioners' Own Testimony
The four practitioners testified how Falun Gong improved their health and turned them into people who strive to live in accordance with the principles of Truthfulness-Compassion-Forbearance.
Mr. Wang Zhengli shared how the practice cured his long-term illnesses and made him a more responsible worker. He had been recognized as a model employee almost every year. Ms. Wang Juzhen concurred, saying that Falun Gong changed her from a competitive person seeking fame and personal gain, to a calm person who now took material interests lightly.
Lawyers' Objection to Questionable Prosecution Evidence
The lawyers reiterated the illegality of the persecution of Falun Gong, and the trial itself. They questioned why the trial was not made public as required by law, and why the police denied them the right to visit their clients.
They also raised questions about the dubious prosecution evidence.
The public procurator presented pictures of items allegedly seized from the practitioners' homes and workplaces. The defense lawyers argued that the police broke the law by arresting their clients and ransacking their homes without any search or arrest warrants.
The physical evidence consisted of practitioners' books and other belongings, which only served to prove that the defendants were Falun Gong practitioners. Owning books and literature does not pose a threat to any person or society or constitute a crime.
A verdict has not been rendered in the case.
Related article:Four Practitioners Facing Illegal Trial for Distributing Falun Gong Literature