Canada: Falun Dafa Participates in Hyack International Parade in New Westminster
May 30, 2015 | By Zhang Ran in Vancouver, Canada
(Minghui.org) The annual Hyack Festival is New Westminster City's largest annual community event and attracts a broad regional audience. Falun Dafa practitioners from Vancouver were a hit with the spectators when they participated in the Hyack International Parade, the largest festival event, on May 23.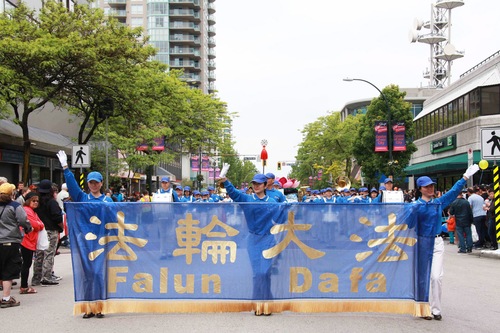 The Divine Land Marching Band leads the Falun Dafa procession.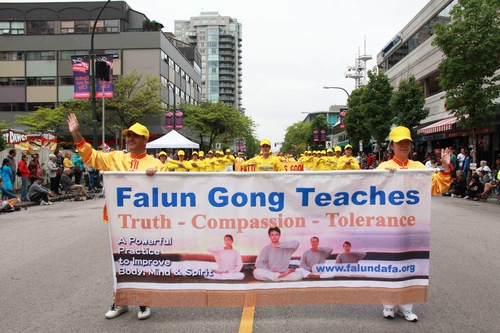 Practitioners demonstrate Falun Dafa exercises in the parade.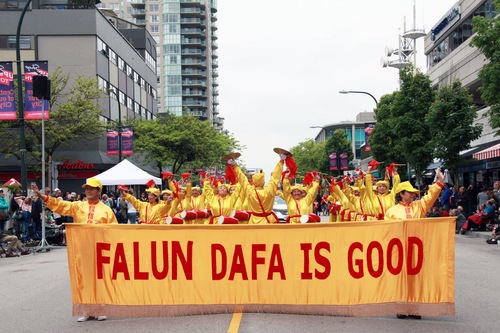 A team of waist drummers gives residents a dose of Chinese culture.
The practitioners' lotus flower float bears three Chinese characters–Truthfulness, Compassion, Forbearance–the core teachings of Falun Dafa.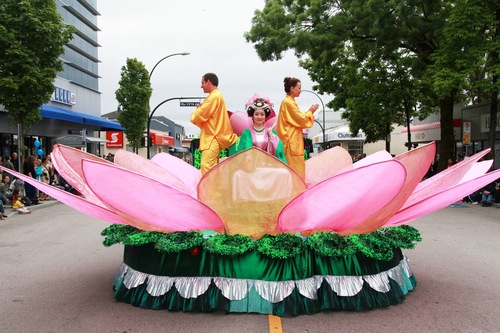 Practitioners demonstrate Falun Dafa exercises on the lotus float.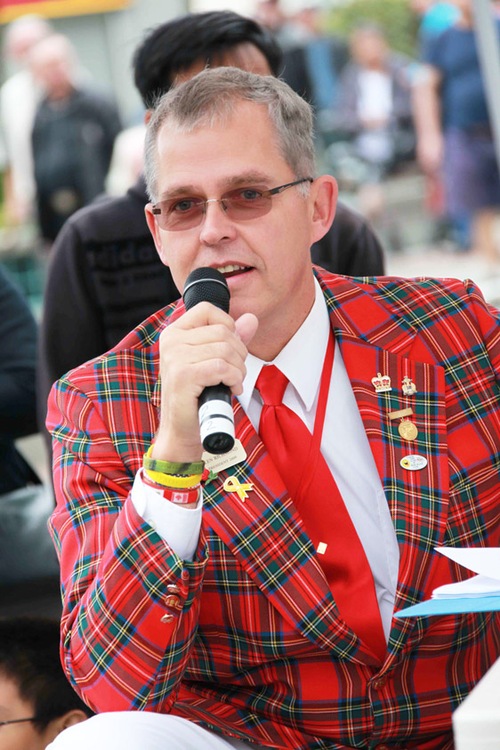 Parade emcee Mr. Glen Richmond introduced Falun Dafa to the crowds of spectators as an exercise based on the principles of Truthfulness-Compassion-Tolerance that benefits both mind and body.
With numerous groups from western Canada and the U.S. participating, this parade is the largest in British Columbia.
The Falun Dafa entry comprised the Divine Land Marching Band, Celestial Maidens, a waist drum team, practitioners demonstrating Falun Dafa exercises, and a lotus flower float.
Ms. Gerda Suess, board member and director of the Hyack Festival Association, applauded and waved to the Falun Dafa practitioners. "Look at them–they perform so well!" she said. "I know Falun Dafa and really like their performances. They are so wonderful. They are so nicely dressed. So great. Thank you, thank you, thank you! They work so hard to make it a success."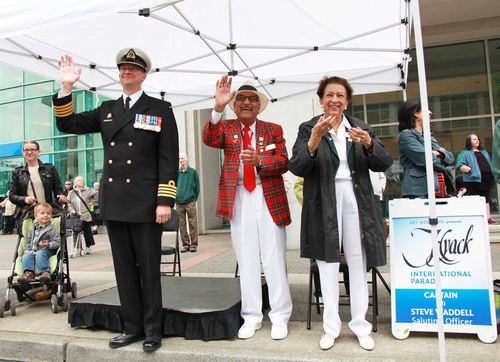 Mr. Paj Buri (middle), director of the parade and Hyack Festival Association board member, waves to Falun Dafa practitioners as their procession passes by.
Mr. Paj Buri, director of the parade, said, "They [Falun Gong] are incredibly turned out--look at their beautiful uniforms. I think they are the spirit of the community."
Watching and applauding the Dafa practitioners, Mr. Zhu had been in Vancouver for only three weeks. "You can't see a parade like this in China," he said. "All the Chinese media reports (about Falun Dafa) are negative. You can't see the truth in China. Today I see it with my own eyes that Falun Dafa is very welcome in Canada. Freedom of belief is respected here. That is really good. You only have to see to believe it."
"I like the diversity of cultures in the parade," said Vicky, a resident of New Westminster who has come out to watch the parade every year for more than a decade. "Every group represents a different culture. I like Falun Dafa very much because they perform so well and display a unique culture."
"I like their spirit the most. It's upbeat. I want to learn more about it."