"Can I Join Them?"--Falun Gong Events Draw Interest in New York City
May 28, 2015 | By Rong Fa and Shu Hui in New York
(Minghui.org) About 200 Falun Gong practitioners enjoying tranquil meditation in the midst of bustling Times Square in New York City on May 13, 2015 caught the attention of Ms. Alida. "How beautiful," she sighed.
She asked a female practitioner who was standing nearby, "What exercise is it? Can I join them? I want to learn it." The practitioner helped Ms. Alida find the practice site schedule online so she could join a Falun Gong exercises site at a park near her home. Falun Gong lessons are always free of charge.
The group meditation in Times Square was one of the many activities that Falun Dafa practitioners from around the world held in New York over three days in mid-May to celebrate World Falun Dafa Day and highlight 16 years of persecution in China.
Falun Dafa was first introduced to the public in China by Master Li Hongzhi on May 13, 1992. Practitioners celebrated the first World Falun Dafa Day on May 13, 2000, several months after the China's communist regime started persecuting Falun Gong practitioners in July 1999.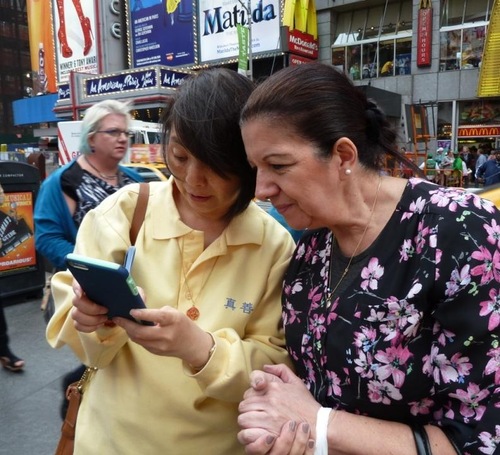 Ms. Alida and a New York Falun Dafa practitioner at Times Square in New York City on May 13, 2015
Sea of Yellow Crosses the Brooklyn Bridge
A mainland Chinese tourist who was traveling with his younger brother saw a large group of Falun Gong practitioners in yellow t-shirts, holding banners walk across the Brooklyn Bridge.
"Falun Gong is absolutely great!" Mr. Deng told Minghui. Mr. Deng and his brother had traveled to New York from Nanjing City in eastern China. Ms. Deng said Falun Gong was great because it raised people's moral levels.
"When the moral level drops, people don't believe in god and relations between people deteriorate," Deng said, adding that the three words 'Truthfulness-Compassion-Tolerance' that Falun Gong is based on were so powerful that they were able to stop the moral decline.
Mr. Deng and his brother were appalled by the Chinese Communist Party's persecution of Falun Gong and quit both the Youth League and the Young Pioneers, two affiliated CCP organizations, with the help of the Minghui reporter.
Grand Parade on 42nd Street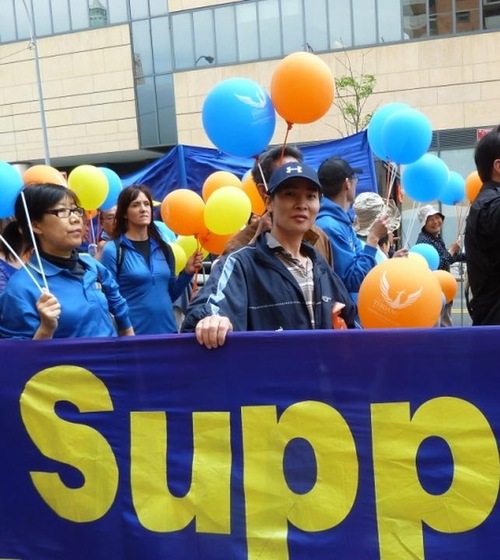 Mr. Zhang Ming (center) paraded with Falun Gong practitioners
About 8000 Falun Gong practitioners joined a grand parade on 42nd Street in Manhattan on May 15. The parade followed a rally at Dag Hammarskjold Plaza opposite the United Nations on Manhattan's east side and crossed 10 avenues to end at the Chinese Consulate at West 42nd Street and the Hudson River.
Shoppers, tourists, and people working in the stores and offices along the route witnessed the spectacular procession.
Mr. Zhang Ming was among the spectators. He had immigrated to the United States with his parents when he was younger, and was excited about seeing so many Falun Gong practitioners gather together.
"The Communist Party has persecuted Falun Gong. [The CCP] is bad and corrupt. They have killed millions of innocent Chinese people. They even harvest organs from Falun Gong," he said.
Mr. Zhang wanted to quit the communist party and its affiliated organizations with his real name. He then asked permission to join Falun Gong practitioners in parade.