Romania: Peaceful Protest and Signature Drive Condemns Persecution in China
May 28, 2015 | By a Falun Gong practitioner in Romania
(Minghui.org) Falun Gong practitioners from all over Romania gathered in Bucharest on May 10, 2015 to commemorate World Falun Dafa Day. They held a demonstration in front of the Chinese Embassy and other activities to raise awareness about the persecution of Falun Gong in China.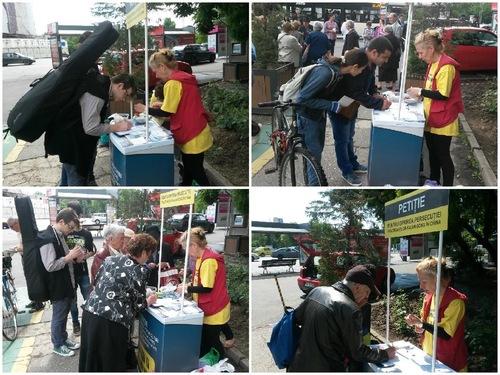 Romanians sign a petition, calling for an end to the persecution of Falun Gong in China.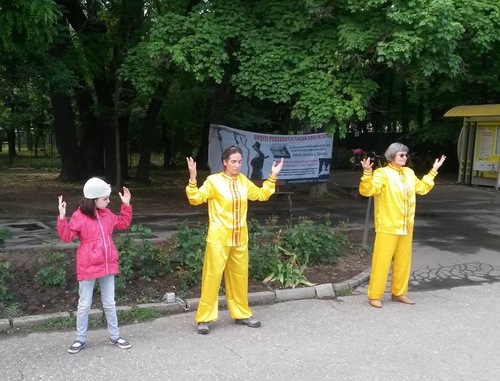 A young girl learns movements of Falun Gong exercise.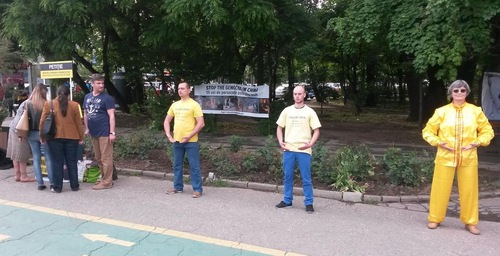 Falun Gong practitioners demonstrate the exercises.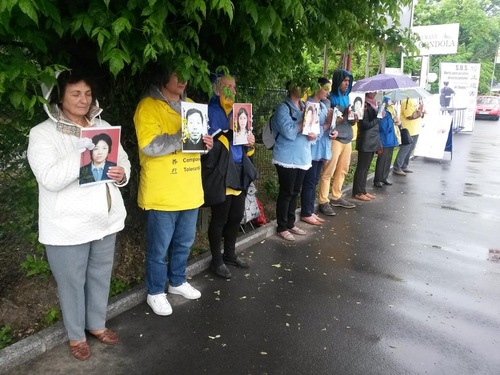 Holding pictures of persecution victims, Falun Gong practitioners protest the persecution in front of the Chinese Embassy.
Signature Drive at Herastrau Park
After the protest at the Chinese Embassy, Falun Gong practitioners went to Herastrau Park, and held a signature drive for a petition to be submitted to the United Nations. More than one hundred signatures were collected. Many people were shocked to learn of the atrocities committed by the Chinese Communist Party (CCP).
A middle-aged woman told practitioners she had taken care of an elderly man who had come to sign this petition every year before he passed away at 92. He had taken a paper lotus from practitioners every year, and kept all of them. Even though he had difficulty walking, he continued to come to show his support.
A woman who works in the legal profession and her husband signed the petition. They hope to work together with Falun Gong practitioners to stop the CCP's persecution. The woman had some knowledge of the human rights abuses in Chinese labor camps.
Raising Awareness at Cismigiu Park
On May 17, Falun Gong practitioners held a signature drive at the entrance of Cismigiu Park. More than 200 signatures were collected.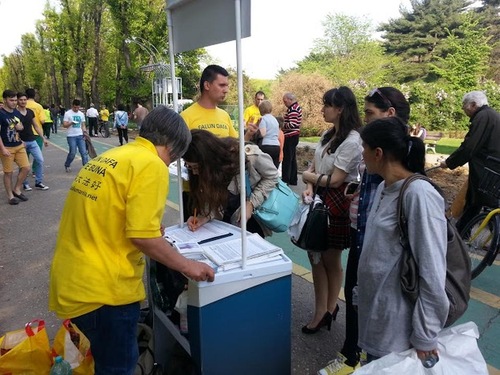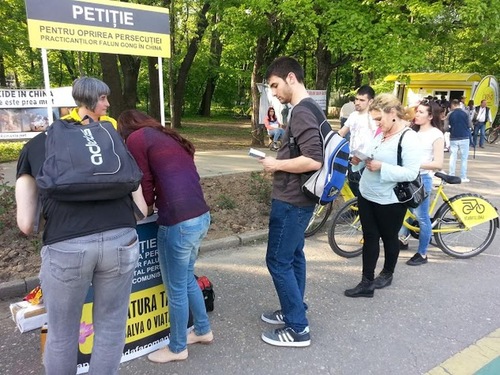 Romanian Falun Gong practitioners hold activities at the entrance of Cismigiu Park.
A young couple from Amsterdam praised the practitioners for their persistent efforts to speak out against the persecution.
An elderly man who was nearly blind signed the petition. He said he wanted to help by asking others to sign. He made a great effort find his elderly female friend and tell her to come and sign the petition.