Practitioners in Korea and Indonesia Celebrate World Falun Dafa Day
May 21, 2015 | By Minghui correspondents in Korea and Indonesia
(Minghui.org) Falun Gong practitioners in Korea and Indonesia celebrated World Falun Dafa Day and Master Li's birthday in Seoul on May 10 and in Bali on May 13.
Group Exercise, Rally and Performance in Seoul
More than 800 Falun Gong practitioners held a celebration rally at Gwanghwamun, Seoul. The celebration included speeches, group exercises, and music and dance performances.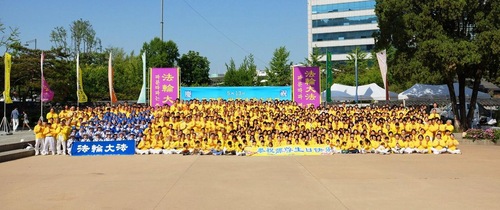 Falun Gong practitioners say in one voice, "We wish Master a Happy Birthday!"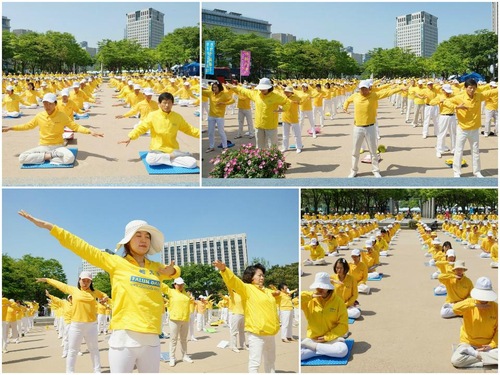 Falun Gong practitioners in Korea do the Dafa exercises together on World Falun Dafa Day.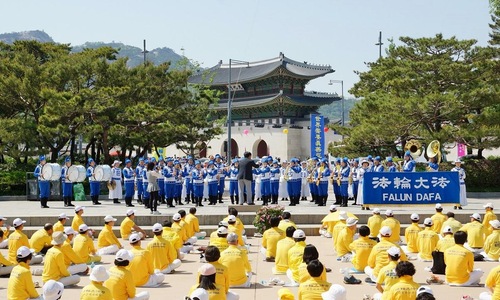 The Korean Divine Land Marching Band performs at the World Falun Dafa Day celebration in Seoul.
Falun Gong practitioners' large-scale group exercises and colorful music and dance performances fascinated large numbers of tourists at this popular tourist spot, many of whom were from China. They viewed the Falun Gong photo displays, watched the performances, and listened to the practitioners discuss the brutal persecution of Falun Gong in China.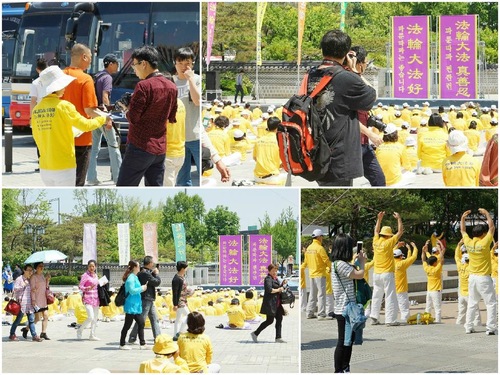 Chinese tourists watch and take pictures of Falun Gong practitioners doing the exercises together.
Experience Sharing, Group Exercise and Parade in Indonesia
Hundreds of Falun Gong practitioners in Indonesia held a series of activities to celebrate World Falun Dafa Day and Master's birthday in Bali on May 13. The day started with a group study of the teachings of Dafa, and experience sharing in the morning, and group exercise and a parade on Legian Kuta Beach in the afternoon.
Many local residents and tourists from around the world took part in the group exercise, remarking that the exercises were relaxing and invigorating.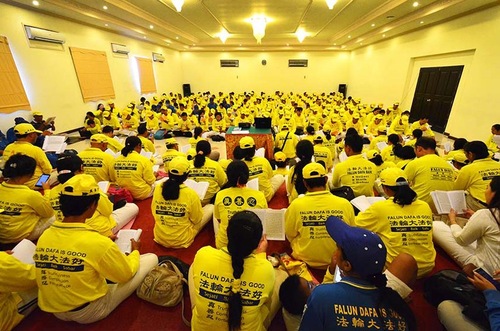 Falun Gong practitioners study the Fa and share experience in Bali, Indonesia on World Falun Dafa Day.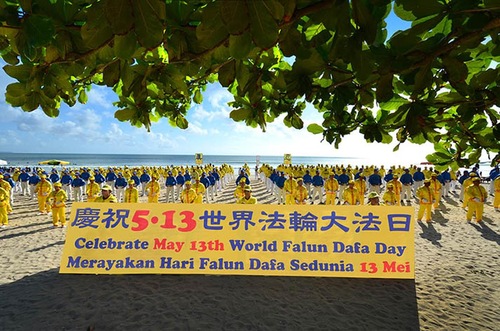 Falun Gong practitioners do the exercises together on Legian Kuta Beach. Many tourists took the opportunity to learn the exercises.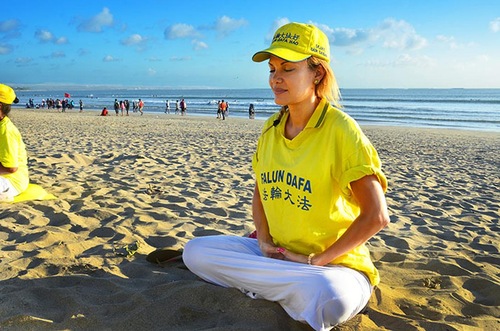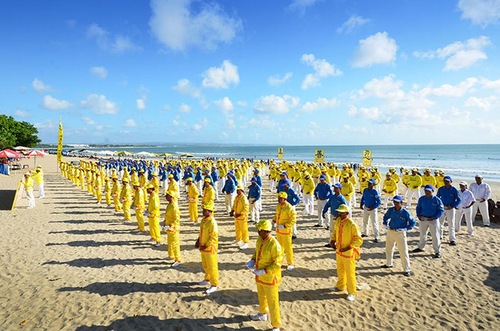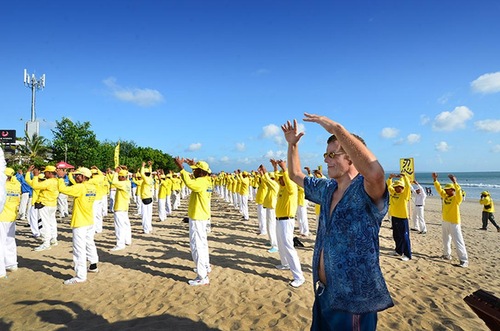 The World Falun Dafa Day parade was led by the Divine Land Marching Band, followed by colorful banners and a waist drum troupe. Spectators were excited to see the magnificent parade. They carefully read the banners and flyers, and many talked with practitioners to learn more about Falun Gong.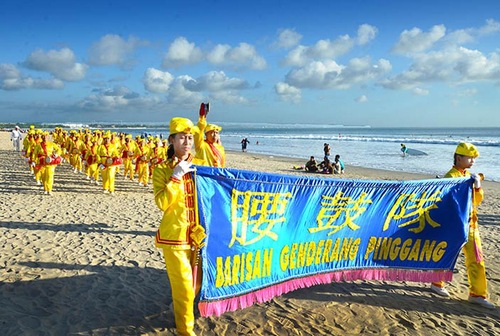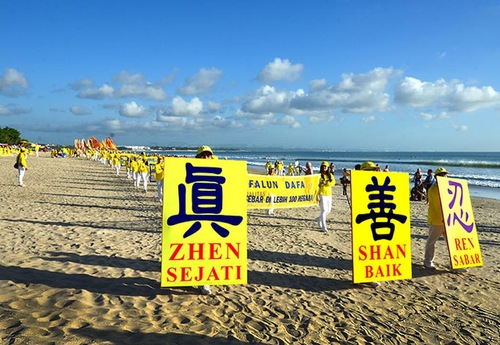 Parade themed "Falun Dafa Is Great – Celebrate World Falun Dafa Day"