South Australia: "Organ Harvesting Must Be Stopped"
May 02, 2015 | By a practitioner from Australia
(Minghui.org) Falun Gong practitioners from Adelaide, Australia, held an event last Saturday at Hindmash Square to commemorate the 16th Anniversary of the April 25 Peaceful Protest in China. Practitioners also collected signatures calling for the end of the persecution of Falun Gong, especially the state-sanction organ harvesting in China.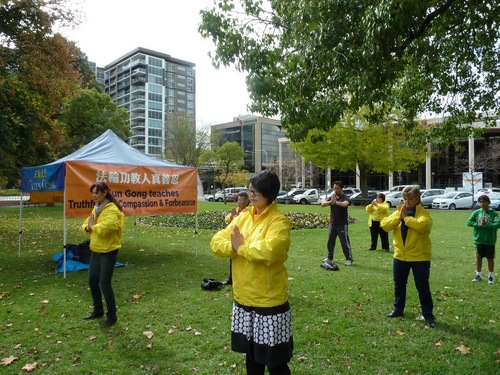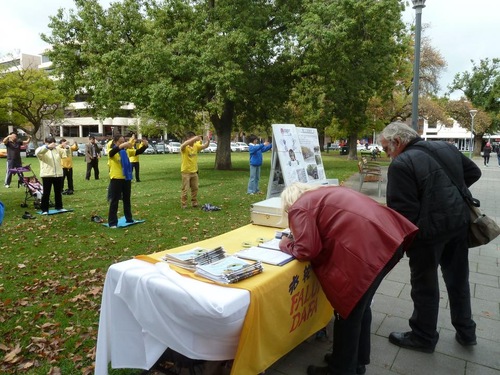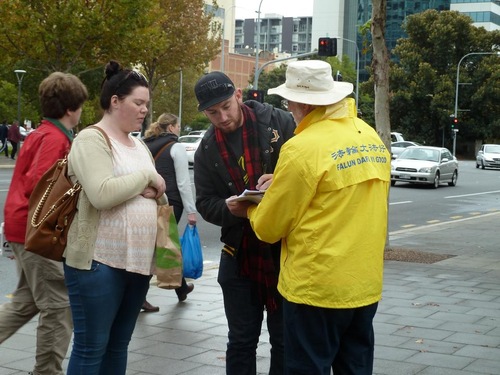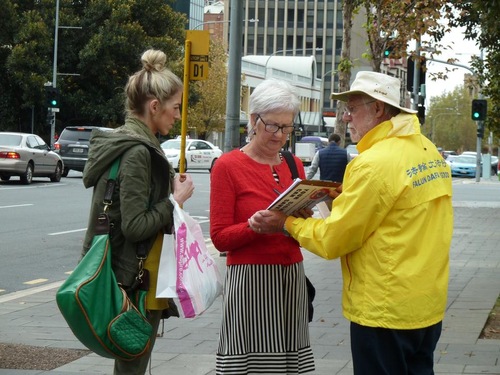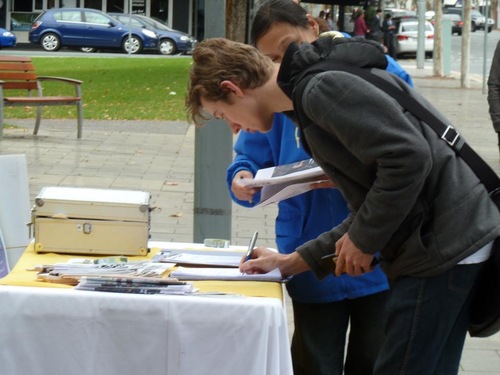 Signing a petition to support Falun Gong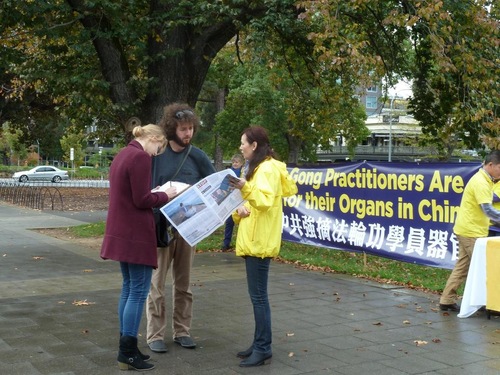 A Falun Gong practitioner tells a couple about forced organ harvesting in China.
Veteran: "I want to tell the world about Falun Gong."
April 25 is also the Australian and New Zealand Army Corps Day (ANZAC), a public holiday in Australia. Brian, a veteran who served in the Vietnam War, came to the park to tell people and other veterans about Falun Gong and the persecution.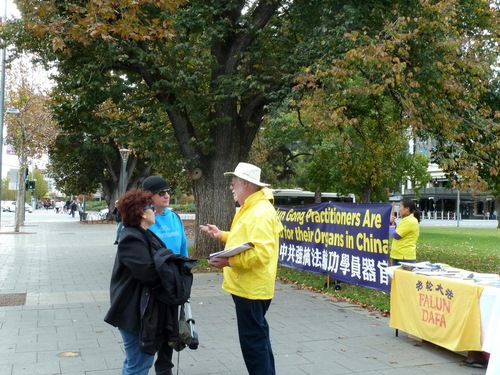 Brian, a veteran, informs people about the persecution of Falun Gong in China.
After returning from Vietnam, Brian suffered from depression and felt closed off from the people around him. A few years ago, he learned about Falun Gong and was impressed by the teachings, with the core principles of Truthfulness-Compassion-Forbearance. Brian said the practice gave him inner peace and energy.
"The world will be a better place if everybody could follow the teachings of Falun Gong," Brian said.
At the event, Brian talked to a lot of people. Most of them signed the petition to condemn the persecution.
Yun Lee, a Korean-Australian veteran who has lived in Adelaide for more than 40 years, was attracted by the peaceful exercise demonstration. He came over and talked to practitioners for a long time.
"I know that Falun Gong is great," Yun Lee said. "My 83-year-old sister in Korea practices Falun Gong every day in a park. She had many diseases, and was almost deaf. But now she looks healthy and she can hear me clearly. I also know why the Chinese Communist Party persecutes Falun Gong—they are afraid of Truthfulness-Compassion-Forbearance. I support you."
Yun Lee, a Korean-Australian veteran, takes a picture with Falun Gong practitioners.
"Organ Harvesting Must Be Stopped"
Many local citizens expressed their support for practitioners' efforts and told them that they saw the documentary "Human Harvest" aired recently on the TV network SBS.
After signing the petition, a supporter named Chris said, "I was sad after watching the documentary. Chinese people are mistreated by their government, and they don't have the freedoms of speech and belief, which are very important. I hope that my signature can help stop the organ harvesting."
Another man who stopped to sign the petition, Willow, thanked practitioners for their efforts. "What you are doing is meaningful," he said. "I often go to China, and I am learning Chinese. I like Chinese culture. The world needs Truthfulness-Compassion-Forbearance."