Peacefulness in Times Square
May 19, 2015 | By Minghui correspondents Lan Ling and Shu Jing
(Minghui.org) "I can sense their inner peace," said Eloy Morales, a Spanish artist, while watching 100 Falun Gong practitioners meditating at Times Square, "It's so wonderful."
The group meditation at the crossroads of the world was part of the 16th World Falun Dafa Day—May 13th celebration.
"Times Square is dynamic yet noisy. The peacefulness of Falun Gong meditation forms a sharp contrast to the restlessness of the background. It's like a competition, and the peacefulness dominates the restlessness. It is really meaningful."
Eloy Morales appreciated the meditation from an artist's viewpoint. "So many people wearing yellow T-shirts. The bright yellow stands out from the colorful background of Times Square. It is amazing that the color pattern is so harmonic."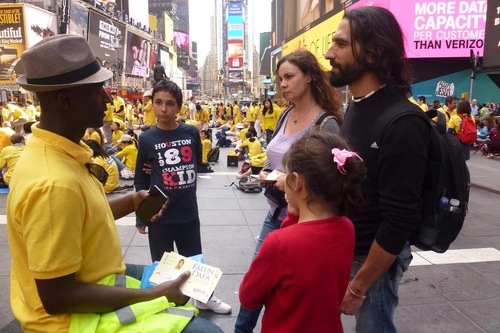 Morales' family talks to a Falun Gong practitioner (in yellow T-shirt) at Times Square on May 13, 2015.
Eloy came to Manhattan for an exhibition of his own artworks, traveling from Madrid with his wife Blanca, daughter Carla, and son Juan. He took pictures of his family with the group meditation in the background. "I will call it 'Yellow Impression.'"
Eloy had never before heard about Falun Gong. "Truthfulness-Compassion-Forbearance is a great principle," he waved a flyer from a practitioner, "I have the website of Falun Gong now, and I will go learn more about it later."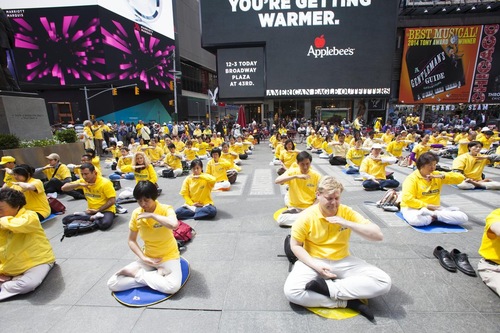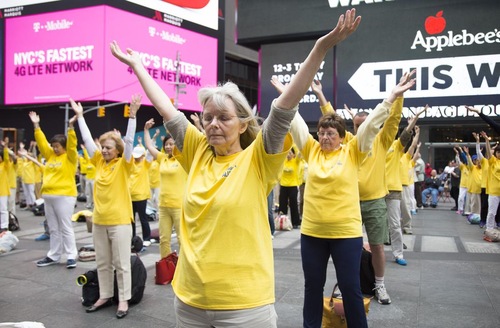 Falun Gong group exercises at the crossroads of the world on May 13
Sibiri Nestor Samne, a news and movie producer from Burkina Faso in West Africa, couldn't wait to express his impression of the group exercises. He spoke, and asked his friend to take a video of him with Falun Gong practitioners as the background.
He had heard about Falun Gong from TV news reports, but had never seen the practice in person. He excitedly praised the freedom that people enjoy in the U.S.A. He told the Minghui correspondent that he would edit the video and upload it to the Internet so that people from his country will have a chance to learn about Falun Gong.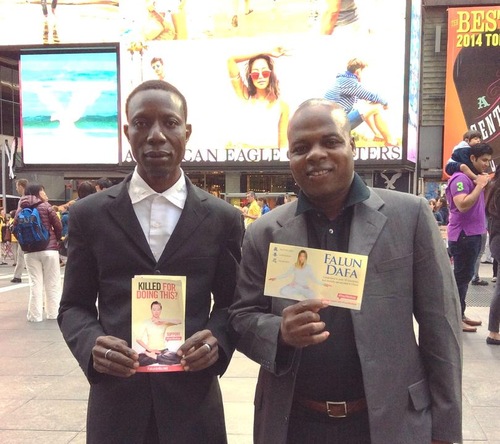 Samne (right) and his friend hold Falun Gong flyers at Times Square.
Besides the group exercises, practitioners also passed out flyers to passersby, introducing the ancient cultivation practice, and exposing to the public the brutal persecution of the practice in China.
Bob, a retired military doctor, talked to practitioner Ms. Kong for a long time. Ms. Kong told Bob about the state-sanctioned organ harvesting from living Falun Gong practitioners in China, which shocked him.
Before retirement, Bob was engaged with patients recovering from organ transplants, so he was especially concerned about the organ harvesting in China. He said that he plans to learn more about it, and will do what he can to help stop the crime.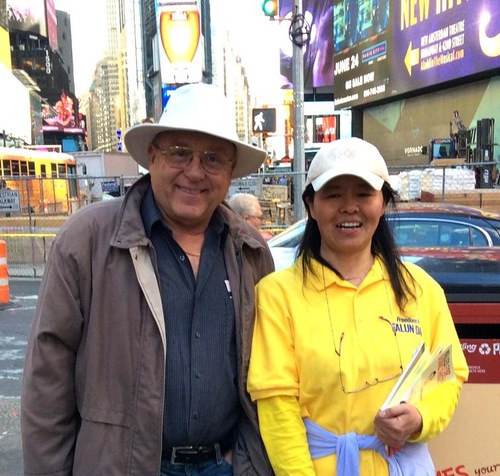 Bob and Ms. Kong at Times Square