April 25th Peaceful Demonstration Inspires People to Practice Falun Dafa
May 19, 2015 | By Minghui correspondents Su Rong and Sun Bo, from Chiayi, Taiwan
(Minghui.org)
University Professor
After watching a TV news report about Falun Dafa practitioners' peaceful demonstration in Beijing on April 25, 1999, Professor Ai Chang-rui said to his wife, "These people are brave. China is controlled by an authoritarian regime, so dissidents are targeted and persecuted. But these people dare to stand up and express their opinions."
Over 10,000 practitioners gathered peacefully in Beijing on April 25, 1999, to ask the government to release practitioners who had been illegally detained in Tianjin. They also asked the government to reaffirm their right to practice their belief in Truthfulness-Compassion-Forbearance. They all left peacefully later that day, after then-Chinese Premier Zhu Rongji agreed to release the jailed practitioners, and gave assurances that the government did not oppose Falun Gong.
Professor Ai earned his Ph.D. from the University of Illinois at Urbana-Champaign. He is now a professor in the Department of Business Management at the National Chung Cheng University in Taiwan.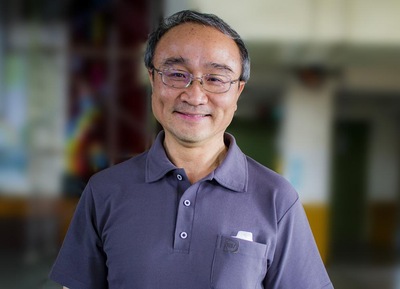 Professor Ai Chang-rui
On his way home on April 26, 1999, Professor Ai listened to a special report on the radio about the April 25th demonstration, where a Falun Gong practitioner was interviewed. Professor Ai recalled, "I was inspired by his words, 'Falun Gong is a cultivation practice of the Buddha school. The main book of this school is Zhuan Falun.' So I decided to buy the book."
He started reading it when he got home, and found answers to many questions he'd had about life. He said to his wife, "I have found my teacher. I want to practice Falun Gong."
Professor Ai said, "I became wiser and understood life better after practicing Falun Gong. I used to think that I was always right in any conflict. Now I look inward to see if I have done anything wrong. In my teaching, research, and dealings with others, I can make rational choices and decisions. I can also easily control my temper."
Hsiao Hua-wei, a university graduate, said, "Professor Ai is sincere, creative, and well-respected. Whenever we students organize events, we always invite him to come."
Professor Ai does research on modern business management, especially human resource management. He has had many accomplishments and a good reputation as a teacher. He had made a lasting impression on his students.
Primary School Teacher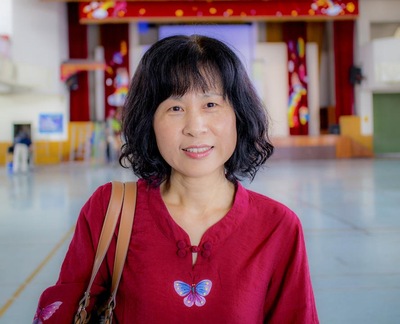 Retired primary school teacher Hsu Chian-wen
Retired primary school teacher Ms. Hsu Chian-wen recalled that her husband gave her a video disc over ten years ago. He said he didn't know what was on it. He was the principal of another primary school, where someone gave him the disc at a meeting.
The video turned out to be an interview with Professor Ai, who talked about the April 25th peaceful demonstration.
Chian-wen said, "In the video, Professor Ai talked about why he started practicing Falun Gong. He said that, on TV, he saw over 10,000 practitioners demonstrating in Beijing. He was touched by their behavior and started to learn about Falun Gong.
"I was curious after hearing about Professor Ai's experience, and went online to find out about Falun Gong. I thought it was very interesting, and asked my husband to buy a copy of Zhuan Falun. I finished reading it in two days. I believe that practicing it was my life's goal."
Before practicing Falun Gong, she had a comfortable life and was well-regarded. Her husband was a successful principal, and she was a popular teacher. However, she felt unfulfilled, and continually questioned the meaning of life. After practicing Falun Gong, she found her answers.
She often writes cards to her friends and others, saying, "I sought the meaning of life for so long. Now I've found it in the principles of Truthfulness-Compassion-Forbearance in the book Zhuan Falun."
She has been practicing Falun Gong since April 25, 2004. She practices it diligently, and goes to the practice site for group exercises. Her two sons also practice. She maintains a good relationship with her mother-in-law and her husband.
It has been over ten years since she started practicing. Chian-wen said, "The Chinese Communist Party's persecution of Falun Gong can only deceive those who do not know the facts. When one gets to know practitioners and the wonder of Falun Gong, they will not be misled by the Party propaganda."