Los Angeles: Celebrating Falun Dafa Day 2015 at Santa Monica Pier
May 18, 2015 | By Falun Gong practitioners in Los Angeles
(Minghui.org) Hundreds of Falun Gong practitioners and supporters in the Greater Los Angeles area gathered at the Santa Monica Pier on May 10 to celebrate the May 13 World Falun Dafa Day.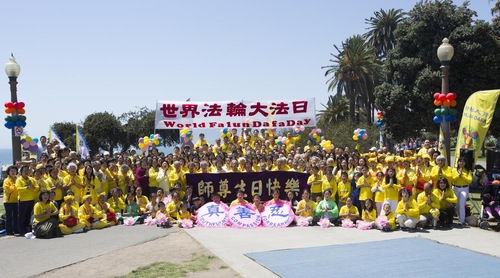 Los Angeles practitioners gather for a group photo during the Falun Dafa Day events at the Santa Monica Pier on May 10, 2015.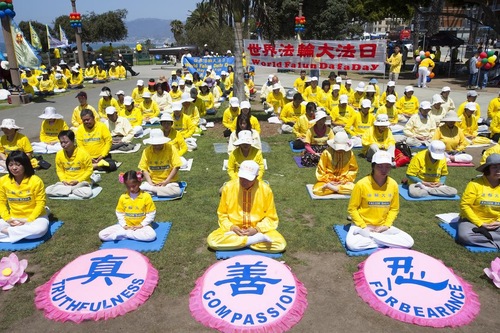 Los Angeles practitioners practice the sitting meditation together during the Falun Dafa Day events.
As a prominent, 100-year-old landmark, the pier attracts a large number of tourists. Crowds gathered to take in the performances by practitioners which featured traditional Chinese dance, martial arts, vocal and instrumental pieces, and an exercise demonstration. Many people picked up materials, took pictures, or learned the exercises.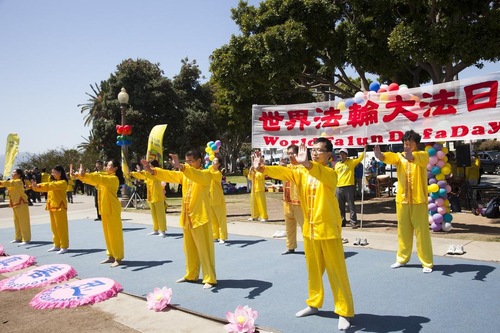 Exercise demo by Los Angeles practitioners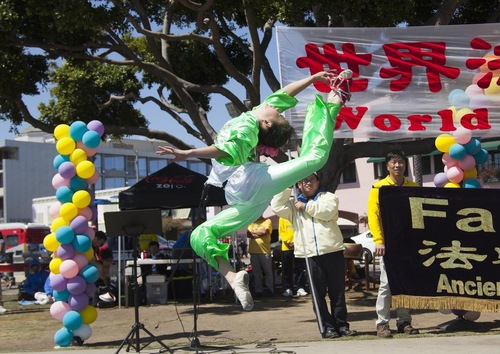 Traditional Chinese dance performance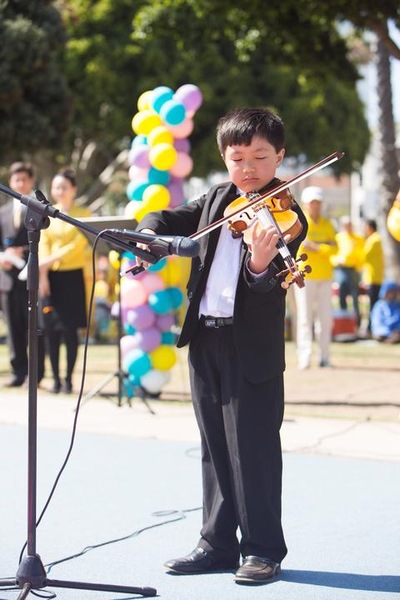 Violin solo by a young practitioner

Mr. Wang Xiulin, 85, is a practitioner from Changchun City, Jilin Province. "I attended Teacher Li's 9-day lecture three times. I am deeply grateful for his guidance and compassion."
Mr. Li Hongzhi, founder of Falun Dafa (also known as Falun Gong), introduced the meditation system to the public starting in Jilin Province. "Back then many 9-day lecture seminars were held in Jilin Province and Beijing, one after another. All of them were fully packed."
Since being introduced to the public in 1992, Falun Gong quickly spread and it is now practiced in more than 100 nations.
Los Angeles resident Andy, of Vietnamese descent, said he was thankful to Teacher Li for introducing Falun Gong to the world. "We not only have a better health, but also improved our mind nature. By following the principles of Truthfulness-Compassion-Forbearance, we are always looking within and working towards being kinder and better people."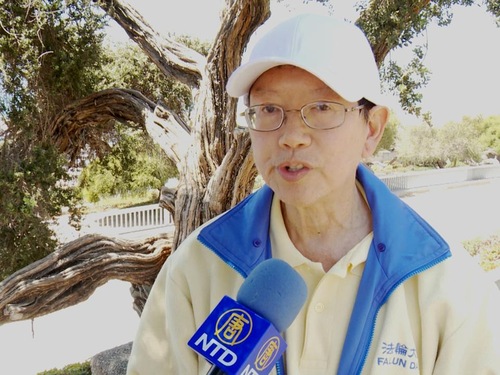 Practitioner Andy says Falun Gong improves mind and body.
Zhu, a practitioner from Taiwan, was celebrating Falun Dafa Day in the US for the first time. "There are many practitioners in Taiwan and I am glad to see so many practitioners here."
Zhu said he used to seek returns when helping others. Studying Dafa helped him see that he should be truly and unconditionally considerate of others. "To me, this what it means to be a cultivator of a righteous way."
Helen, organizer of the event, said that the purpose of the event was not only to celebrate Falun Dafa Day, but to share the practice with the community and raise awareness. "Compared to last year, we found more people are now aware of the brutal persecution in China, including the communist regime's organ harvesting crimes."
"Signing a petition is not only important for helping the persecuted practitioners," Helen said, "It is also important for those who show their support—after all, it is a good thing to take stance against the communist regime's crimes against humanity."