Revered Master Teaches the Fa at the 2015 New York Falun Dafa Cultivation Experience Sharing Conference
May 15, 2015 | By Minghui correspondent Cai Ju
(Minghui.org) The 2015 New York Falun Dafa Cultivation Experience Sharing Conference was held at the Barclays Center in Brooklyn, New York on May 14. More than 8,300 Falun Dafa practitioners from 50 countries attended the event.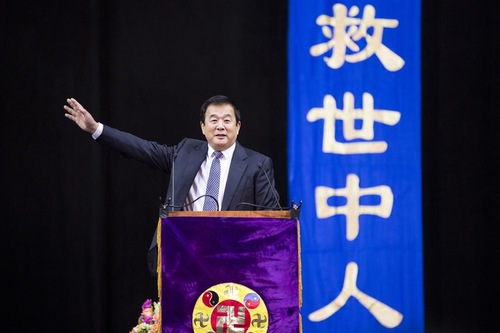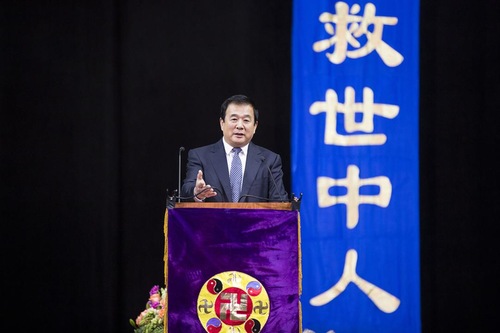 Master Li visited the 2015 New York Falun Dafa Cultivation Experience Sharing Conference and spoke for about two hours.
The stage of the Fa conference was decorated with a horizontal banner reading "2015 New York Falun Dafa Cultivation Experience Sharing Conference" on top. Master's poem from "Fa Rectifies the Cosmos" in Hong Yin Volume II was quoted on the vertical banners by the sides of the stage:
"Mercy can melt heaven and earth into springRighteous thought can save people of the world"
Master's picture was at the center below the horizontal banner, with two Falun emblems on both sides of the picture. The electronic screens circling the venue displayed heavenly scenes with Buddhas, Taos, and gods. The smaller screens in the hallway displayed Master's poems from Hong Yin; they serve as reminders for practitioners to cultivate by measuring up to the Fa and being more diligent.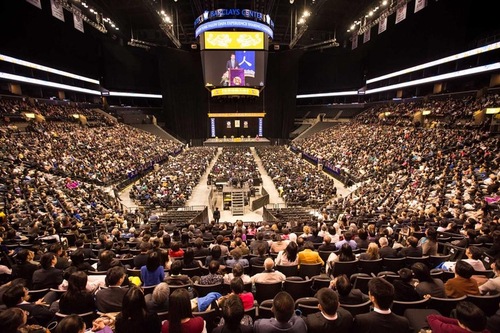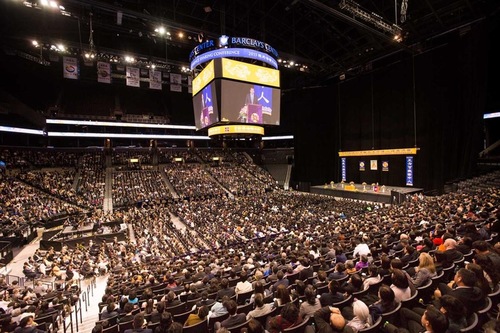 More than 8,300 Falun Dafa practitioners from 50 countries were in attendance
Master Arrives to Teach the Fa
Master came to the conference venue in the morning. The Dafa disciples in attendance stood up and applauded with tremendous respect and enthusiasm. Master finished the Fa teaching at about 1 p.m., and the disciples stood up again to see him off with thunderous applause, expressing their deep gratitude.
Disciples' Fa-Rectification Cultivation Paths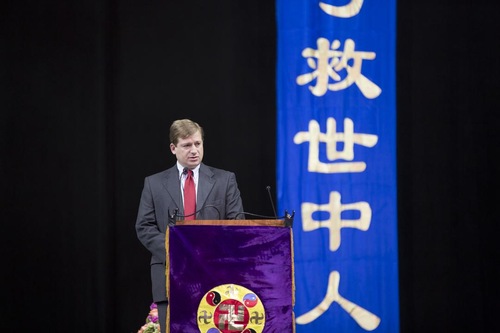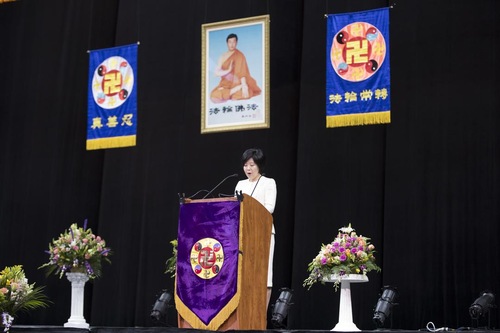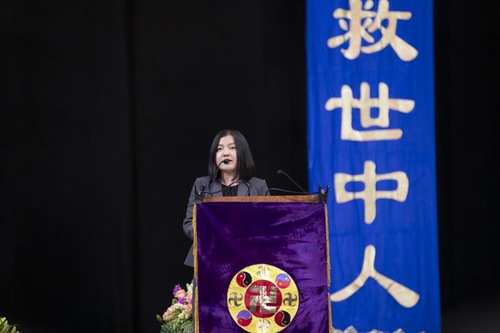 Falun Dafa practitioners share their cultivation experience at the 2015 New York Falun Dafa Cultivation Experience Sharing Conference
Fifteen Falun Dafa practitioners from New York, California, Canada, Australia, Finland, and Taiwan shared their cultivation experience and the process of assisting Master in Fa-rectification. Their ages range from children to 75 years old. Some have just started the practice, while others have cultivated for over a decade.
Effecting Fundamental Changes in Oneself With Solid Cultivation
Levi from New York started practicing Falun Dafa in 1999. Shortly after the persecution began in July 1999, he quickly joined the efforts to clarify the truth. He prepared informational materials, contacted media, and arranged meetings with government officials.
However, aside from the busy activities, he felt deep down that something was separating him from the Fa.
Four years ago, he experienced severe sickness karma, which lasted for a few years. His situation was on and off. Amidst the tribulation, he persisted in reading Minghui articles every day. He continued to attend local group Fa studies and project meetings, do what Dafa disciples should do, and stepped up his Fa study and sending righteous thoughts.
Gradually, he found his fundamental attachment: he joined the efforts to validate the Fa out of a desire to gain salvation for himself and ultimately be rewarded. He didn't meet Master's expectation of attaining righteous thoughts free from selfishness through cultivation and saving sentient beings.
The answer soon became apparent: he needed to change himself. He studied the Fa more and truly paid attention to sending righteous thoughts. Diligence in cultivation helped him fundamentally change himself.
Levi felt that he rediscovered the joy of a Fa-rectification Dafa disciple assimilating to the Fa: "My heart is with Master and the Fa-rectification."
Cultivating Oneself While Doing Shen Yun Related Projects
Shen Yun Performing Arts artist Kaidi shared her lessons learned: "The attachment to doing things replaced the heart for saving people." She was complacent with her achievements and forgot that they were bestowed upon her by Master and a result of Master's sacrifices.
As she slacked off in sending righteous thoughts, she suffered a twisted ankle and lower back pain. She saw the tribulation as an opportunity for cultivating her xinxing. Hardship forged stronger righteous thoughts.
She shared, "It is truly important what thoughts we have at critical junctures. As long as we think of Master at the most difficult moment, we can overcome the tribulation."
Jing Kun shared his journey of transitioning from a dancer to a lighting engineer. He started anew and became an engineer that was the expert in his area.
Ms. Zhang in Taiwan was preparing for a Shen Yun VIP reception last July. A week before the event, her husband suddenly passed away.
She remembered Master's teaching in "To the Chicago Fa Conference" in the Essentials of Diligent Progress Vol. III:
"Whatever you experience during your cultivation—whether good or bad—is good, for it comes about only because you are cultivating."
She realized that she needed to stay pure in the Fa. The reception was very successful. Without knowing set performance dates, over 400 tickets were pre-sold. The promotion team in Kaohsiung, Taiwan formed a strong one-body, in which every practitioner is one of the Fa particles, seemingly ordinary but critical to the overall success.
Australian practitioner Cansin, originally from Turkey, shared three stories from her Shen Yun promotion efforts. She invited her colleague to drive a big truck with Shen Yun advertisements during the Christmas holidays. The colleague started practicing Dafa shortly thereafter.
She sold Shen Yun tickets to a man at a shopping mall. The man later called her to thank her because her introduction of Shen Yun touched his heart deeply. Cansin also sent righteous thoughts to eliminate the evil factors that blocked her sister from seeing Shen Yun.
Cansin's son started cultivation at the age of eight. He knew that he was different than others and could truly refrain from retaliating when he was physically or verbally attacked. In his sleep, Master took him back to the Russian revolution and showed him the major events. He thus aced the history test. The history teacher said that he should become a teacher of the Russian revolution.
Breaking Through Fundamental Attachments
Roman is a salesperson with the English Epoch Times in New York. However, his sales performance had been poor. After failing to close seven deals, he thought about resigning. The sales director's feedback to him was: "In the moment of truth, either collapse or break through."
He was able to make strides in the next month, but still didn't completely dedicate himself to the work. He finally found his fundamental attachment to "overvaluing oneself" and broke through. He now is the single-month record holder for most contracts signed, highest sales volume, and highest sales commissions.
Clarifying the Truth at Tourist Sites
Lan is from Finland and clarifies the truth to Chinese tourists by playing audio on a speaker. The locals value their quiet, but Lan overcame her fear and adjusted the timing and volume of her broadcast. They gained a better understanding of her efforts and eventually started helping her.
In this process, Lan looked inward and improved her cooperation with local Western practitioners.
Yahui from Los Angeles started her practice in 2011. She has been making regular visits to the airport to help Chinese tourists know the truth. She initially didn't know what to say. But now she is quite eloquent and efficient in helping tourists quit the communist organizations.
Every time upon arrival at the airport, she tells herself: "Let go of self and dedicate yourself without reservation."
Elderly Practitioner Calls China to Save People
Ms. Li from Canada is 75 years old. She has been calling China to clarify the truth since December 2008 and helped over 11,800 people renounce their memberships in communist organizations.
She lives in a senior center. Through helping others with tailoring, she made a lot of friends and helped them to know the truth. When her youngest son died in a car accident at the age of 39, she remembered Master's Fa and passed the test.
New Practitioner Advancing Diligently
Ms. Jiang from New York started practicing Dafa in June 2014. Even though she had negative impressions of Dafa as a result of the influence of communist propaganda, she now goes to the No. 17 pier to help Chinese tourists to learn the truth.
As a brand new practitioner, she cherishes the cultivation opportunity and is improving rapidly through reading large volumes of Master's lectures.
Miles from California was addicted to drugs, alcohol, and video games. After he started practicing Dafa in 2011, his grandfather said that he had "changed completely." He also married his girlfriend. He strives to introduce Shen Yun to more people and break through various notions.
Xiangxiang from Canada is a young practitioner who started cultivation in July 2012. He found some cash during his boy scout camp and gave the money to the camp. His father asked him what reward he would like to have. He asked to read Zhuan Falun.
He thus started his cultivation journey. He promotes Shen Yun, spreads the Fa at group exercise sites, and calls China to help people quit the Chinese Communist Party.
Cathy from New York and Emmy from Australia shared their understandings. Cathy is in charge of percussions in the Divine Land Marching Band. She said, "Cultivation improvement comes before the improvement of skills. Everything is related to cultivation."
Emmy shared how she adjusted herself and improved xinxing when coordinating local events that expose live organ harvesting in China. Practitioners involved formed a one-body, and the events were very successful.
The Fa conference ended after the six o'clock righteous thoughts. Attendees left the venue with a common understanding to be more diligent in cultivation, to cultivate with a purer state of mind, and to save more people.