"Truthfulness-Compassion-Forbearance" Shines by East River in New York
May 15, 2015 | By Minghui correspondents Chen Xinning and Mu Wenqing
(Minghui.org) The Chinese characters for Truthfulness-Compassion-Forbearance appeared at Gantry Park by the East River in New York City in the morning of May 13, 2015. It was part of the week-long Falun Dafa Day celebration joined by over 8,000 practitioners from around the world.
"May 13 is a day of appreciation, and I think about the help Master gives to our cultivation," said Ms. Chen from Australia.
"It was cloudy at the beginning of the event. But as soon as we started saying 'Falun Dafa is good' and 'Happy Birthday Master,' it became sunny and a bright day," she added. "Many fellow practitioners have come here with another year of cultivation efforts. The peaceful field has attracted many people. I'm glad to be contributing to it."
The character formation event was part of the annual World Falun Dafa Day celebration in New York City. Falun Dafa Day on May 13 of this year marks the 23rd anniversary of the practice's introduction to the public and the 16th World Falun Dafa Day. The first Falun Dafa Day was celebrated in May 2000, less than a year after the persecution began in July 1999.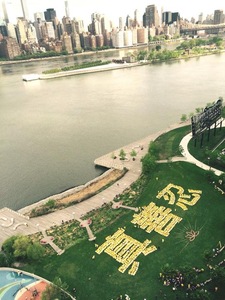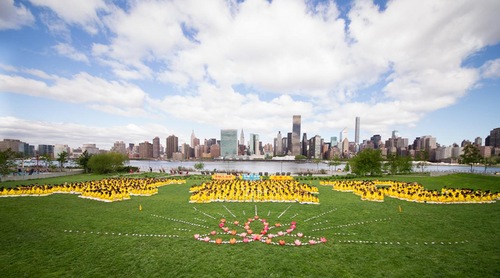 The Chinese characters read "Truthfulness-Compassion-Forbearance"
According to Jiang Wei, coordinator of the event, this was the first character formation for "Truthfulness-Compassion-Forbearance" outside of China and Taiwan. "We planned this out and rehearsed it twice. We arrived at 3:30 a.m. to get ready for the event. Each detail had to be in order."
He said that the skyline of midtown Manhattan and the United Nations headquarters make for a very good, meaningful background. "Indeed, Falun Dafa is welcomed in many countries," he added.
Ms. Liu Yumei from Finland said, "More than ever I feel that Truthfulness-Compassion-Forbearance is my life. Today is a day of appreciation. I miss Master and thank Master. Master not only helped me obtain perfect health, but also helped me understand the meaning of life."
She mentioned that she left China for Finland in 2008. She recalled the group exercises in China prior to the persecution. She said she would cherish the peaceful environment and the freedom to practice outside of China.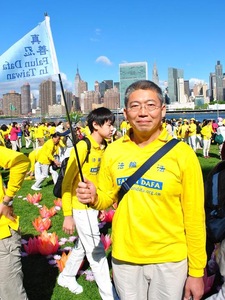 Falun Dafa practitioner Deng Boyuan from Taiwan
Deng Boyuan is one of the 400 Taiwan practitioners who joined the character formation, "This event is very solemn. I would like to inform the whole world: Falun Dafa is good! I sat in the 'Compassion' character because society needs it. A lot of the conflicts in the world can be reduced by each of us practicing compassion."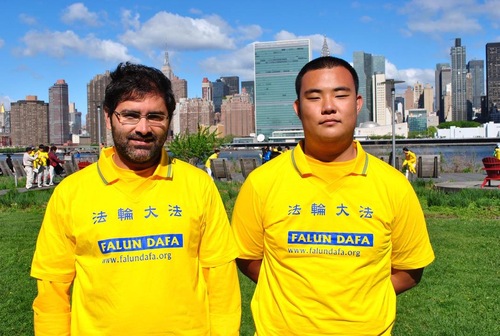 Paulo and Peng Yaohao from Brazil noted the peaceful energy during character formation, "As if all Falun Dafa practitioners were here with us."
Ms. Xu Jinghua, a New York practitioner, has been cultivating since 1997. She thanked practitioners for convening in New York from all over the world. She also hopes that Truthfulness-Compassion-Forbearance can awaken people's conscience and end the persecution soon.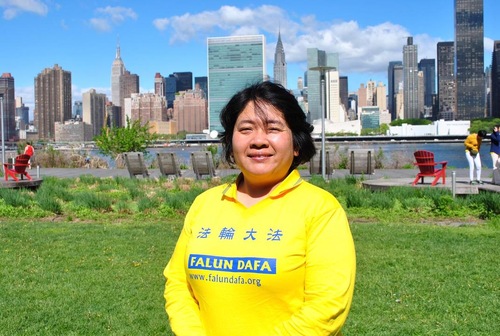 Xu Jinghua, a Falun Dafa practitioner from New York
She said, "This event has historical significance. Falun Dafa has spread all over the world for 23 years. However, practitioners in China still don't have freedom. Their human rights are severely violated. So forming characters in a park across from the United Nations headquarters is significant."
She was also impressed by the short time it took for the character formation to complete. During the process, everyone said "Falun Dafa is good. Truthfulness-Compassion-Forbearance is good."
"We all send best wishes to Master Li. We hope that soon 'Truthfulness-Compassion-Forbearance' will be displayed to people in China," she added.
New York practitioner Yu Zhenjie started her practice in Mudanjiang City, Heilongjiang Province, in 1995. She said, "Nine people in my family are cultivators, and six have been directly subjected to the persecution. My brother was illegally sentenced to five years. My sister-in-law was sentenced to 11 years. Five years for my younger sister and three years for both my daughter and me. I managed to escape China in 2007 and arrived in the United States in 2009."
"So many practitioners are tortured in China. Some were even subjected to live organ harvesting. They don't have a voice," she added.
"I was sitting in the character Truthfulness," She said. "I thought: I will behave like a genuine practitioner and follow Master's guidance."
"I have been very fortunate to have Master's protection during my years of cultivation. Whenever danger comes, Master helps me firm up my righteous thoughts and overcome the tribulations."