Week-Long Falun Dafa Day Celebrations Kick Off in New York City
May 14, 2015 | By Minghui correspondent Xia Chunqing
(Minghui.org) May 12 saw the kick-off a weeklong celebration for World Falun Dafa Day in New York City. Thousands of Falun Dafa practitioners from around the world have come together to take part in group exercises at landmark locations such as Times Square and Central Park, as well as cultural performances, a parade on 42nd street in Manhattan, and a rally near the United Nations.
World Falun Dafa Day (May 13) was the day on which Mr. Li Hongzhi, the founder of Falun Dafa, introduced the practice to public in 1992. The first World Falun Dafa Day was celebrated in 2000, just months after the Chinese communist regime launched in July 1999 its brutal persecution of the practice, a campaign still going on today.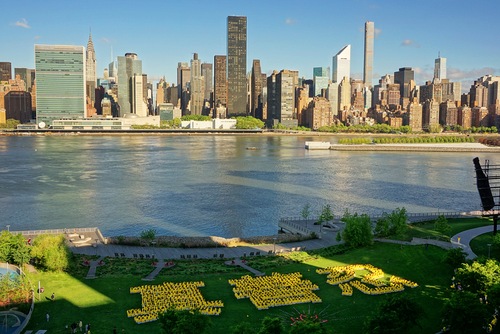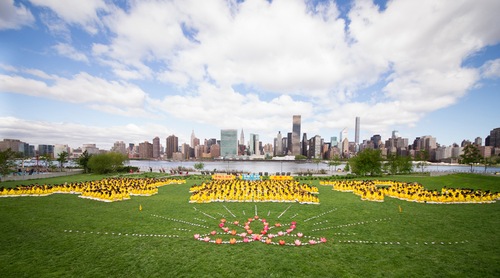 Against the backdrop of the midtown Manhattan skyline and the United Nations headquarters, over 1,000 Falun Dafa practitioners from multiple countries form the characters "Truthfulness-Compassion-Forbearance" in Gantry Plaza State Park on May 13, 2015.
"Practicing Falun Dafa changes our nature to be more aligned to Truthfulness-Compassion-Forbearance. These principles are very simple, but they are also very profound," said David Tompkins, spokesperson of Falun Dafa practitioners in the greater New York area, as he kicked off the events at Foley Square in front of City Hall on May 12.
He added, "What these [Falun Dafa] principles and exercises have done is to allow the community of Falun Dafa practitioners around the world to persevere in the face of an extremely brutal persecution and remain a very vibrant community, in effect maybe even untouched by the violence of the Chinese Communist Party."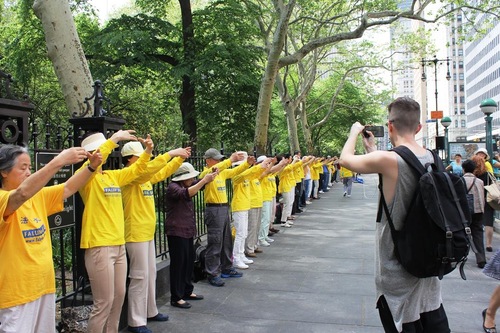 Practitioners demonstrate the Falun Dafa exercises in front of City Hall in New York on May 12.
"This demonstration makes people much more aware of what is happening in China," remarked Steve Cooper, a retired engineer with the New York City Transit Authority, as he viewed the practitioners' group exercises in front of City Hall.
Mr. Cooper said that he learned about the persecution a few years ago. He said the activities are good as "it gives an opportunity for people to see in New York the view and pay attention to what is going on. I think your effort is unique and quiet."
He said he looks forward to seeing the Friday parade on 42nd Street.
"I feel very peaceful just looking at it [the group exercise]," said Jane Halpin, a candle business owner from Australia. "Amazing. Amazing! Very peaceful. It's beautiful!"
Answers to Life's Questions
"Falun Dafa is giving me a really wonderful life," shared Jeanne Mitchell, a practitioner who lives in the greater New York area.
"I quested for the purpose of life from when I was 18 years old. I tried many forms: Taichi, Yoga, psychology, and meditation. But 12 years ago in January, I read Zhuan Falun. And I knew I had found what I was really looking for," she recalled.
"It was January in the bitter cold. I was very ill at the time, constantly sick, and literally overnight I felt good. I kept looking over my shoulder: why am I not getting sick? I really didn't come to cure illness; I came to find out why I am here on this Earth," she said.
"I have wonderful and harmonious relations with my family. My husband said that I was much easier to live with within one month."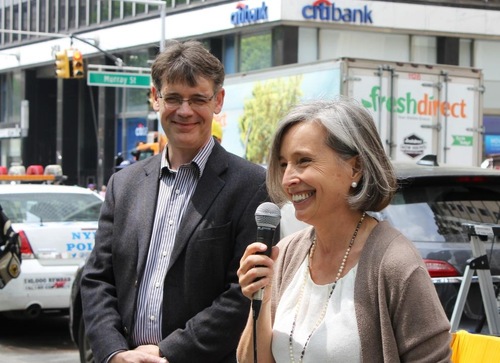 New York resident Jeanne Mitchell says, "Falun Dafa is giving me a really wonderful life."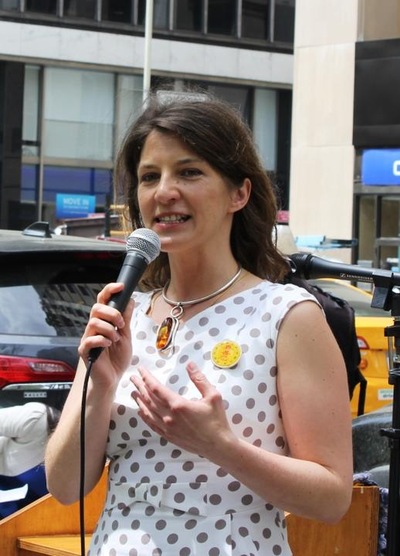 Maria Salzman, originally from Poland, shares her experience with the practice.
A Practice "So Profound, Yet So Simple"
Maria Salzman, originally from Poland, saw a Falun Dafa practitioner meditating when she was a student in 1997. She was attracted by what she saw. She said that she found the "inner peace" that her great-grandmother talked about after she started practicing Falun Dafa.
"I was so thrilled," she said. "The practice has never ceased to amaze. The principles are so profound, yet so simple. I find that my surroundings have changed after I change myself through this cultivation practice."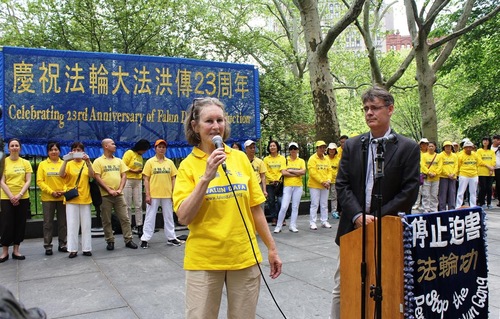 Joy Gibb from Australia says that Falun Dafa freed her of worry. "Cultivation is like a revolution, in the sense of the extent of changes it has brought me, but also in a peaceful and subtle way."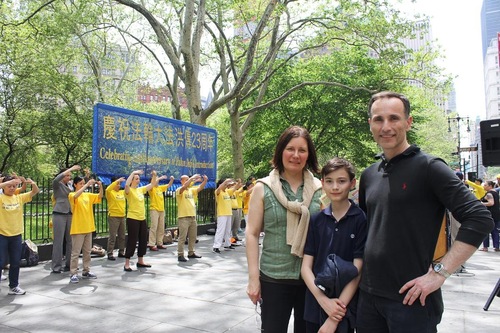 Mr. Vasilios Zoupounidis and his family are from Sweden. He says that he owes his success to the inner peace and health obtained through practicing Falun Dafa. Mr. Zoupounidis was given the 2011 "Business Pioneer of the Year" award by Swedish King Carl XVI Gustaf.