Montreal, Canada: "I Wish My Friends in China Could See the Celebration of World Falun Dafa Day"
(Minghui.org) "I wish my friends in China could see this great celebration," an older Chinese gentleman said while taking in the 16th World Falun Dafa Day events in Montreal.
"I have taken a lot of pictures, and I will show them to my friends," said the man, who had come to Canada to visit his child. "In my hometown, there are lots of Falun Dafa practitioners. But any public activity is banned by the government. I have received a lot of informational materials from those practitioners, so I know about the persecution of Falun Dafa very well," he explained.
"One of my old friends who practices Falun Dafa, disappeared soon after the persecution started. We haven't heard from him since."
"To be honest, I don't dare to say all this in China. I am so glad to see that you enjoy freedom here, and have such a beautiful celebration in Montreal. Please help me to submit my withdrawal from the communist party," the older gentleman said to a Falun Dafa practitioner at the event.
The celebration of World Falun Dafa Day was held at the Sun Yat-Sen Park in Chinatown. Practitioners demonstrated the exercises and set up display boards to expose the persecution of Falun Dafa in China.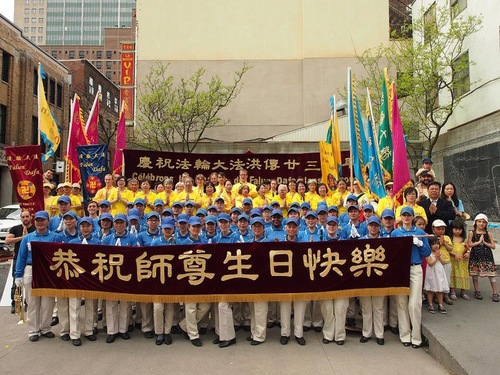 Practitioners take a group photo to wish Master Li Hongzhi, the founder of Falun Dafa, a happy birthday.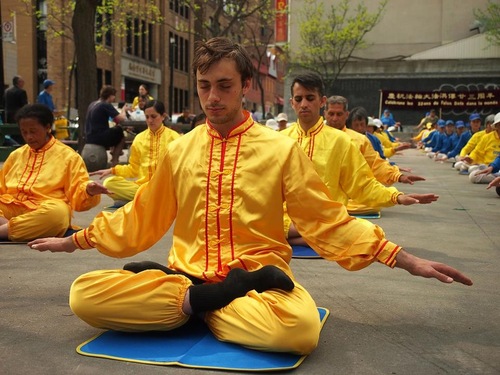 Montreal Falun Dafa practitioners demonstrate the meditative exercises.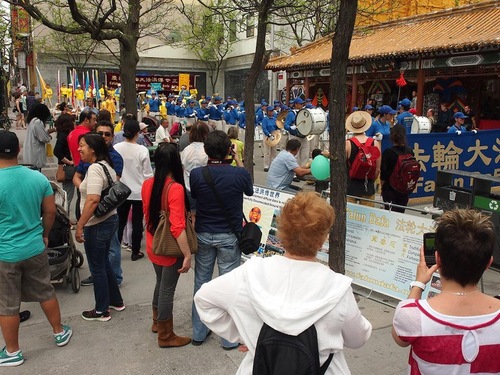 A crowd gathers to watch the Falun Dafa march.
At the celebration rally, Mr. Jin, a representative of the Falun Dafa group, briefly introduced the basic teachings of Falun Dafa, and the spread of the practice throughout the world.
A Chinese woman, who just arrived in Canada, was very interested in learning the exercises.
"I have read Zhuan Falun once in China, but I never had a chance to learn it. It is great that all the teaching materials can be freely downloaded from your website. I am so lucky to meet you today," she said.
After the rally, practitioners held a march, which featured the Divine Land Marching Band, an exercise demonstration team, and a Falun Dafa banner team.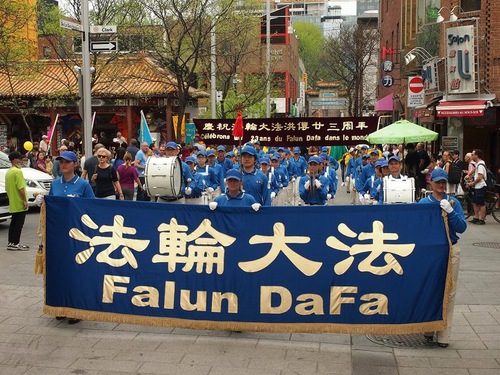 The Divine Land Marching Band leads the march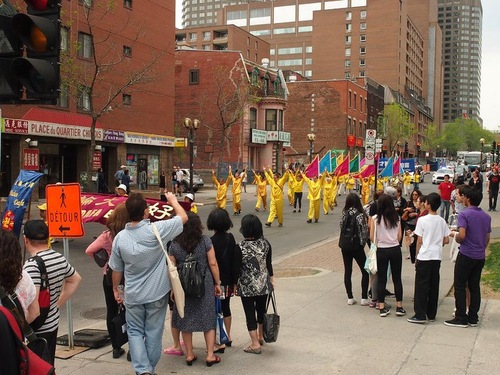 Demonstrating the exercises in the march
After the march, practitioners returned to Sun Yat-Sen park for more activities to raise awareness. Several people learned the exercises during the event.