Canadian Practitioners' Rally and Parade in Celebration of 23rd Anniversary of Falun Gong's Public Introduction
May 13, 2015 | By a Minghui correspondent in Canada
(Minghui.org) Hundreds of Falun Gong practitioners from all over Canada held a rally on Parliament Hill and a parade in downtown Ottawa on May 6, 2015, to celebrate the 23rd anniversary of Falun Gong's public introduction.
The Canadian Prime Minister, the Mayor of Ottawa, and many other politicians sent letters of congratulations in honor of this special occasion. Fifteen Members of Parliament (MP) attended the celebration in person. They praised Falun Gong practitioners for their dedication and hard work to make Canada a better country and condemned the persecution of Falun Gong in China.
Practitioners doing the exercises on Parliament Hill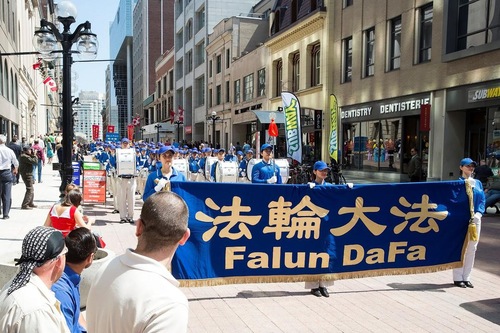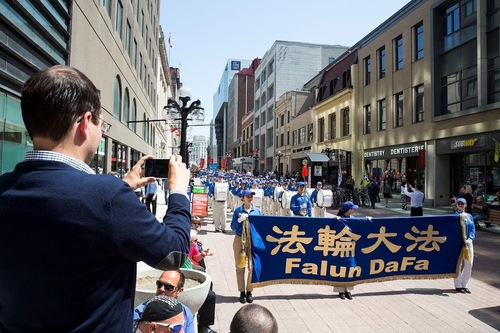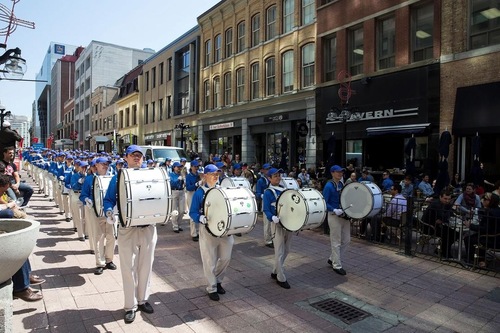 The Divine Land Marching Band parades through downtown Ottawa.http://www.minghui.org/mh/article_images/2015-5-7-minghui-falun-gong-ottawa-05.jpg.The waist drummers performing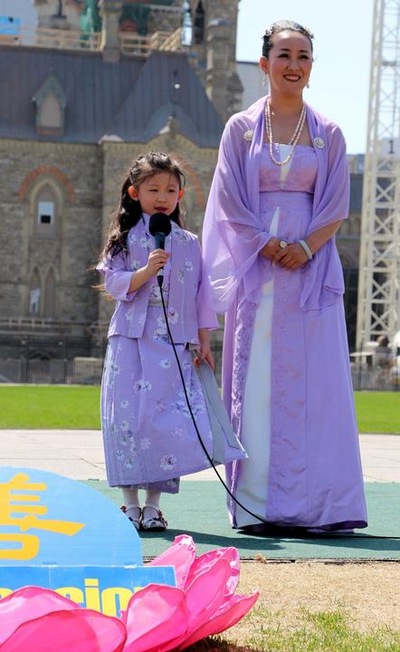 Duet: "Ode to the Lotus"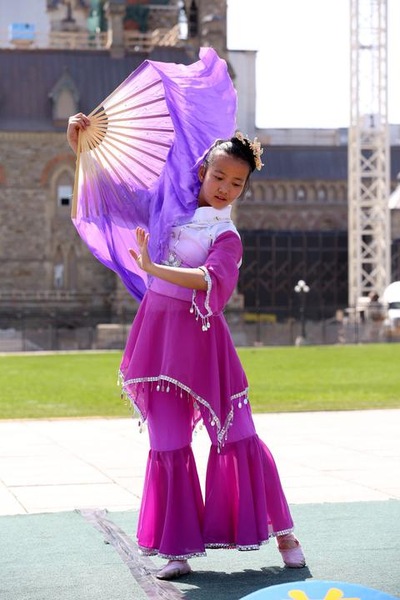 Dance: "Flying Clouds and Flowing Water"
Parading down the main streets of Ottawa to celebrate World Falun Dafa Day
Practitioners started distributing introductory materials in the city center at 9 a.m. The parade wound through downtown just before noon, with the music of the Divine Land Marching Band leading the procession. Many people saw the parade on their lunch break. They took pictures and videos and shared them on social media.
The celebration on Parliament Hill started at 1p.m. with music by the band, followed by the waist drummers and dances. Many spectators enjoyed the happy occasion with the practitioners and expressed their condemnation of the persecution of Falun Gong in China.
MPs John Carmichael and Craig Scott both spoke at the celebration to express their congratulations and support of Falun Gong practitioners' work on human rights.
15 MPs Attend the Celebration
A total of 15 members of Parliament showed up in person at the celebration.
MP Judy Sgro told practitioners that, if the whole world followed the values of Truthfulness, Compassion and Forbearance, and if we all could follow practitioners' examples, the world would be a better place.
MP Peter Kent praised Falun Dafa for bringing good health to hundreds of millions of people.
MP Joy Smith said Falun Dafa had brought the important values of Truthfulness, Compassion and Forbearance to Canada and the world.
MP Stephen Woodworth said he would continue to support and promote the values of Truthfulness, Compassion and Forbearance.
All the MPs agreed the persecution of Falun Gong must stop immediately, especially the organ harvesting from living Falun Gong practitioners.
MP Irwen Cotler said he would continue to fight until Falun Gong practitioners' human rights, as well as all Chinese, were respected and protected by law.
MP Wladyslaw Lizon promised to not forget Falun Gong practitioners were being killed and their organs harvested and to not stop pressuring the Chinese Communist Party to end the persecution.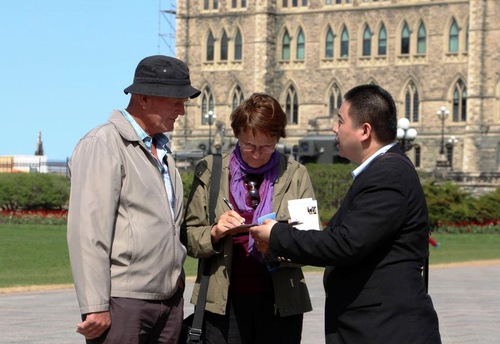 Canadians signing a petition to stop the persecution of Falun Gong in China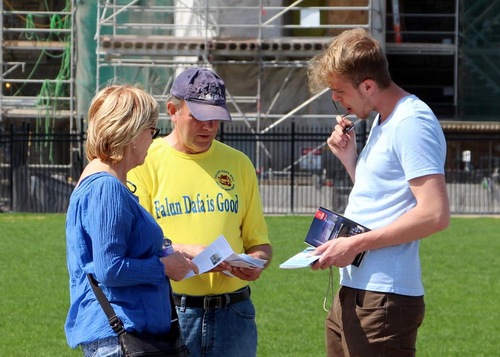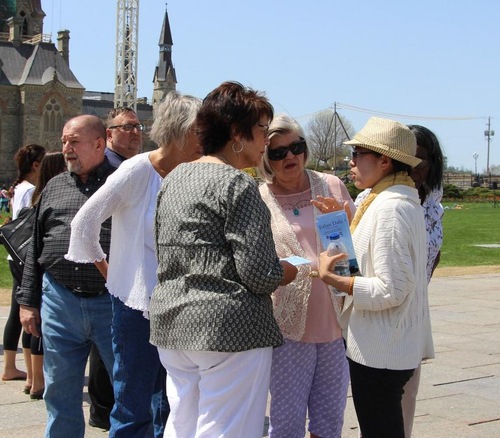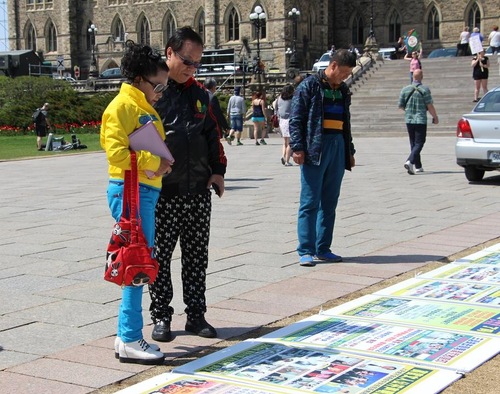 People who stopped to watch the rally found out about Falun Gong.
Visitor from China: "Falun Gong Is China's Only Hope"
Mr. Zhang came to Ottawa from China recently to visit his family. He stayed for the entire rally and the parade. He told practitioners he would like to learn Falun Gong. "I am very much aware of what is going on with Falun Gong in China. My neighbors who practice Falun Gong are kind and honest. I admire them. The Chinese government monitors them closely. But outside of China, people are free to practice Falun Gong and have embraced it. I'm very fortunate to have this chance to learn it.
"The Chinese people actually know the truth about Falun Gong, but they can't do much because the CCP is still suppressing it. Even the high-ranking officials in China know the CCP is irrational and violent and predict it will collapse. I think Falun Gong is China's only hope."
Mr. Liu from Hunan Province in China was very touched by the magnificent group exercise activity. He took some introductory materials and wanted to learn Falun Gong, too.
Chinese Immigrant: "What the CCP Says Is Absurd"
Mr. He immigrated to Canada from China seven years ago. He said, "I'm an amateur photographer. I took long shots, closeups, and many different views of your activities. I will select the best ones to post so that I can show the beauty of Falun Gong.
"What the CCP says is completely absurd. We have to find out the truth by ourselves. I've seen it with my own eyes today. I may start learning Falun Gong myself some day."
Student: "It's My Obligation to Help Stop the Persecution."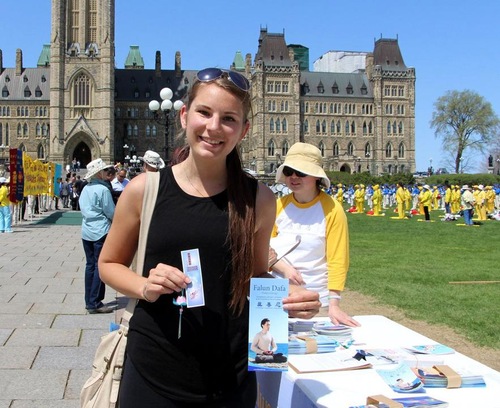 Cloe from Québec signed the petition.
As Cloe from Québec signed the petition, she said, "I'm sad to know about the organ harvesting. It's my obligation to stop it. I would like to do my best to help stop the persecution."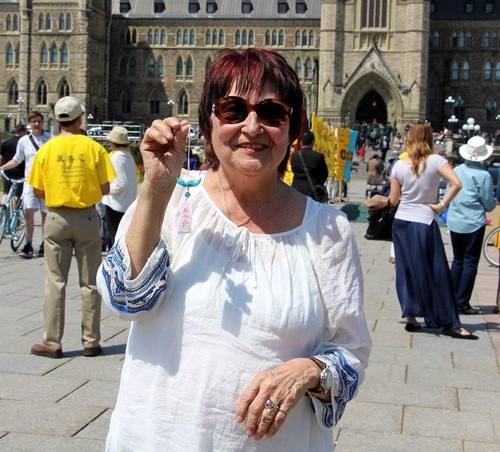 Beau Champ from Ottawa signed the petition and wanted to learn Falun Gong.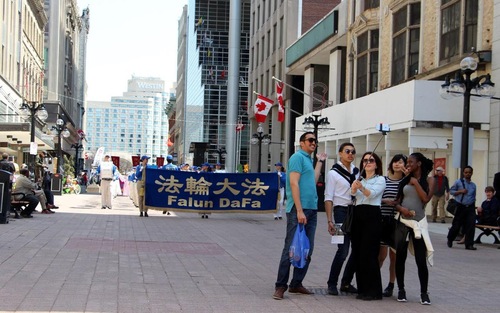 German tourist Ceyda felt fortunate to see the celebration and be able to participate in the parade. She and her friends took informational materials and wanted to find out more.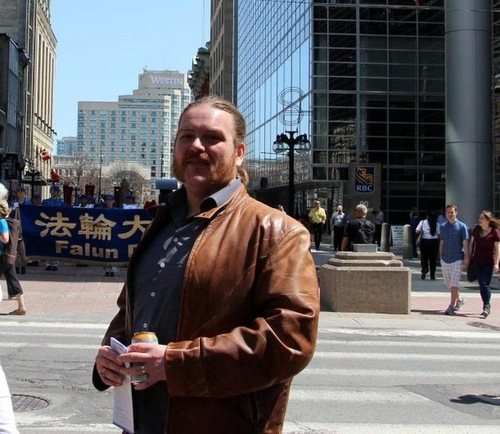 Bryan recorded the parade and expressed his support for Falun Gong.
After the celebration, practitioners recorded their greeting to Master Li, wishing him a happy birthday. They hope the persecution in China will end quickly and that May 13th will soon be celebrated in China.