May 13 Recognized as World Falun Dafa Day in Philadelphia
(Minghui.org) "Thank you for your work toward enhancing the physical and spiritual well-being of our City and region," read a citation from the Philadelphia City Council in recognizing May 13, 2015 as World Falun Dafa Day.
On the occasion of the 23rd anniversary of Falun Dafa's introduction to public and the 16th World Falun Dafa Day, the mayor and city council of Philadelphia recognized Falun Dafa practitioners' contribution to local communities and commended their peaceful efforts to fight for freedom of belief.
The city council citation adds, "Falun Dafa practitioners in the United States dedicate countless hours to their communities in organizing free meditation classes, Chinese cultural productions of music and dance, and participating in local events. They are also actively working to bring about a peaceful resolution to the persecution of Falun Gong in China and improve the future of the world's most populous country."
The proclamation from the mayor said, "Philadelphia, the City of Brotherly Love, strives each day to maintain an environment of tolerance and compassion for all people. World Falun Dafa Day is a time for our City to celebrate the attributes that we hold dear and recognize those who practice Falun Dafa in China and around the world."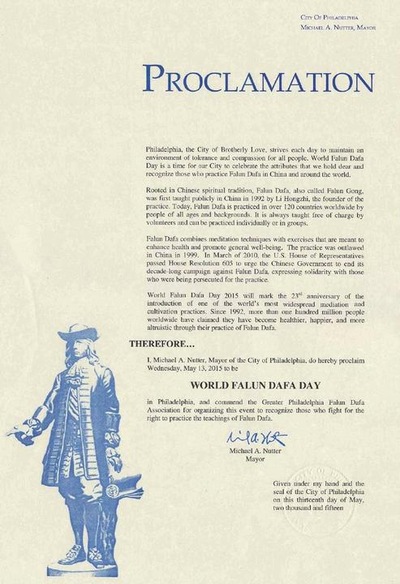 Mayor of Philadelphia proclaims May 13, 2015 as World Falun Dafa Day in Philadelphia.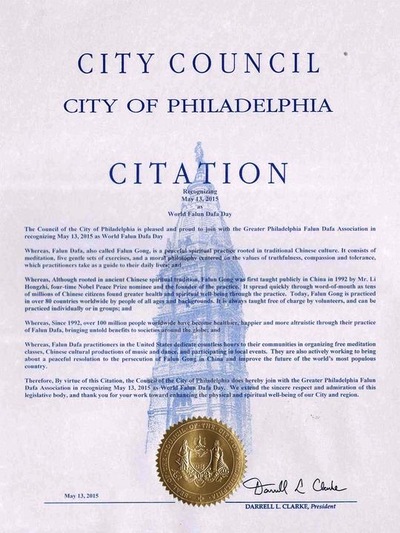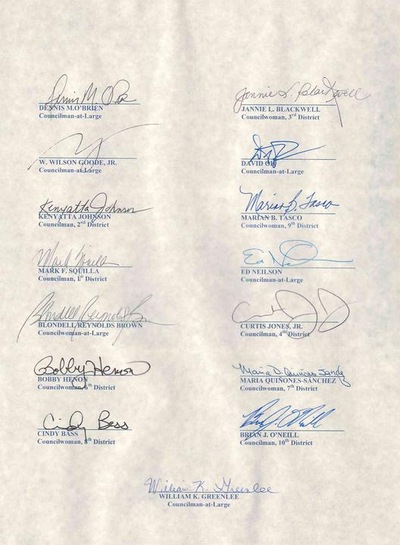 Citation from the Philadelphia City Council recognizes Falun Dafa practitioners' contributions to local communities and societies around the globe.