Missouri, USA: St. Louis Area Mayors Recognize Falun Dafa Day
(Minghui.org) Mayor Nickolas Guccione of Wentzville, Missouri and the mayor of O'Fallon, Missouri, Bill Hennessy, proclaimed May 13 as Falun Dafa Day.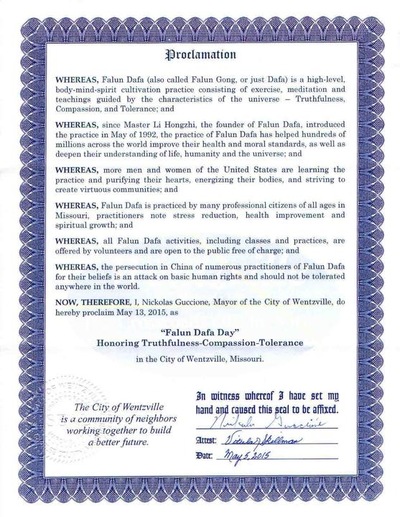 Mayor Guccione's proclamation introduced Falun Dafa and its worldwide impact. It read, "Falun Dafa is a high level, body-mind-spirit cultivation practice consisting of exercise, meditation and teachings guided by the characteristics of the universe – Truthfulness, Compassion, and Tolerance."
It continued, "Since Master Li Hongzhi, the founder of Falun Dafa, introduced the practice in May of 1992, the practice of Falun Dafa has helped hundreds of millions across the world improve their health and moral standers, as well as deepened their understanding of life, humanity and the universe.
"More men and women of the United States are learning the practice and purifying their hearts, energizing their bodies, and striving to create virtuous communities."
The proclamation also condemned the Chinese Communist Party's persecution of Falun Dafa in China, stating "The persecution in China of numerous practitioners should not be tolerated anywhere in the world."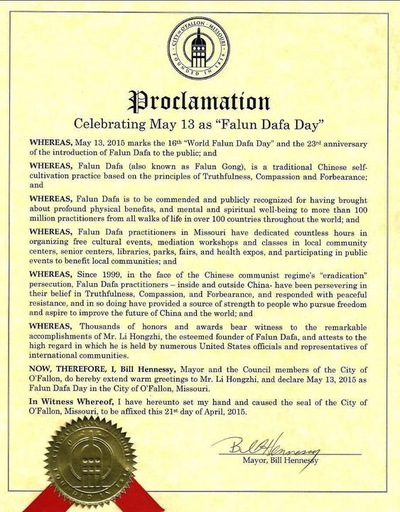 O'Fallon mayor Bill Hennessy's proclamation stated, "Falun Dafa practitioners in Missouri have dedicated countless hours in organizing free cultural events, mediation workshops and classes in local community centers, senior centers, libraries, parks, fairs, and health expos, and participating in public events to benefit local communities."
It continued, "Since 1999, in the face of the Chinese communist regime's 'eradication' persecution, Falun Dafa practitioners--inside and outside China – have been persevering in their belief in Truthfulness, Compassion, and Forbearance, and responded with peaceful resistance, and in so doing have provided a source of strength to people who pursue freedom and aspire to improve the future of China and the world."
Commending the founder of Falun Dafa, the proclamation noted, "Thousands of honors and awards bear witness to the remarkable accomplishments of Mr. Li Hongzhi, the esteemed founder of Falun Dafa, and attests to the high regard in which he is held by numerous United States officials and representatives of international communities."