Bendigo, Australia: Falun Gong Entry Commended in Easter Parade
April 09, 2015 | By Minghui correspondent Xia Chunqing
(Minghui.org) Falun Gong practitioners participated in the Easter Parade at Bendigo, the fourth largest inland city in Australia, on April 5, 2015. This was the 15th time they had been invited to be in this event.
The spectators enjoyed watching and hearing the Divine Land Marching Band, the waist drummers, the exercise demonstration, and the beautiful lotus flower float. More than 60 groups made up the parade, a record for the four-day Easter Fair that originated in 1871.
Falun Gong practitioners in the Easter Parade in Bendigo, Australia, on April 5, 2015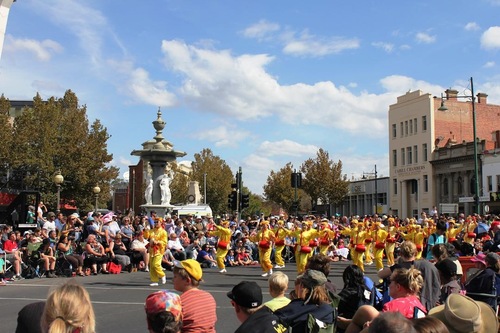 Waist drummers in the parade
Peter Cox, the mayor of Bendigo, praised the practitioners' performances and thanked them for their hard work. Seeing the banner emblazoned with the words "Truthfulness-Compassion-Forbearance," Cox commented, "This is very important."
He said many people from around the world had come to Bendigo since the Gold Rush in 1851 and that the city welcomes everyone. Building a community that is kind and tolerant, in his opinion, means that people can live together in harmony and be happy.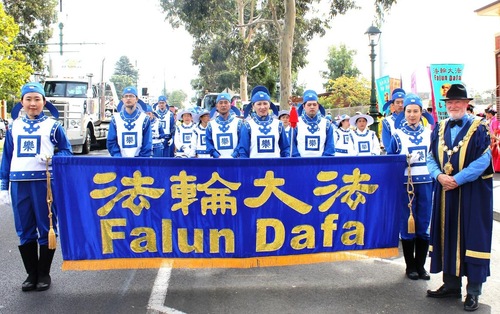 Peter Cox, mayor of Bendigo, had his picture taken with the Divine Land Marching Band.
After hearing the Divine Land Marching Band and observing practitioners' other performances, Cox complimented the music and the costumes. "Thank you all for being a part of this event," he said.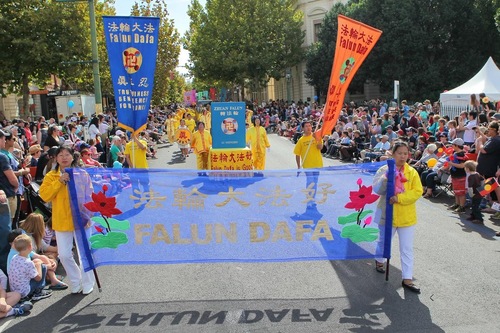 Exercise demonstration in the parade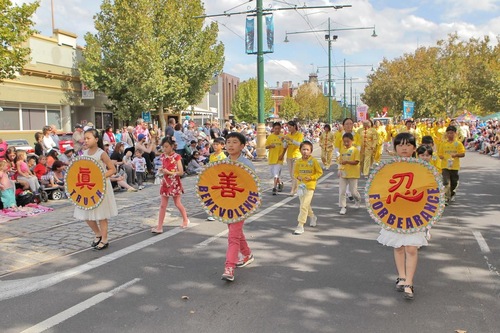 Young practitioners
Bendigo Citizen of the Year Penelope Davies led the parade with Mr. Cox. She was given the honor for her 40 years of community service and contributions to higher education and health. "I am familiar with Falun Gong practitioners, because their involvement makes our parade better. They are an important part of the parade and we welcome them," she said.
She also praised this year's entry: "It's fabulous! I like their performances because they are always so good." She said the principles of Truthfulness-Compassion-Forbearance should apply to everyone, every day. "We should all respect these principles because of their moral value."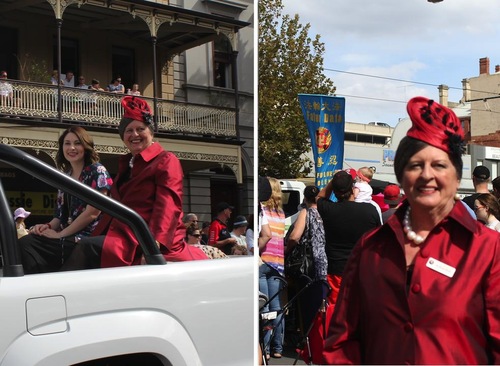 Penelope Davies, Bendigo Citizen of the Year
Anders, a psychologist from Gippsland, was also impressed by the Falun Gong entry. "The principles of Truthfulness-Compassion-Forbearance are good, and we need more like them." Based on her experience, she believes that it is critical to tolerate different opinions. "I will definitely share this," she added.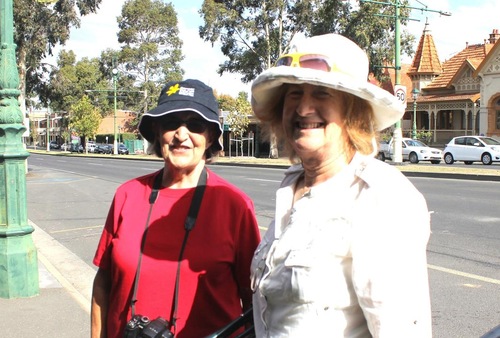 Anders (on the right) and her aunt watch the parade
Anders thanked practitioners for being in the parade, "They are here year after year and are always very peaceful. It is great to see them here!"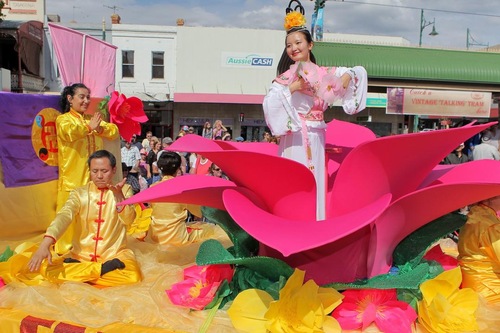 Falun Gong lotus flower float