405 Falun Gong Practitioner Arrests Confirmed in March 2015—81 Sentenced
April 07, 2015 | By a Minghui correspondent in China
(Minghui.org) According to statistics from this website, 405 arrests of Falun Gong practitioners were confirmed in China for March 2015, with 123 tried, and 81 illegally sentenced.
Most arrests occurred in the first half of March, during Chinese Communist Party (CCP) legislative sessions, including the 12th National People's Congress (March 5-15) and the 12th Chinese People's Political Consultative Conference (March 3-13).
A total of 867 arrests have been reported for March year-to-date.
I. Arrests
The provinces or directly governed municipalities with the highest numbers of arrests are (in descending order) Liaoning, Tianjin, Shandong, Sichuan, Beijing, Heilongjiang, and Hebei. The oldest practitioner reported in these arrests was Zhao Qinghua of Hefei City in Anhui Province, who is 86 years old.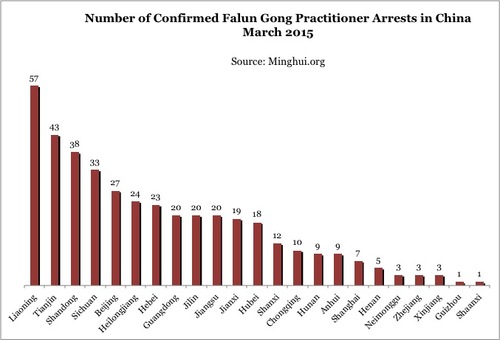 II. Illegal Trials
A total of 123 practitioners were reported to have been tried. Among them, 81 were illegally sentenced to prison terms.
1. Trials with Prison Sentences
The largest number of sentences were issued in the provinces of Liaoning, Sichuan, Hebei, Jilin, Shandong, and Jiangsu. Eight-four-year-old Wang Jiaguo of Fushun City was sentenced to six years in prison.
2. Other 42 Illegal Trials
Out of the total 123 illegal trials of practitioners, 42 were tried but have not learned if they have been sentenced.
3. Additional 22 Sentences from 2014 Reported in March 2015
Twenty-two additional 2014 sentences were reported in March 2015. Therefore, the total number of confirmed illegal sentences in 2014 totals 761.