Judge Deceives Falun Gong Practitioner into Dropping His Lawyer
April 04, 2015 | By a Minghui correspondent from Hebei Province, China
(Minghui.org) A judge from Sanhe, Hebei recently deceived a Falun Gong practitioner into dismissing his lawyer.
Judge Shi Shaolin, from the Sanhe City Court, held a pre-trial meeting with Mr. Wang Zhanqing at the city detention center on March 19, 2015. Mr. Wang's lawyer was not present because of a business trip in another city.
Taking advantage of the lawyer's absence and Mr. Wang's limited knowledge of legal procedure, the judge told him, "According to the law, your lawyer isn't qualified to represent and defend you anymore because he couldn't attend today's meeting."
A pre-trial meeting is not mandatory for defense lawyers under the Chinese legal system.
The judge also tried to talk Mr. Wang into accepting lawyers appointed by the court, but Mr. Wang refused.
The judge then said to him, "If you write a formal statement saying that you voluntarily terminate the contract with your lawyer, you can hire another one in 15 days."
Mr. Wang believed the judge, so he wrote and signed the statement.
On the same day, the court also held pre-trial meetings for three other practitioners who were arrested together with Mr. Wang. The judge also tried to talk them into accepting the court appointed lawyers, but they all refused.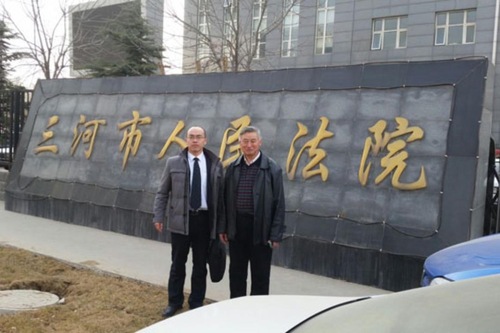 Lawyer Feng Yanqiang (left) and Mr. Ma Weishan before the pre-trial meeting on March 19, 2015
Following their arrests last April for sending group text messages to expose the persecution of Falun Gong, Mr. Wang Zhanqing and Ms. Wen Jie have been detained for almost a year. The other two practitioners, Mr. Ma Weishan and Mr. Kang Jingtai, were released on bail and are still being monitored by the police.
Ms. Wen Jie, 53, had been detained for 11 years before 2011 for her belief Falun Gong. Her most recent arrest was another big shock to her elderly father, who fell ill and was hospitalized last August. He eventually passed away last December, without seeing Ms. Wen for one last time.
Ms. Wen Jie's father hospitalized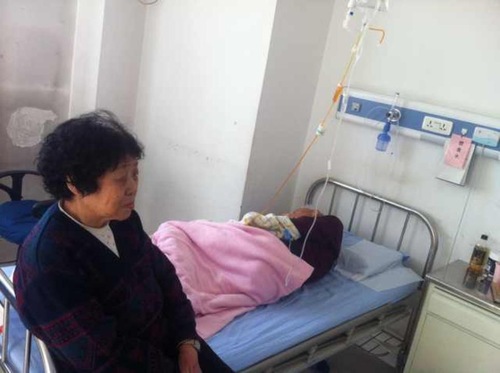 Ms. Wen Jie's parents
Related article:
Hebei Court and Procuratorate Work Hand in Glove with Police in Persecuting Falun Gong Practitioners
Chief Perpetrators' Contact Information:
http://www.minghui.org/mh/article_images/2015-3-27-pohai-eren-shishaolin.jpgShi Shaolin (石少林), judge: +86-13831617176 (Cell)Ma Chenghe (马成河), presiding judge: +86-316-3308035, +86-13700366171, +86-316-3159835Chen Aiguo (陈爱国), president of Sanhe City Court: +86-316-3308001 (Office), +86-13700368929 (Cell)Shi Liandong (石连东), Domestic Security Division head: +86-316-3115636 (Home), +86-13832669588 (Cell)Jia Zhixue (贾志学), deputy head of Domestic Security Division: +86-316-3226297, +86-316-3212291 (Home), +86-13931603291 (Cell)Guo Lichen (国立臣), director of the 610 Office: +86-316-3175808 (Office), +86-316-3132359 (Home), +86-13603260114 (Cell), +86-15831606988 (Cell)