Brussels: Rallying at the EU Against Organ Crimes in China
April 27, 2015 | By Rong Fa and Tang Xiuming in Belgium
(Minghui.org) The European Parliament held an international forum, "Organ Harvesting in China," on April 21 in Brussels, Belgium. This has been the second major action of the European Union following the urgent resolution calling for the Chinese regime to immediately stop harvesting organs from prisoners of conscience a little over a year ago.
While EU officials, representatives of world organizations, and professionals discussed legal means of combatting organ crimes in China, Falun Gong practitioners in Belgium, Netherlands and Germany rallied outside the parliament building, demonstrating Falun Gong exercises and collecting signatures from the public.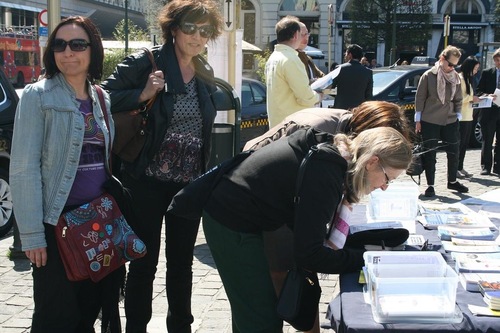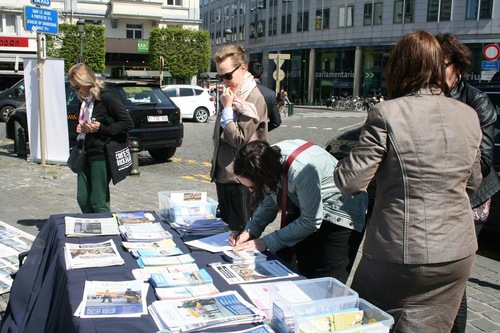 Many people signed the "Stop Forced Organ Harvesting from Falun Gong Practitioners" petition form.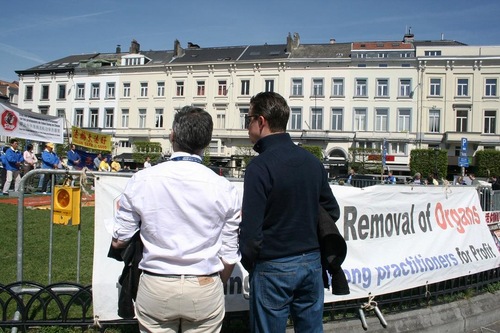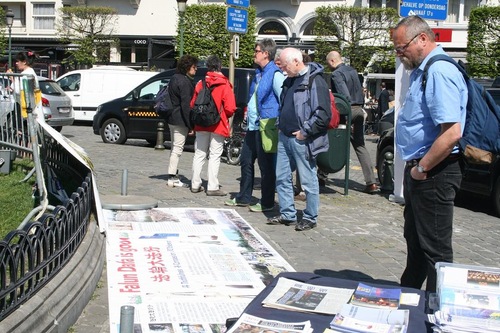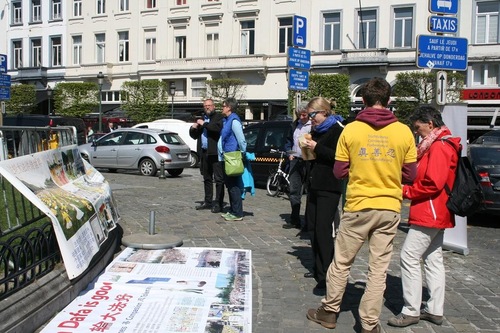 Passersby and EP workers stop to read the display boards and watch the Falun Gong exercise demonstration.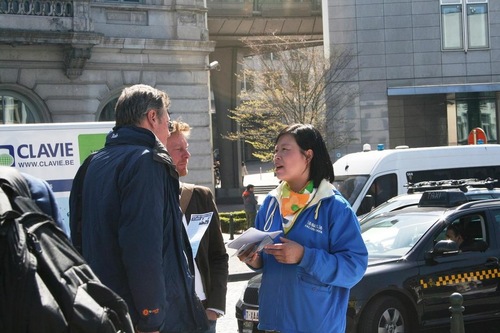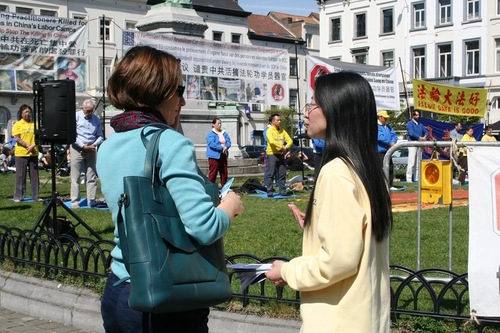 Passersby stop to talk with Falun Gong practitioners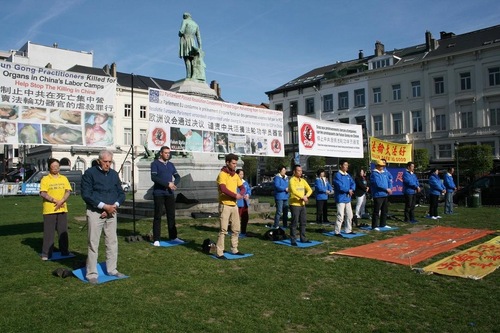 Falun Gong exercise demonstration
Many politicians and staff of the European Parliament attended the rally during the lunch break.
Two officials from Sweden talked to Ms. Wang, a Falun Gong practitioner at the rally, asking for more information about organ harvesting in China. Ms. Wang gave them a brief overview of the history of Falun Gong, the persecution that began in July 1999 and the organ harvesting crimes exposed in 2006, revealing a deadly network between the Chinese military, hospitals, and doctors involved in taking organs from Falun Gong practitioners for sale to transplant patients.
Lily, a staff member of the European Union, stopped at the event. She said she had received information about the Chinese regime's organ harvesting before. She took a copy of each printed materials with updated information and left her email to be informed of future developments.
Ms. Li, a Falun Gong practitioner who participated the event, said people were very supportive. "Many people stood there watching the Falun Gong exercise demonstration and reading the display boards about the details and evidence of live organ harvesting in China," she said.
Ms. Li said that most of the people who stopped at the event took informational materials and signed the petition.