Spiritual Instructor: "Shen Yun's Strong Energy Can Transform the Audience"
April 14, 2015 | By Minghui correspondent Liu Wenxin
(Minghui.org) Audience members following various spiritual disciplines attended the Shen Yun performances in Taiwan and appreciated the strong positive energy in the programs.
"Ocean Deep Compassion"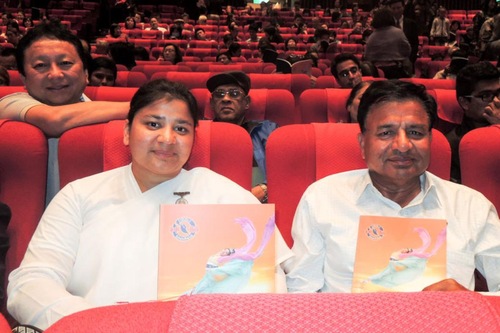 Ms. Shivika Kumar Garg, instructor of spiritual formation, with her father Yogendra Kumar Garg
"The strong energy exhibited by Shen Yun can transform the audience. This is the choice of the gods," said Ms. Shivika Kumar Garg, instructor of spiritual formation at the Brahma Kumaris World Spiritual University. She attended the show with her father, Yogendra Kumar Garg, who worked at the same university, on March 31 in Keelung, Taiwan.
"I sensed waves of positive energy that literally moved my heart," Ms. Garg said. "I seemed to be in heaven. It was an optimistic energy that completely changed the atmosphere.
"And the music of Shen Yun can touch people's souls. It comes from the innermost heart of [the artists].
"I can feel that their hearts are so pure. All those dancers dance with their hearts. Very pure. They do not just focus on the dance. They focus on their mission.
"The Shen Yun performance was filled with ocean deep compassion and love and tremor of compassion."
Mr. Garg commented, "The stories in the show reflected truisms about life and how important every person's true life is."
Buddhist: "It Is Not of the Human World"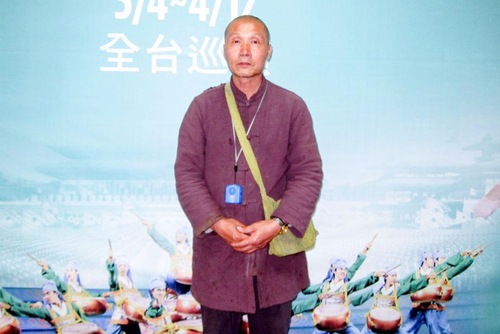 Buddhist practitioner Kong Hui at the performance on March 31
"The moment the performance began, I saw something that could only be seen in the heavens, not the human world. They must have cultivated to a very high level to be able to put on such scenes," exclaimed Kong Hui, a Buddhist who has been practicing for 20 years.
"Shen Yun performers are not just pretty. They are dignified. That kind of purity is more precious than diamond or gold. It was as pure as seeing gods in the heavens. Most importantly, it was a spiritual level that is everlasting," he explained.
He highlighted the last dance, "The Divine Renaissance Begins:" "For thousands of years, people have been talking about Buddha saving sentient beings. This is true. But people who are able to save sentient beings from suffering in the mortal world must have cultivated to that high level.
"Performances of the human world are not in this form. This kind of performance today is highly cultivated, wise, and clean. The performers must be blessed themselves to bring such good to the spectators."
Buddhist Scholar: Sending Strong Messages to the Whole World
Buddhist scholar and practitioner Ananda Mangala
Buddhist scholar and practitioner Ananda Mangala from London attended the performance on April 1 in Keelung. "I was delighted by the show. I also learned a lot about Chinese culture, traditions, and dance.
"Every program takes us to a different dimension," Mr. Mangala said. "Audience members from all over the world can experience China's treasures.
"Shen Yun is sending strong messages to the whole world, including Truthfulness-Compassion-Forbearance, helping others, love, etc. These are all qualities that we humans should possess."
To him, Shen Yun was beyond an artistic performance: "Shen Yun displayed the meaning of Buddhist law.
"Sometimes people actually do get help from the heavens, such as from heavenly guardians and angels."
Mr. Mangala said he learned from the stories "How to conquer evil when doing a good thing. We should move forward with courage and perseverance. Even if we face injustice, feel on the inside that things are unfair, or encounter challenges, we should never give up!
"This performance is so wonderful. The content is rich and authentic. I am still in awe."